9 Holiday Email Marketing Ideas For 2021 + Design Tips
Email marketing and newsletters take the place of a holy grail for marketers because they give you access to an extremely engaged audience base.
People are willingly part of the conversations, which makes it that much easier to reach and impress them. The first hurdle of brand recognition is almost a non-issue. 
But the trouble with holiday marketing is that it can become repetitive quickly. So many holidays, so many campaigns, and so many people to make connections with. The more you keep things fresh, the better it is! This holds for holiday email marketing too. Every time customers click on an email, they expect something exciting. And we have to deliver on that.
That is why Kimp brings you a fresh guide, full of holiday email marketing ideas with unique holiday content.
Let's get started.
Your 2021 Holiday Email Marketing 
Newsletters find a mention in every marketing idea recommendation we publish. There is a reason for it.
In a world of dynamic and volatile digital ads that may or may not pan out, holiday email marketing is your solid foundation. Over the past few years, we have consistently seen that customers are more likely to buy from an email marketing campaign than any other. Email marketing, in general, itself has the highest ROI across marketing channels. 
Holiday marketing campaigns mean a high investment in time, money, and resources. If a single channel can improve your standing, it stands to reason that you should go all out on that.
Also, most holiday marketing campaigns begin quite early to accommodate early shoppers and become a part of everyone's holiday shopping. Some even begin as early as three weeks before the actual holiday. In such cases, your holiday email marketing campaign needs a lot of ideas to keep the momentum going.
And that brings us to our next section. In the sea of newsletters, how do you ensure that yours stands out and attracts customers enough to interact with you?
Creating an effective 2021 Holiday Email marketing design 
While subject lines and other tricks can help you cross the burden of slow email open rates, it takes a lot more to get that click rate metric in your favor. 
While subject lines and other tricks can help you cross the burden of slow email open rates, it takes a lot more to get that click rate metric in your favor.
Design is taking precedence over copy and other elements in newsletters lately. This can only be because customers access close to 50% of emails via mobile devices. So without an interactive and responsive design, holding attention is all but impossible. 
And especially for a holiday marketing email for Christmas, design reigns supreme. Here is a look at some of the significant design elements to keep in mind to craft the most effective holiday email.
Layout: A single-column layout works best on email with a minimalistic design and loads of negative space. The easier it is to read, the better. 
Colors: Holidays, especially Christmas, have a color palette as old as day. More often than not, if someone spots that telltale combo of red, green, silver/gold, and white they know exactly what your design is about. Each of these colors has particular shades meant for the holiday, so use the right one. 
Font: Decorative fonts and customized fonts to match the holiday theme are best for headers and catchphrases. But the brand name, content, and CTA work better when they are in legible and straightforward designs. 
Imagery: While your emails will feature products and brand-related images, you need a handful of holiday-related images too. So, a Christmas tree, a bow, or even a wreath can bring in the joy of the holidays without pulling focus from your promoted product or service.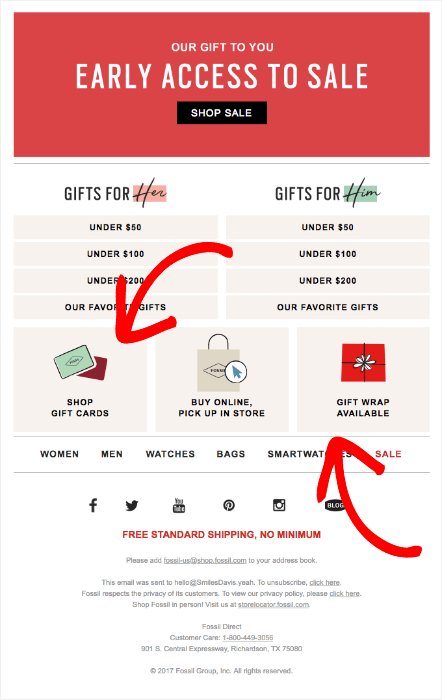 9 Holiday Email marketing ideas for your Brand in 2021
So now we're at the crux of this blog. What holiday email marketing ideas should you adopt to ensure a successful campaign? Well, the Kimp Graphics and Kimp Video Team's experience tells us that keeping a mix of traditional and innovative ideas always works. A lot of holiday content works because it carries nostalgia, tradition, and fun in heavy volume. 
If your email marketing campaign's designs achieve that, you are golden. So take a look at this curation of exciting holiday email marketing ideas from Kimp that can help you grow your brand this holiday season.
1) Gift guide emails 
A holiday email marketing campaign without a gift guide is like Christmas without gifts. And we mean that literally. Even though you may think that opening with a gift guide is so 2020 and a cliche, we are here to remind you that cliches work.
Christmas is the gifting season, and most people look around for gift ideas well in advance. So you will do well by opening your campaign with a curated, personalized, and segmented gift guide that pleases your customers.
Having a gift guide email lets you drive traffic to your website, ecommerce store, or landing page instantly. It allows you to understand what customers like the most for your retargeting campaigns. And you can encourage wish listing to gain more insights into customer preferences too. 
But first, how to make that gift guide appealing enough to click? Let us tell you how:
Use high-quality images for your gift guide. Ensure that these images open quickly on mobile as well.
Ensure that your email layout emphasizes the products over any other design element. The minute someone opens the emails, they have to see the product and the CTA, that's it. Everything else comes second. Check our guide on visual hierarchy for more on this. 
Holiday-ify your email marketing content by including appropriate colors, fonts, and images. 
Include interactive elements such as GIFs and animations for a more festive and lively design.
Kimp Tip: Gift guides accelerate your chances of a successful holiday marketing campaign. So dive into the holiday theme and try to redesign your product images with the holiday theme. It can be as simple as a bow or a Santa hat on a shoe. Simple but effective. And easily done with a Kimp Graphics subscription.
2) Christmas sale announcement emails 
Since you opened your holiday email marketing campaign with the gift guide, your customers know that you have what they want. And now they wait for your annual Christmas sale(s) to get the prices they want.
They have their wish lists ready and are waiting for that coupon code. So before they lose interest, you have to get on to the next step.
And that means announcing your Christmas sale. Announcing this ahead of time stops your customers from shopping anywhere else. It also generates curiosity about what is coming in the holiday season.
You can create a Christmas sale announcement in many formats:
A static image that announces the sales date, time, and upcoming offers. 
A teaser or trailer encouraging people to sign up and wait for more details. 
GIF or animated banner with a festive Christmas sale announcement 
Across all these ideas, always remember the design and the email itself has to scream "Christmas". Not by being cluttered or overpowering. Just through the choice of the right colors, elements, fonts and imagery.
Wondering how to strike the balance? Why don't you leave it to the experts and sign up for the Kimp Graphics + Kimp Video subscription for end-to-end holiday marketing designs? Get your design brief ready, the designs will be ready in a jiffy. 
3) Contests and giveaways 
Another crowd favorite in the holiday season is undoubtedly the giveaways and freebies. You can show your appreciation for your customers and take part in the tradition of holiday gifting. Contests of these sorts also help you generate engagement on your website and social media profiles in the holiday season.
To stir things up, make the giveaway announcement enticing enough for the customers. If the announcement is fun and interactive, people are more likely to engage.
Consider the usage of gamification techniques and animations to liven up the design. Popular ideas for this holiday email include crosswords, polls and surveys, puzzles, links to an external game, find the word game, and so on.
Kimp Tip: Contests and giveaways can also be subtle plugs for your brand's visual identity. You can create crosswords based on trivia about your brand, make customers look for your logo in a maze, and so on. The right contest design can elevate the effectiveness of your campaign by a lot. With Kimp Graphics + Video subscription, you can create video and image-based contests for your subscribers.
4) Holiday email videos 
Do you remember the fun holiday commercials that were always on the television back when commercials on TV were a big deal? Well, even if they are not a trend anymore, videos still are. And you can use them to rake up brownie points for a campaign. Not just on social media, but as part of your holiday email marketing ideas as well. 
Creating holiday videos also improves brand awareness and recognition in the market. Customers remember visuals more than text, and videos rank high on the remembrance scale. Studies show us that holiday emails with videos have a higher click rate as well. 

You don't have to create specific videos here. All you have to do is work with your team and repurpose the videos you have in place for social media promotions and add them to emails.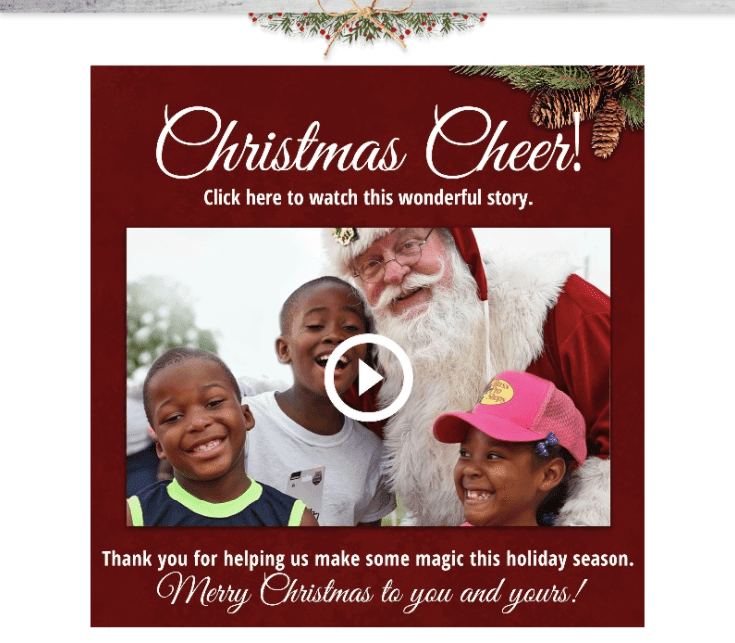 You can create holiday-themed product videos, heartwarming stories of your Christmas campaigns, office celebrations, and so on. 
Kimp Tip: When you repurpose your video from social media, ensure that the designer has optimized it for email and it loads seamlessly. Slow loading emails may drastically affect the user experience and affect the response you get to subsequent emails you send as well.
5) Season's greetings 
A greeting card may feel very tame, but you have to understand the value of sending a non-promotional email. Customers today are looking for an actual engagement from brands, besides discount/sale announcements. And sending season's greetings is a very apt way to do that.
Whether you send out your greeting on Christmas or just before, in between campaigns, it will help you stay connected to customers even when you're not selling or promoting something. You can personalize the greeting as per your preference, but a simple general greeting will work well too.
If you can create a greeting that people can share with friends and family, it will speed up the brand awareness for your business immensely too.  
But it all depends on the design. Choose a greeting that carries your brand with the holiday theme too. 
Kimp Tip: Elevate your season's greeting this year by including GIFs or small animations to excite and engage people. If the entire design is a GIF itself, then you can add it to GIPHY and increase your brand's visibility. 
6) Product promotion 
Gift guides are excellent for the holiday season, but sometimes you need the spotlight on some specific products. This becomes even more important if you have a new product launch in place for the holiday season. Or if there are some holiday-specific products in your collection.
There are many ways to create a product-centric holiday email. Some popular ideas are:
A Christmas-themed photoshoot with the products as gifts under the tree.
Animated videos of the product with Christmassy elements.
Products coming out of gift boxes via GIFs or animated videos.
Compilation of user-generated content with the product in focus. If you have an active influencer marketing campaign, you can feature the same too.
Across all these formats, ensure that you only use high-quality images with appropriate branding in place in your holiday emails. 

Kimp Tip: Looking to spruce up your product features as part of your holiday email marketing ideas? Have you explored stock audio to bring a more holiday feel to the content? If you have a Kimp Video subscription, our team will source all licensed stock audio you need to level up your product emails.
7) Limited time offer announcements 
Short-term campaigns work amazingly well because of the associated FOMO. A ticking timer bridges the gap between wishlist and purchasing. Having a FOMO-triggering email in your kitty in the upcoming holiday season can help you close many deals faster.
These emails typically come with an offer announcement, a countdown, and feature the products that come under the offer. You can consider the overall layout to be the same as a gift guide or product-centric email for the second half. But the first few lines of the email have to be all about the sale and the FOMO-inducing announcement.
In the design, the visual hierarchy must be: 
Countdown
Sale Value
Product 
CTA 
Fine print
If you can guide your customers to view the email in this order, then click rates will be through the roof. And how do you do that? Well, we will tell you the easy way out. Sign up for the Kimp Graphics plan to get some great designs! 
8) Abandoned cart emails 
Even in the holiday season, brands' number one problem is abandoned carts. This is an ongoing issue for ecommerce brands that result in lost revenue. And as the volume of sales goes up in the holiday season, so does this issue. Hence, it bodes well for brands to have a holiday-themed abandoned cart email handy.
In the horde of communication, a customer gets from you, not one must deviate from the theme. So even if you have an existing template for this, invest in a holiday-themed one too.
The thing to note is that the best practice during the holiday season for abandoned cart emails is increasing frequency. Customers are looking to make purchases within a narrowing window of time. And when you know customers are going to see this email often, you must concentrate on the design, too.
While the focus is on the cart completion status, you must also ensure that your brand's visual identity, holiday elements, and design style stays on point and as per your marketing plan. 
9) Last-minute sale emails 
Most of your holiday marketing campaigns go towards the early shoppers with elaborate gift guides, early access deals, and sale countdowns. But what about someone looking for a last-minute gift idea? You have to capture that market too. Catering to this segment means you drastically improve your chances of closing the holiday season on a high.
With Christmas parties with family and friends, Secret Santa exchanged at work, and rushed work schedules, more and more people are looking for last-minute ideas that make their lives easier.
Creating a specific email for this segment will help you pocket those sales easily. More often than not, people look for these gifts in their inbox to source ideas from a familiar brand.
In this email, you have to loudly proclaim that the ideas you're sharing are specifically for last-minute shoppers. Right from the subject line to the email header, assure them they are in the right place.
For the rest of the holiday email design, keep it simple with a minimalist but classy gift guide. Confirm early shipping and possible delivery dates to provide assurances wherever possible. People need to know that if they place that last-minute order with you, that they'll get their delivery on time.
Promote the product's value and ensure you include an image to reduce friction in the sales process.
If you can provide value, assurance, and trust in the same, you will surely see a higher conversion ratio. 
Build an effective Holiday Email Marketing campaign with Kimp
Marketing channels that consistently provide higher returns deserve the royal treatment. And holiday email marketing definitely falls into this category. Just by ensuring that you hit the nail on its head with design, you can ace the entire holiday marketing game. So why hesitate?
If there is ever a case for hiring a professional design team, it is this. So go ahead and join hands with the Kimp Graphics and Kimp Video team today. 
Worried about the cost? Our flat monthly fee with unlimited design requests makes our subscriptions a steal. Create as much as you want every month with no cap on revisions too. No extra charges on any service. And you can cancel whenever you need to.
Sign up for the free trial now to see how it all works.