8 Black Friday & Cyber Monday Email Design Ideas To Increase Sales
The holiday shopping season is here. And you know what that means. Consumers are ready to splurge and it's go-time for businesses that want to cash in on that. It's no wonder that large brands and small businesses alike spend a good chunk of the year just formulating strategies for these last few months.
Millions of people worldwide shop during the holiday season (Halloween – Christmas). Last year, Cyber Monday sales alone touched a whopping value of $10.8 billion. And the Black Friday sales went up to $9 billion in online sales alone. These numbers are huge and tell us that the intent to purchase is high.
This also means that it is now on brands to position themselves in front of customers and ensure that sales come their way.
But this is easier said than done. There is tremendous competition in the market and advertising in the privacy age is only becoming tougher by the day. Consumers are clicking unsubscribe, unfollow or block more frequently.
That's why email marketing is the channel that has the potential to make the biggest impact this holiday season. It is one of the most effective marketing channels any time of the year and its superpowers only get enhanced during the holiday season.
So the Kimp Team is bringing you a list of the best Black Friday and Cyber Monday (BFCM) email campaign design ideas.
Why choose emails for BFCM campaigns?
If you have spent time creating and pushing out newsletters consistently, you know it can be a lot of work. Besides the creative process (that you can outsource to Kimp Graphics), there is a lot of back end work too. Building an email list, segmentation, personalization of emails, automation, and analysis requires a lot of resources and time.
But what if we told you that if you did it right, you would get more customers? During the 2020 holiday season and specifically the BFCM weekend, the conversion rate from email marketing reached an all-time high at 12% clocking a 100% YOY improvement. 
Email marketing can also prove to be an important tool for brick and mortar stores' sales. A survey by Google during the pandemic showed that digital marketing and campaigns have a significant role to play in in-store purchases. Customers look for digital touchpoints to understand more about brands and email marketing can help you create a secure communication channel. 
We have established that email marketing has to be a central element in your Black Friday and Cyber Monday campaigns. But we also want to stress on the fact that your design, content, and email marketing strategies play a significant role in your success too.
And that's where optimization becomes key.
Optimizing your email marketing for BFCM campaigns
In 2020, 116.5 million emails were sent on Black Friday, 106 million emails were sent on Cyber Monday, and Black Friday emails touched an all-time high. If the numbers on the sale day are so high, you can imagine how many emails in total per campaign reach a customers' inbox. 
So unless you do something to stand out, it is going to be an uphill battle. Keep reading to find out more.
Work on your subject line 
Before we discuss the email content or design, we have to address this. Your subject line is what makes people open your email. This is your first obstacle to cross. Keep it simple and include buzzwords like "Sale, Discount, Last Day, and Ending/Coming Soon" to pique interest.
Visuals >>>> text 
Whatever you want to say, you can say it better with visual aids. It can be an image, a video, a GIF, an infographic, or a combination of them all. An email instantly becomes more engaging when there are more visuals than text.
You can also leverage the power of visuals to attract the customer into buying more products than you can with text.
Create email designs based on target audience 
When you work on email marketing campaigns, you will spend a lot of time segmenting your database and personalizing your emails. Personalization does not have to stop at including the name, favorite products, and other details of the customer. Take it a step ahead by customizing the design style by segmenting the audience based on age, gender, location, and purchase preferences. 
A younger customer may react to a Pop Art style email while an older customer base may prefer a more simplistic design.
User experience is above all 
When your email is easy to navigate, understand, and easy on the eyes, you win half the battle right there. The average attention span currently is at 8-12 seconds, and most people skim the content to decide if an email is worth reading or not. 
With good design and leveraging the principles of visual hierarchy, you guide their attention to all the right places. This way, even if they don't read the whole thing, they get the gist of the message.
Mobile experience must be the default 
Most customers browsing your holiday emails are looking to shop from their mobile devices. In 2020, the traffic and sales from mobile to ecommerce sites was at an all time high. So, your newsletter must work without a hiccup on a mobile phone.
Optimizing a design for mobile experience is old news. Now, designing for mobile and understanding how a customer views it will help you close deals more than you think. 
8 Black Friday and Cyber Monday Email Design Ideas
You know why BFCM campaigns work best on email. And you know how you can make them work for your brand specifically. Now, it is time to understand the many options you have when it comes to Black Friday and Cyber Monday email designs.
These Black Friday and Cyber Monday email design ideas from the Kimp Graphics and Kimp Video team will help you sail through the most important holiday weekend in 2021. 
Ready? Let's go.
1) Welcome Emails 
Since the pandemic moved most of sales online and 2020 saw huge shipping delays, 2021 holiday campaigns, and shopping, have been kicking off earlier this year. Which means that a potential customer may sign up on your website way before you begin your campaigns.
Welcome emails help you set the right tone for your relationship. Customers usually expect an email right after they sign up to know more about you. You can use this opportunity to:
Promote your products
Share positive news about your brand and the products
Influence the customer to make a purchase by offering a new customer discount
The design of this first welcome email will also shape your brand's perception for the new customer.

This welcome email by Cozy Earth uses the right colors, styling, and designing to denote its brand personality. Moreover, they talk of their products, brand, and offer a discount in the first email itself.
This establishes a relationship and the holiday campaign becomes even easier. 
Kimp Tip: If you want the welcome email to be a part of Black Friday and Cyber Monday campaigns, you can include a sneak peek of the upcoming sale. You can also link your social media handles where customers can watch out for the sale updates.
2) Sale Countdown Emails 
Black Friday and Cyber Monday primarily mean "Sale! Sale! Sale". So your email marketing campaign for these holidays will be full of these emails. Some brands send daily emails with a new product lineup or offer in the week leading up.
But the most sales happen on the weekend between Friday and Monday when there are flash sales and discounts everywhere. That is when you want customers to remember you. You can achieve that by sending countdown emails for both these sales. 
There are two types of countdowns:
24 hours to Black Friday
"Only XX more hours left"
Both these email designs are important.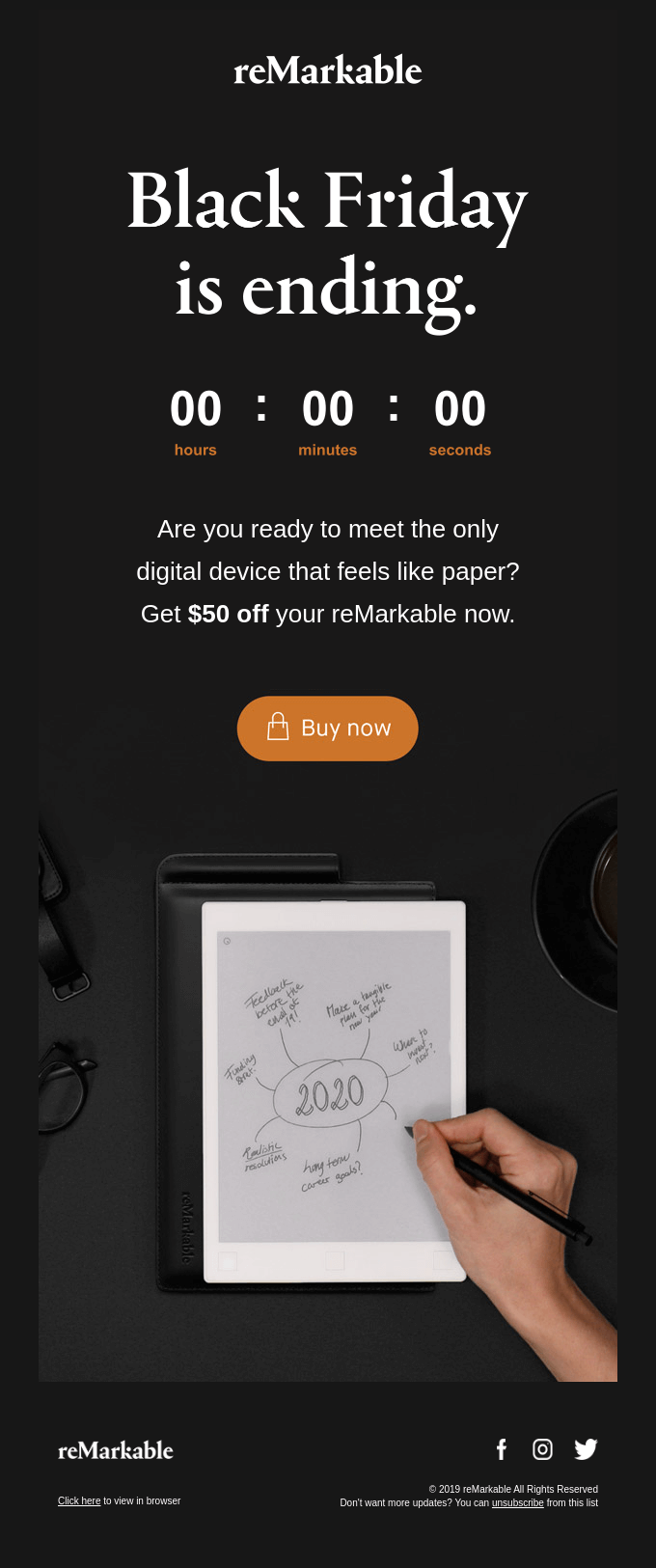 The email above is a last-minute sale email sent to drive up the sales from customers who haven't shopped yet. 

The email above denotes the beginning of a Cyber Monday sale.
Did you notice something? The stark difference in the color selection and design of the emails above. The black emails are significant of Black Friday and also the urgency that comes out with the simplistic design.
The Cyber Monday email design is more relaxed and motivating for customers to go out there and shop. It also has a preview of the products for leverage visual marketing. 
Choose the tone you'd like for your Black Friday and Cyber Monday email design ideas based on what will resonate best with your brand and audience.
3) Discount Campaigns 
Discount codes and offers are an integral part of Black Friday and Cyber Monday campaigns. We discussed how the words "sale" and "discount" make customers open the email. And also how most brands launch discount codes on an ongoing basis and send daily deals during the Black Friday weekend to keep the buzz going.
The thing about discount emails in the Black Friday and Cyber Monday weekend is that they are very simple. It is an email with a discount code. But, the email design here is of high importance. Consider making the discount code emails strategically designed to urge customers to click instantly.
The email above speaks of the product and shows what the discounts are on with a visual of each product next to it. This type of visual email converts better than a simple discount code email. 
The Kimp Graphics team can help you repurpose your existing product catalogs and promotional material for such emails with ease. Create exciting Black Friday and Cyber Monday email designs with the help of a dedicated design team. 
4) Product Focused Emails 
The two most important features of a good Black Friday or Cyber Monday email design is that it is simple and visual. That means bringing the product in focus and cutting straight to the chase. 
Customers are looking for the easiest shopping experience during the Black Friday and Cyber Monday weekend. So a product focused email definitely needs to be a part of your email marketing campaign. By emphasizing product images in a design like this you'll help consumers clearly see what you're offering them. 
And on that note, let the product do the talking. Make the email entirely about the product and the brand so that customers can spend time understanding what they like without a sales proposition.
These emails work better when sent a week away from Black Friday. You can include a possible sales start date or potential discounts that may be available on the product as a side note. But the focus is clearly on the product only. 

5) Giveaway/Freebies Email 
Who doesn't like freebies? Or contests? People are always looking for exciting contests with prizes at the end of it. Whether they're ready to make a purchase or not, most people are ready to submit their email for a chance at a great prize.
Extend that sentiment onto your digital marketing campaigns and roll out giveaways and Freebies to your loyal customers.
A free gift with an existing discount will make the customer feel valued, improving your chances of conversion.
As always, advertise the discount code and offer it right in the beginning so that even if the customer is just skimming through, they don't miss it.
6) Store Event Invite 
Even though in-store shopping took a hit last year because of the pandemic, curb-side pickup was still going strong. This year too, customers are looking for a holiday season that is more hybrid than online.
Hosting events, parties, and sale launches during the Black Friday and Cyber Monday weekend is something a lot of stores do. If you'd like to get in on the fun, try sending an invite well ahead of time to increase foot traffic substantially.
You can also reveal some exclusive deals and discounts to people who RSVP to your in-store event invite. 
7) Interactive Email Design 
Any content piece that is interactive wins the crowd's vote. A fun, dynamic element in an email design can delight customers and tilt sentiment in your brand's favor. Let's take a GIF animation for example. Having one in your email can help grab customers attention and communicate important details.
Including small animations, custom GIFs, and humorous memes can put anyone in the holiday spirit and encourage spending. And they all work well in holiday sale emails.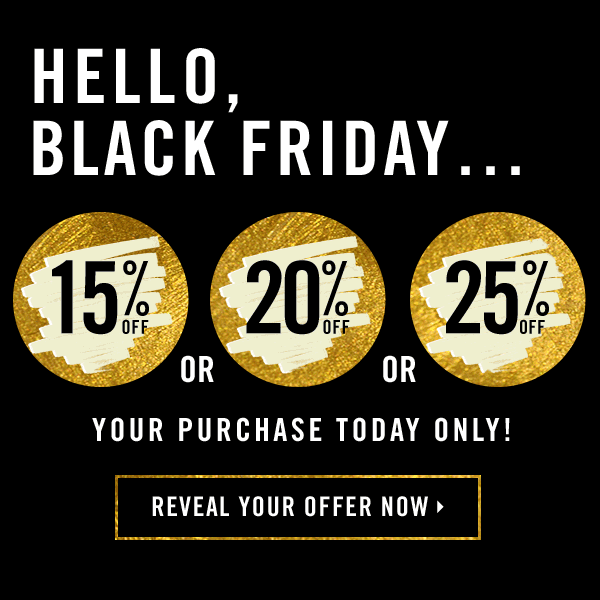 Check out the email design above. Scratch cards are a great way to generate some excitement and suspense as to what your offers will be. Plus, they play on the nostalgia for the days when physical scratch cards were included in most stores' promos. 
After hooking customers with an interactive email, you increase the chances that they'll open your follow up messages too. 
8) Gift Guide 
Last but definitely not the least is the gift guide email design. Holiday marketing campaigns are incomplete without gift guides. Even though Black Friday and Cyber Monday do not coincide with a traditional gifting holiday, people do shop for their friends and family during this weekend.
So a gift guide highlighting your most popular products and products that customers will like based on their previous choices makes perfect sense.
For this email, the design must celebrate the products, the season, and the brand in itself.

The email above by Hush Puppies is understated but puts the focus completely on the products and the discounts in place. 
Design your Black Friday and Cyber Monday emails with Kimp
Design your Black Friday and Cyber Monday emails with Kimp
A good email design can change the face of your holiday campaigns. Especially since the audience for your emails has opted in to receive emails from you. And you know that they'll be more receptive to what you have to say.
All the more reason for you to put your best foot forward with every email.
With a Kimp Graphics subscription, you can get stunning email designs that improve your engagement and conversion rates. Looking for video and motion graphics too? We've got you covered with Kimp Video.
Our design subscriptions offer unlimited design services (unlimited requests, revisions, and brands) for a wide range of designs – everything you'll need for a succesful Black Friday and Cyber Monday campaign! 
Sign up for the free trial to get started.