10 Last Minute Father's Day Marketing Ideas Your Brand Needs
Father's Day! The day we celebrate the heroes who raised us with love and care. They could be our dads, or grandfathers, uncles, or stepfathers, fathers-in-law or other father figures.
And on the 3rd Sunday of June, we celebrate them and thank them for playing the role of protector, guide, mentor, and much more. 
Given how much of a widely beloved day Father's Day is, you might be looking for a way to recognize the occasion as a brand. And with good reason.
On such special occasions, you can increase your revenue by providing discounts for special gifts, shaping your brand image through meaningful posts or even boost engagement through creative social media campaigns.
If you have not yet started working on your Father's Day marketing for the year, don't worry. We've put together a list of some last-minute campaign ideas that are both easy and effective.
But first, let's find out a little more about the history of Father's Day.
Some Fun Facts About Father's Day
Do you know how this tradition of Father's Day began? In 1908, Anna Marie Jarvis began the tradition of celebrating Mother's Day. When Sonora Smart Dodd heard about this in 1909, she wanted a similar celebration to honor her father who was a Civil War veteran. He was a single father who took care of his 6 kids.
Like Mother's Day, this tradition started out as a religious observation. And by 1972, the third Sunday of June, Dodd's birth month, was declared as Father's Day. 
What started out as one daughter's idea to honor her father has now evolved to become a special occasion to celebrate this unique bond. And brands around the world gear up for this day with innovative ideas to interact with their audience.
On that note, let's take a look at some Father's Day tributes by popular brands to get your creative juices flowing.
It's easy to see why this Tesco ad is a hit. They've done a great job of tugging at our heartstrings. With each customer appreciating their father in their own unique way, there's also a reminder that the relationship between a father and child can take many different forms.
The Dollar Shave Club took a completely different approach to Father's Day in 2019. Their message connects directly with dads and celebrates the concept of "Dad Bods", with a touch of humor. In a generation where Dad jokes are popular, such humorous ads have a special place among customers.
So, are you ready to design something creative like these brands? Let's talk about some Father's Day campaign ideas that every brand can try.
Quick and Easy Father's Day Marketing Campaigns for Brands
Capturing your audience's emotions or striking up a conversation. You likely have your own tried, tested, and true ways to connect with your customers. So, without giving up on your brand's messaging style, here are some ideas you can incorporate for this year's Father's Day campaigns.
1) Create posts for engagement
Posts that evoke strong emotions, like the one above, work for almost all brands. Especially if they include a touch of humor. People instantly relate to them. And when a post connects with them at an emotional level, they are more likely to share the post or at least comment on the post. 
Below is another campaign and this one is from Coca-Cola. It is a simple post that manages to convey the message and also drive engagement. 
Kimp Tip: As you can see in the post above, a simple animated video or even static images with kinetic typography can draw attention. In the lead up to special occassions when promotions from all brands take place in full swing, the key is to make your brand stand out. And with such interactive motion graphics, you achieve just that.  
2) Post a simple wish that strengthens your brand image 
Making an emotional connection with your customers is the key to successful marketing. Subtle ads that make a strong impact consist of two things – powerful visuals and great copy. 
Take a look at the post below from Mercedes Benz for Father's Day. 
It has a sweet Father's Day message and that makes this post shareable. It subtly plugs in the brand's offerings by displaying the luxurious interiors of a Mercedes. And as an added perk, relatable content like this is easy to create at the last minute. 
Kimp Tip: When you create such simple image posts for social media, keep your brand's identity in mind. While the special occasion should be the hero concept in your image, you cannot ignore your brand's signature fonts and colors. The copy in the above Mercedes ad, for example, incorporates the brand's signature serif font that is instantly recognizable. 
3) Suggest gift cards to make shopping simpler
The gift card's market value is projected to reach US $510 billion by the year 2025. And nearly 25.7% of consumers who buy gift cards buy them because they are easy to buy and perfect for last-minute gifting. So, designing a Father's Day gift card will be a perfect way to drive sales.

Even to electronic gift cards, you can add your brand's personal flavor. One way to promote your gift cards will be to start sending out personalized emails to your customers talking about the custom gift cards they can buy in order to make their fathers feel special.
Keep the email crisp and in line with your brand colors. Including imagery like an actual picture of the gift card that will be mailed to the recipients will give a virtual experience of the gift and thus increase conversions.
4) Make valuable recommendations
Gift guides and ideas on making the day special are always a big hit. The email below from Yelp is a great example of how you can send out crisp emails and skyrocket conversions during Father's Day.

Let's face it, sometimes we want to find the perfect something but have no clue where to begin. In such cases, customers will thank you for such recommendations that make shopping for Father's Day simpler.
And it's not just that this email also introduces new customers to all the services that the brand caters to. When you make all these recommendations and provide relevant links in your email, you are reminding your customers of the diverse range of services you offer.
5) A photo recreation contest
Photo recreation contests are one of the most popular trends on social media for special occasions. You can jump on this bandwagon by asking your social media followers to recreate a photograph from their childhoods with their fathers (or father figures).
To make this campaign more effective, create a unique and easy-to-remember hashtag. This makes it easier to track the content shared by your customers and understand the effectiveness of your campaign as well.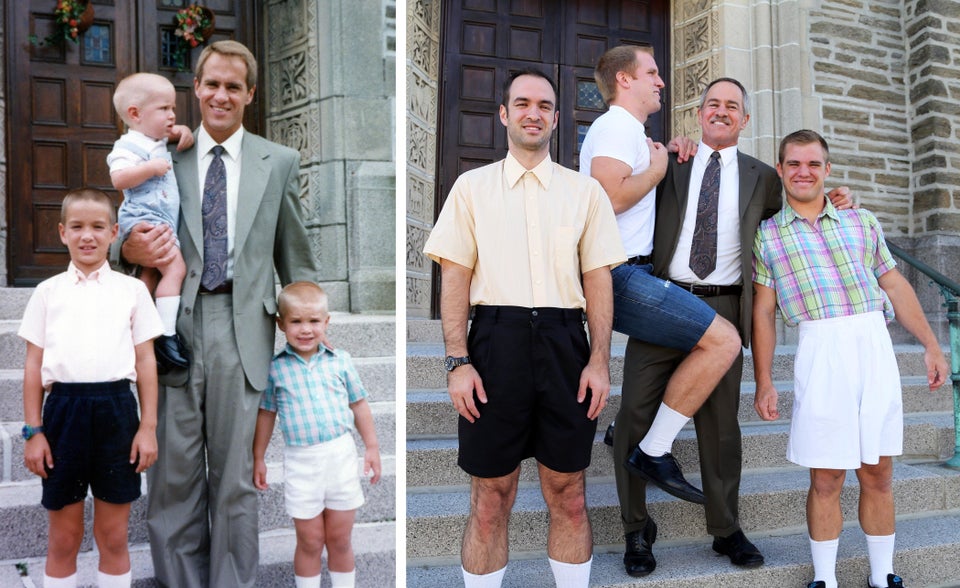 You can have specific requirements set for the contest like tagging friends or leaving a comment or caption. Or you can also randomly pick the winner.
To get the ball rolling you can share photo recreations of father-son or father-daughter duos from your teams. This will help your campaign gain momentum and also break the ice and motivate more people to take part.
And to make things more interesting, you can even add a design template with a custom frame that your customers can use when they post their photo or share it on their Stories.
6) Personalize your existing content
Below you'll see how the homepage on the Apple Store featured a quick message for Father's Day.
Adding an engraving to an iPad is not a new concept. But connecting this with Father's Day is the perfect example of subtlety in marketing. When you have very little time at hand you can easily customize your product page or homepage to make existing services or features appear more relevant to Father's Day.
Notice that Apple also added a message about delivery timelines. Clearly providing information about deliveries shows your timeliness in delivering items and also evokes a sense of urgency that encourages customers to place an order so that the gift will reach its destination on time. 
7) Enhance your brand image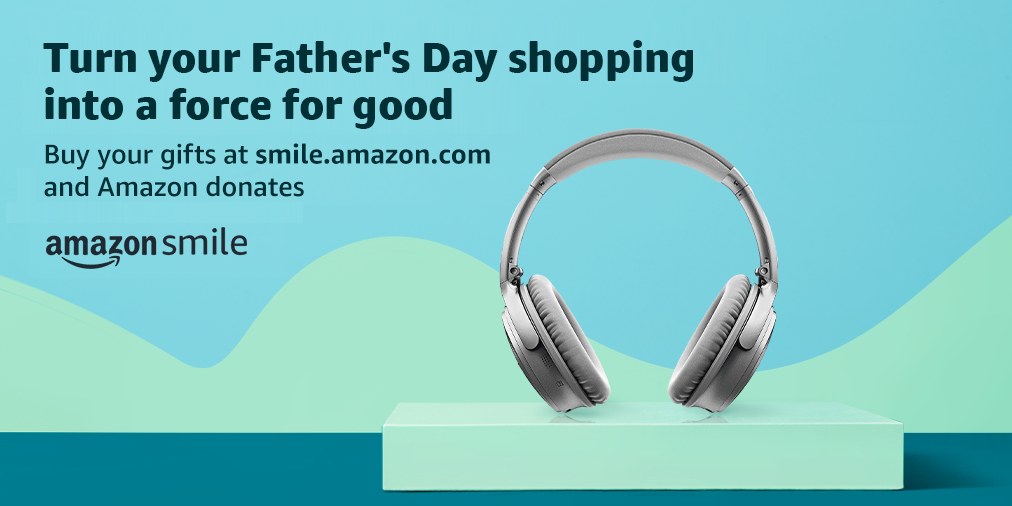 The above image evokes curiosity in customers who do not know about AmazonSmile. And for those who know that it exists, this will be a reminder to do something good as they shop for Father's Day.
This will be a way to show that your brand is responsible. And by letting people take part in these charitable actions, you are building a long-term connection with them. This makes the overall shopping experience a memorable one for your customers and helps enhance your brand image too. 
8) A Father's Day promo code
Want people to purchase a particular line of products in your range? Use a personalized promo code. You can either email these codes or add them to your social media profile.
Adding a sitewide discount is one way to increase the chances of a sale happening. Or if you would like to boost the sale of a particular product line that does not already have enough traction, you can add a direct link to the respective catalog.
When your email subscribers or social media followers gain access to such exclusive codes, it motivates them to stick around and not hit that unsubscribe button.
9) A Father's Day video challenge
Like them or love them, dads are good at tackling challenges. It comes with the territory. So, consider tapping into their spirit of competition with a video challenge. And for most of us, the many DIY projects with dad might be among the most beautiful childhood memories.
Consider launching a "DIY With Dad" contest. You can add your brand's flavor to the contest to make it more effective. Restaurant businesses, for example, can have something like "cooking a meal with dad". Or a home renovation company can organize a contest that encourages contestants to talk about DIY home renovation projects with their dads.
10) Influencer marketing
During special occasions like these, when customers are buying things from your brand not for themselves but for someone else, they will be extra careful about picking the right gift. So, collaborating with other brands or influencers will make your Father's Day marketing even more effective.
You can create a simple video featuring an influencer in your brand's niche. Your influencer can directly talk about the products or the sale you are promoting for Father's Day. Or your influencer can also share his or her experience of shopping from your brand for the special occasion.
Kimp Tip: Videos featuring influencers can be testimonial videos or simple explainer videos. Either way, you get to leverage the popularity of the influencer you collaborate with. So, make sure that you add subtle imagery, or elements, that boost your brand awareness. The easiest way to do this will be to seamlessly add your brand colors to the video. 
Looking to boost your video marketing strategy? The unlimited video designs that come with a Kimp Video subscription can help. 
Try Kimp's Subscriptions for Worry-Free Father's Day Marketing
When you are planning a Father's Day marketing campaign at the last minute, hunting for designers should be the last thing to worry about. With Kimp's subscriptions, you get to collaborate with a dedicated team of experienced designers. No time-consuming or costly hiring and vetting process required. So, make the most of this Father's Day by designing the best campaigns for your brand with Kimp.
Register for a free trial to test out Kimp's unlimited graphic design services.