Build A Successful Craft Beer Brand With Great Designs
There's been a massive renewal of interest in small-batch brews in recent years. And with that revival of handcrafted beer has come a ton of craft beer brands. For craft beer fans this is nothing short of amazing. But for each craft beer brand, it poses a pretty big challenge.
How do you create an impact in a market that is extremely competitive? You could be producing the best possible craft beer and still, if your branding doesn't hook your customers they may not be inclined to try your beer or remember it. 
If you happen to be dealing with the same dilemma, don't worry. In this post, we are going to be talking about how you can tell the story of your brand in impactful ways. From your logo, to your brand personality, designs and digital content, we've got you covered.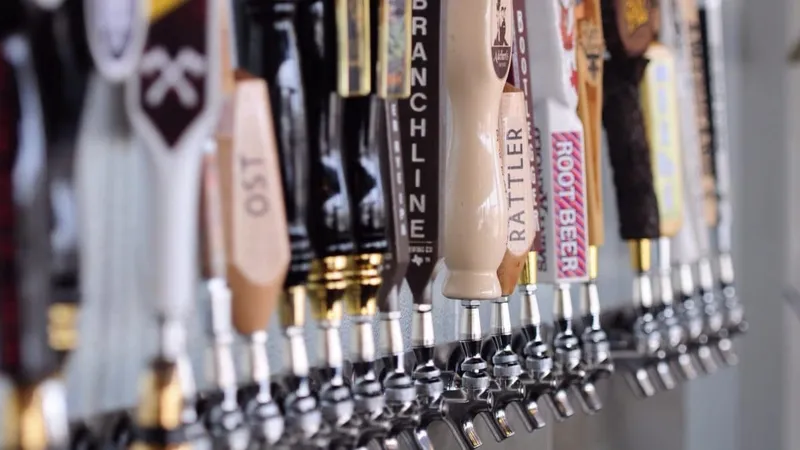 Define your niche
It's important that you think about the niche that you want to be a part of. There's a lot of competition out there, with more brands entering the mix at any given time. It is no longer in your best interests as a craft beer brand to simply produce as many different types of beer as you can. We would even argue that it was never an effective approach. At the same time, it is also not smart to brew one beer and then try to market it to every possible segment of customers. Specializing in a particular type or types of beer, and then marketing that to a particular segment of customers is your best bet.
Consumers these days increasingly focus on descriptors like "local", "authentic", "style-focused" and "award-winning". And in order for a craft beer brand to earn or claim these accolades and value propositions, they need to focus on a particular set of specialties. The challenge here is a tough one. You want your craft beer brand to be easy to understand and associate with craft beer. But you also need your brand to stand apart from the competition, whether those competitors are local, regional or national.
Develop brand values 
Now that you've got your niche figured out, think about your brand values in greater detail. Most brewers will start with the beer that they would like to brew and they will then pick their brewery name. But the values first approach has proven to be quite successful. And for good reason. Consumers get invested in the story behind a craft beer brand.

And they tend to see 3 aspects when it comes to brand authenticity: commitment to quality, heritage, and genuineness. These 3 things may be hard to measure, but together they reveal that consumers care about more than what a logo looks like. They want to buy into the story and values behind the logo. And a craft beer brand that can tell a memorable story based on its values will outdo its competitors every time. 
Generating emotional investment 
Once you've developed brand values that demonstrate that you stand for things that your customers can relate to, it's time to build your story. Having a strong backstory allows you to tie all of your branding and marketing efforts together cohesively. And it ensures that you can create a consistent experience for your customers.
There is a ton of competition out there, so what makes you special? What should people pick you off the shelf and not another? Maybe you have a unique ingredient. Perhaps this is a 50-year-old family recipe. People gather around brands that feel human. So craft a journey around your craft beer. 
Your backstory can help you with everything from choosing a name for your business, to coming up with scripts for brewery tours and videos, to deciding on the visual theme for your website and marketing. The strongest brands have perfected their storytelling technique. New Belgium Brewing in Fort Collins Colorado has done this with great success through a "creation myth" about their Co-Founder Jeff Lebesch and his bike tour of Belgium in 1989.
Perform market research
Not only is this a valuable exercise, it can also be a really fun one when you are in the beer game. You know the ideas that you have for your brand, but here's where you get to see how they would do up against competitors. You're looking at color palettes, font choices, illustrations vs other styles, popular styles vs unique ones. Basically everything that can give you intel on what you need to do to find the sweet spot of incorporating what works with what will make you stand out. At this stage, don't worry if you don't have the design knowledge to figure it all out. Just gather information so that you can share them with your designer.
Eventually, your product is going to be on the shelves next to competitors. And so you find out what's available on the market as early as possible to help you carve out a unique brand. 
Create your brand identity
Now that you've got some important pieces of your foundation figured out, you're ready to work with a designer to develop your brand identity and style guide. As you're sharing your preferences and inspirations with your designer, bear in mind that your craft beer brand needs to be adaptable. You'll have different types of beer release, even when you specialize, and so your brand needs to be versatile enough to adapt to all of your marketing needs.
Key elements of the branding process that you should consider:
Your brand name
You should opt for a brand name that represents, or is derived from, your story. 
Find ways to tell your story
Build your story into everything. Your tagline, copy, imagery, and more will be strengthened by being tied to your story. 
Your color palette
You'll need core brand colors, and then you'll want particular colors for your various beers. As we've mentioned in our other blogs the colors you choose can make your customers feel certain moods or make certain associations between your brand and your values. So choose your colors very intentionally. Think about what kind of emotions you would like your customers to feel when they think of taking a sip of your beer.
The typography
Choosing your fonts is a big deal. So don't take it lightly. Try asking your designer for advice on which fonts will align with your brand story and the look and feel you want. Many craft beer brands use a custom font for their name and then a simple, easy to read sans serif font for other copy. Whichever styles you choose to go with, know that your typography needs to be impactful and that you should pay attention to the personality that the lettering evokes. Would you like something that is soft and cursive that reminisces of family and good times, or would you like something bold and stark that is more military in style? Or something else altogether? Be specific and you'll get specific results.
Your brand voice
Beer is simple. So try to keep it that way. Ditch the overly planned and structured corporate-speak and aim to connect directly, and authentically with your customer. Be friendly and approachable when you let people know what your brand is all about.
Your craft beer logo
Your logo should be an extension of your brand story and align with all of the values you stand for. Bear in mind that you'll need your logo with different treatments so that it can stand out no matter the type of packaging (e.g. bottle or can) or marketing materials that it's printed on.
How will you use your designs?
Once you have figured out your craft beer brand, you'll need to think about how your branding will be applied and utilized. Would you like your beer to be in bottles, cans or both? With each option comes interesting possibilities for design. 
Bottles can offer a lot of flexibility. They come with a cap, the neck, and the lower portion of the bottle that you can brand. You also have a massive scope when it comes to the materials that you can choose from. For example paper, matte film, metalized film, glossy film, clear film and wood finish. When you pick a particular format, make sure that it represents your brand identity. For example, if your brand story is steeped in heritage you might want to opt for matte materials. Or if you are all about being edgy and industrial you could pick a metallic label. 
On the other hand, cans can give you a lot of space to share your message through great designs. And they also have improved shelf life and lower costs.
How can size impacts design options
Depending on where you and your target audience are based, you'll be working with different sizes for your designs. For example, in the US a 355ml or 12 oz can is the standard size. Whereas in Australia 375ml is the standard.
Apart from standard sizes for a craft beer brand, you might want to opt for tall cans or "tallboys" as well, which are 500ml or 16 oz in size. This is something that you can roll out in a small promotional run or once you have an idea about the demand for your beers. A 500ml can give you a lot of space to work with for an impactful design. But it will involve higher costs, for yourself and for your customer, so make sure it's worth your while.  
Printing options that you can explore
Printing can be an expensive business as can suppliers can charge a premium if you don't meet a minimum order. Luckily there are a variety of options you can explore:
The fully printed can
In this case, you cannot have too many colors going on. And you need to keep in mind that some colors like white will not work because the silver of the can will turn into a light grey. You'll also need to get very thin sections outlined so that there is no bleed. But all this said fully printed cans can be cost-effective in large quantities and they look very professional.
Full wrap labels
These labels will cover most of the can and offer a lot of flexibility when it comes to color. To avoid too much contrast between the can and the label, ask your designer to match the top of your label design to the color of your can.
Label + print
If you are just starting out and don't have enough sales to justify a large order of fully printed cans, try this combo. Aim to have most of the design elements on your can. And use a small horizontal strip label to include the details of your beer. The label just needs to be big enough to fit the important details, provide contrast, and be cost-effective. From a distance, your cans will create the illusion of looking fully printed.
Shrink wrap designs
Shrink wrap designs allow you to brand all the way up to the lid, and can look like fully printed cans. They are however more expensive than other options and can take up more time to prepare. They also feel a bit different to the hand as they are thicker than labels, so make sure that if you're choosing this option you're clear on the pros and cons as they relate to your particular audience.
Introducing your craft beer brand to customers 
With your branding in place, you'll need to consider your marketing strategy. How can you introduce your brand to your potential customers and increase brand awareness and generate engagement? Let's take a look at some ideas across different channels:
Use social media
Your social media presence is very important for your craft beer brand. And this should go beyond just posting close-ups of your beer bottles and cans. Consumers follow brands because they want to be in the know about new developments and to get behind-the-scenes glimpses. Don't just tell people that your beer tastes great, tell them, and show them a bit about how you make it. How do you decide on new brews and their names? What's your brewery like and how about the people who brew your beer?
Tell your customers your story on your social media from as many different angles as you can. And through as many different types of posts as you can. Videos, GIFs, branded posts, infographics, and more can help you to this end. And if you need a hand with all those designs, you might want to consider a subscription with Kimp.
Partner up with local businesses and community organizations 
Look for ways to collaborate with businesses and community organizations that have a natural tie-in to your brand. Restaurants and bars are great options to start with. As are sports leagues. You could sponsor an event or initiative through a financial contribution. Or donate some of your beer. You could also simply offer coupons that offer a free product or tasting.
On the flip side you can also look for ways to support and showcase local vendors to generate cross-promotion opportunities. This means that you'd be promoting a local vendor and they'd be promoting the fact that their product is available at their brewery. Word of mouth marketing is powerful and can help you reach completely new segments.
Send out a newsletter
Make you have a place for your site visitors to subscribe for updates on your website or landing page. And then send out regular updates. Your newsletters can really help you build relationships with potential and existing customers. They'll give you a channel through which you can announce new developments, offers, or just let people know some interesting tidbits. We have some blogs on different types of emails you can send to your customers that you can check out for ideas to get you started.
Show off your fun side
The craft beer brands that do the best in engaging their audiences are the ones that don't take themselves too seriously. Having a beer is all about having a good time. So make sure that you share content that reinforces the fun side of your brand. Share videos and pictures showing your customers enjoying your beer in different playful scenarios. Repost content from your followers. And look out for fun holidays or observances like national pizza day so that you can post about how well your beer pairs with a popular dish like pizza. 
Make connections with relevant publications
Try reaching out to industry publications and lifestyle publishers to share your brand story, or pitch a post about your new brew. Whenever possible add in something timely that will give incentive to your story being shared ASAP.
Getting stories published about your brand builds up your credibility and helps you reach a larger audience. Including those who you may not have thought to target previously.
And if they aren't up for writing about you just yet, you can still target their audiences in other ways. Try inquiring about opportunities for paid ads. A few well-placed banner ads could get you a boost in your traffic.
Get to crafting your craft beer brand 
Yes, there is some stiff competition. There's also a lot of fantastic opportunities if you can identify the right niche and carve out a brand that shines within it. So take your time and craft a great brand story and all the brand designs that reinforce it. With so many craft beer brands already in the market you'll have endless inspiration for everything from your logo, to your ads, to your labels. Have fun with the process and bringing a new brand to life. 
Cheers!