Get Ready For Your Black Friday And Cyber Monday Sales
If you have an ecommerce business, it's time to start ramping up preparations for your Black Friday and Cyber Monday (BFCM) sales. Seasonal sales are really important for ecommerce businesses in general. But Black Friday and Cyber Monday? They can make your year!
Of course a big part of why BFCM is especially important this year is because of the pandemic that still is at large. Businesses have been hit hard, and the opportunity to generate sales and engage customers can't be missed.
At the same time, an increasing number of consumers have been making more of their purchases online this year. And as a result businesses have already started facing challenges with meeting demands because of constraints in shipping, inventory and purchases.
All the more reason to start getting prepared, from how your ecommerce shop looks, to your marketing creatives.
What do the numbers say?
In terms of statistics, holiday retail sales that happened during the period of November and December 2018 increased 2.9% over the previous year's numbers and came up to over $1 Trillion! And of all of the shopping events in that period, it was Cyber Monday that brought in the most sales. Over 67.4 Million shoppers in the US alone, accounted for $6 Billion.
When it comes to mobile commerce the numbers recorded are rather impressive too. In 2019 they accounted for more than 40% of all orders, with a dip on Cyber Monday, during which they accounted for 42%.
Getting your store ready for BFCM
It's important to start preparations for BFCM as early as possible. While it's an important retail and ecommerce event in and of itself, many customers actually start their holiday shopping much earlier. Surveys have found that customers will start looking for deals for the holidays as early as September! So we've put together a few tips for how you can get ready for the rush:
Make sure that you offer contactless delivery
To ensure that your customers, team members, and those delivering your products are kept safe, be sure to offer contactless delivery options. You'll also want to provide your customers with details on how they can safely make returns. And if you have a brick-and-mortar shop or office, consider offering curbside pick up.
How fast is your site and checkout process?
If you have a site that is really slow to load, especially when you're getting a lot of traffic, and if your checkout process is complicated, now is the time to speed them up. 46% of shoppers have said that they will not return to a website that is slow. Make the process of browsing and making purchases on your site as simple and seamless as you can. And in the event that your customers do run into hiccups, make sure that details of how they can get help are clearly displayed.
Black Friday and Cyber Monday come just once a year and you should not miss out because your site isn't up to scratch. So back everything up from your product images to your site codes, and test your site to make sure that it's ready to go. Be sure to have contingency plans and messaging in place in the event that your site does go down. For example, having posts ready for social media that get the word out to your customers about when they can expect updates and access.
Be ready to handle the volume
Black Friday and Cyber Monday come just once a year and you should not miss out because your site isn't up to scratch. So back everything up from your product images to your site codes, and test your site to make sure that it's ready to go. Be sure to have contingency plans and messaging in place in the event that your site does go down. For example, having posts ready for social media that get the word out to  your customers about when they can expect updates and access.
Optimize all your products
Many shoppers – as much as 7 in 10, are rather unsure of what they will be buying during BFCM. So, it is a must that you make your products easy to find when your audience is searching for them. And that is where search engine optimization comes in. Here are a few tips for how to go about this:
Use the right keywords in your product descriptions and promotions.
Drive traffic to your store using a variety of organic content and paid ads highlighting the benefits of your products and the limited time your offers are available.
Build backlinks to your store.
Use data from previous sales
If you had Black Friday and Cyber Monday sales last year, you'll want to make sure to look at your sales data to get a sense of how your customers responded. Knowing what worked and what didn't will help you tailor your promos for this year. It will also help you create a schedule for the products you'll be discounting and the ads that will promote this. 
Use catchy content and pop ups
Create product descriptions that give your customers a sense of urgency and use pop ups to highlight the urgency. A great option for a pop-up is a countdown timer, displaying how much time is remaining in your Black Friday and Cyber Monday sales. You can also opt to have a banner or banners added throughout your site to emphasize this.
You'll also want to be sure to display the products that are on sale very clearly on your homepage. A well designed hero image, or series of hero images, will do the trick.
In your descriptions and copy use phrases like – "limited time only", "in high demand", "sold out soon" and "only one left". You can also do some Google keyword research to see if there are any terms that are related to BFCM, and your product category, which can be included in the descriptions so that your website's SEO will be boosted.
Cross-selling is important
When customers buy something from your site, give them suggestions of other items that will pair well, and enhance their experience. For example if somebody is buying a yoga mat, display other accessories that will come in handy for their yoga practice. You can also try doing this at the point of consideration itself, by offering bundles of products or discounts that are applicable when 2 or more items are purchased together.
To make your offers as compelling as possible, consider having standalone pages designed for your Black Friday and Cyber Monday sales. You can also consider enhancing the designs of your existing product page(s). As with any other update to your website, be sure to test every bit of it before having it go live.
Focus on your top sales channels
Almost every business is going online and this year you may want to make the most of multichannel selling. If you are already doing this, identify the channels that suit you the best, and start focusing on them. The channels that perform the best tend to be Google, Facebook, Pinterest, and Instagram.
Think about pandemic product trends
Of course, you'll always want to highlight your best sellers during your Black Friday and Cyber Monday sales. But this year we recommend that you also think about the kind of products that will see a general increase in demand because of the pandemic. This doesn't mean that you need to completely pivot your business. But you can simply add to your inventory or change it to include certain products. Some of the products that have been selling well since earlier this year are:
Furniture (outdoor and indoor) 
Home as well as office equipment and accessories
Exercise gear 
Self-care and beauty products 
Puzzles and board games
Leisure wear
Design social media campaigns that are irresistible
Promote an offer that is simply irresistible on one of your products, to drive traffic to your store. Once your customer starts shopping, chances are that they will actually buy more than just that one item. Usually, the item that you offer at the steepest discount during your Black Friday and Cyber Monday sales will be your loss leader. This means that it will be the product that gets your customers in the door – or on your site in this case. And the loss on that one product will be made up for by customers adding more to their carts than they would have otherwise. 
Here are a few more ideas you can promote via social media:
Limited time product bundles 
Gamifying offers by running contests to win significant discounts 
Daily deals that are available during a specific window of time
Free shipping on all orders of certain products
Update your social media profiles
We've mentioned updating your website's banner and hero image designs. But that's just part of what you'll need! Update your social media profiles to reinforce the message. You'll want to make sure you have cover images for all of your profiles that promote your Black Friday and Cyber Monday sales. Minimize the use of text, but do make sure that you're using a font that's easy to read.
And while it's a best practice to use your logo as your profile image, that doesn't mean you can tweak it by using an alternate version. For example, if you typically use a certain version of your logo, try applying a different color palette that's more in line with your promotions. This may or may not work, depending on the type of logo you have. But it's worth experimenting with to unify the message. 
Start email marketing campaigns as early as you can 
Now you don't want to cram everything about all your offers into one email. So give yourself the time to plan, design and schedule all of your emails in advance. And keep these tips in mind:
Build suspense and excitement around your upcoming Black Friday and Cyber Monday sales oso that customers look forward to them. 
Send out emails to warm up your customers in the weeks leading up to your Black Friday and Cyber Monday sales and include teasers and hints in them. 
Have confirmation emails ready to send out to those who have made purchases.
Have abandoned cart emails ready for those who will need a nudge to complete their purchase. 
Reward your loyal customers
Black Friday and Cyber Monday sales are amazing opportunities for you to be able to build relationships with your past customers. You can also earn their loyalty this way and get them shopping with you again. At the very least, you'll be top of mind the next time they're thinking of your products.
Give your existing customers the chance to make the most from an advance sale or just give them exclusive offers for subscribing to your email list. Reward their loyalty and you'll be rewarded in turn, with stronger relationships with your customers.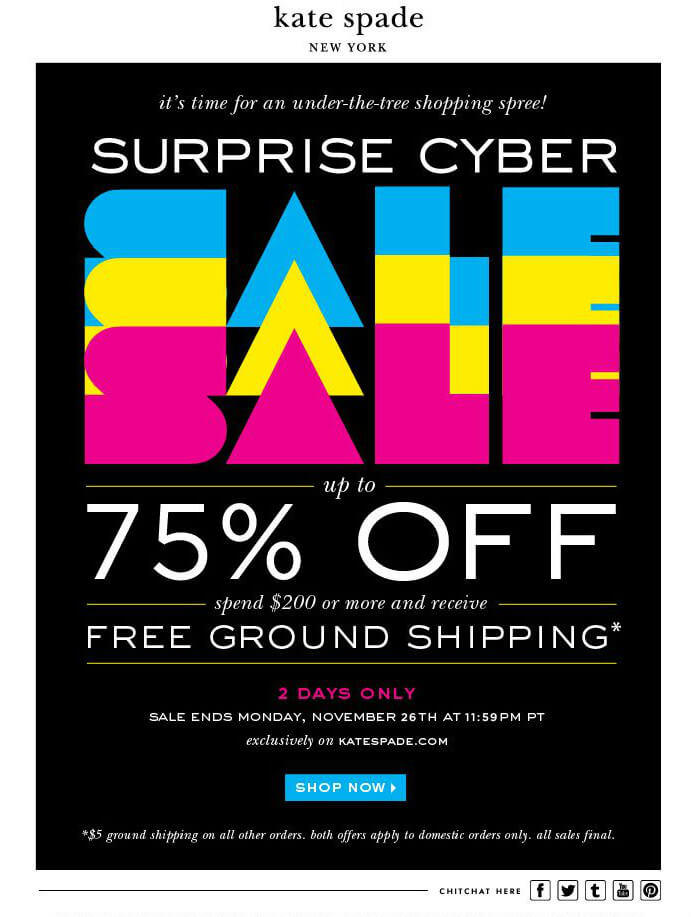 Use compelling images and themes
Use the best images that you have of your products for your promotions. If you've been meaning to get some better product photos taken, now is the time! You can also use lifestyle images that demonstrate the emotions that customers who use your products experience. Now these can be stock images, but try to avoid images that appear to be obviously from a stock site. You know the ones we're talking about. With the smiles that are just too forced and fake to be believed. Look for shots that are more natural, or ask your designer to help you with sourcing some options.
You'll want a few solid options for your creatives so that you can A/B test your ads and figure out which ones are a hit. 
Be responsive throughout your promotions
Your customers and even your potential customers should find it easy to reach you during your Black Friday and Cyber Monday sales, in the days leading up to them, and in the days after. The last thing that you want to experience is loss of sales, because of the fact that your customers could not get in touch with you. Be responsive on your website's live chat, if you have one, and monitor all of your social media inboxes as well as your email. And keep an eye on the comments made on your ads and posts on social media.
A few tips to keep in mind:
Immediately after you send out emails and promotions, make sure that you are available on your live chat, and monitoring your inboxes, because people will be checking out your site.
If you have a live chat feature, make sure that it's tested and ready to roll. It should be available on all of your pages, as your customers will be evaluating your offers as they navigate through your site.
When it comes to color schemes, you'll want to accentuate your brand colors to add as much emphasis as possible. If your brand colors are on the subtle side, ask your designer what your options are as far as modifying and playing with the colors you usually use, in new ways. Your goal here is to be impactful, but not lose brand recognition. You'll also want to bear in mind that the colors you're working with your campaign should look good across social media, your website and other marketing channels like email campaigns.
Design a gift guide 
When you design a gift guide you are allowing your customers – especially the ones shopping with you for the first time, to better navigate your Black Friday and Cyber Monday sales. You can create categories that help shoppers qualify their purchases like 'gifts for your boyfriend' or 'gifts for fitness enthusiasts'. Here are a couple tips to get the most of your gift guide:
Curate collections on your online stores on Facebook and Instagram. This will help customers figure out what the best options are, within those collections. 
Promote it through a series of social media posts, with individual posts highlighting individual items or categories.
Offer it as a lead magnet, collecting emails in exchange for your recommendations and tips.
Write a gift guide blog with a solid keyword and SEO strategy and post that across all of your online platforms. You can even include links in your email marketing campaigns. 
Make sure that you have your products shown off through great designs, optimized for each marketing channel.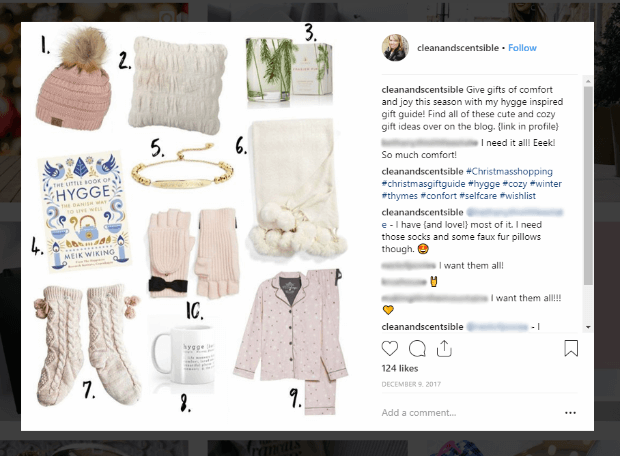 Get ready for your Black Friday and Cyber Monday sales
Black Friday and Cyber Monday sales can be huge boosts for any business. And not just because of the sales generated during that time. These events create opportunities to get on the radar of new customers and audiences, who you'll then be able to build relationships with. If all you get from a prospective customer is an email during your marketing campaigns, that's still a win.
With the right amount of nurturing, it's just a matter of time before they become a customer, or refer others to your brand. And this is why it's worth every bit of preparation and execution – Black Friday and Cyber Monday sales aren't just one-hit wonders. They can be the launching pad for long-term relationships with customers.