2022 Graphic Design Trends To Inspire Your Marketing Team
Believe it or not, a new year is just around the corner. And that brings in a lot of changes across every aspect of your life. Whether you are someone who is into the "New Year, New Me" way of life, the truth is most of the world is.
Including the marketing world. That's why towards the end of every year, acclaimed experts come together to predict the trends in various divisions of the marketing industry for the upcoming year.
Now you may wonder, why are these trends so important? Is it necessary that if the calendar year changes, the popular themes in marketing also change? Well, yes, and no. We have seen many marketing trends staying on top for years, but the reason for this analysis is different.
The marketing world depends on many allied industries, such as retail, digital marketing, and social media, to name a few. When the big names in those fields launch schemes based on calendar year beginnings and seasons, trends also form simultaneously.
Knowing these trends, and how they affect your campaigns, can make an enormous difference to your business in the upcoming year.
Being one of the leading unlimited graphic design services, the Kimp team is bringing you the best of graphic design trends for 2022.
Let's check them out. 
The Value of Graphic Design in Marketing
Before we get into the trends, let us take a quick minute to re-emphasize the value of graphic design in marketing. Marketing is beyond publishing content and reaching customers via SEO and advertisements. At its crux, it is an attempt by a brand to connect with its audience.
And for the last few years, studies have clearly shown us that brands have a higher chance of achieving this when they choose design as the principal medium to connect.
Right from branding, web design, packaging design, to storefront design, the value of presentation is on par with the value of content, if not more. Hence, visual marketing, the techniques of design aides to convey your brand's message, are growing at a rapid pace.
Customers have repeatedly shown us that design is the key to opening doors of opportunity everywhere. For example, a 2019 study tells us that customers stop interacting with poor website designs. And they form an extremely poor impression of a brand just based on the website's first look.
Design also gives you a lot of leverage over your customers. You can pick and choose who you attract and what impression you give of your brand just by choosing the right color, font, and design style.
And that is why understanding the 2022 graphic design trends gives you a leg up. Not just on your new year marketing but on your competition too.
8 Graphic Design Trends to inspire your Marketing in 2022
Many brands feel that design trends change by the hour. And they are often apprehensive about following them instead of their usual design style. This fear is not exactly baseless. But it's important to understand that some of the 2022 graphic design trends reflect the shift in consumer taste. It gives us an inkling of what will attract the customer to our brand better.
In this blog by the Kimp team, we take you through the most popular 2022 graphic design trend predictions with the reasoning behind them. That way, you can make an informed choice before diving in.
1) Inclusive design
As a growing business looking to expand its reach in an industry, we are sure you dream of building a brand that everyone can relate to. And that is important because only if customers saw a place for themselves in your brand will the relationship last. And our first mention in the 2022 graphic design trends relates to that.
Inclusive design has been catching on in the industry for quite some time now. The COVID-19 pandemic and changing customer sentiments have given it a major boost.
Across your marketing material, you must have inclusive visuals depicting the brand's values, offerings, and messaging. The inclusive design makes everyone feel this product is for them, and that benefits you as well.
Inclusive visuals mean that you pay attention to the diversity in your customer base and ensure that there is an equal representation from each section. That could mean including images of individuals from different races, closed captioning on videos, representation of different genders, body types, and environments as well.
Kimp Tip: To build a truly inclusive visual in marketing, you have to make conscious choices in font, colors, iconography, imagery, and printing material as well. You can make this easier on your design team by including a potential target audience base in the design brief and emphasizing who you want to attract with a particular design.
2) Data visualization
Contrary to what most social media platforms will have you believe, customers do want to hear more than just two sentences' worth of info from you. Your marketing campaigns have to reach beyond pretty captions and aesthetic photos. Not to mention that long-form content works the best for SEO.
But the challenge is always to make it interesting and palatable to the customers. Consider this. You have a tech product with a ton of features. Explaining these to your audience in a long essay format will not cut it. You need to make this data easy to understand and remember. And that is why you need data visualization.
More than ever, lately infographics have been the talk of the town. They are one of the most engaging and interactive content forms, excluding videos and GIFs. But data visualization goes beyond infographics. Any design that takes data and converts it into a visual language you and your customers communicate by falls under this. These can be charts, graphs, infographics, maps, or other pictorial representations using images and icons.
And they can take the form of static images or motion graphics.
Kimp Tip: Your choice of color, font, and imagery in your data visualization efforts determine the chances of success or failure. If you want your data to reach a wider audience, you must pay attention to design as well. Attractive and engaging design can turn a mundane set of statistics into an intriguing content piece. Choose a design team that knows how to make data interesting.
A Kimp Graphics' unlimited graphic design subscription, including data visualization design, can make it easier for your brand to leverage this trend.
3) Bold colors
In this age of crowded internet space and reducing attention spans, there are too many marketing teams battling out for the same set of eyeballs. Scrolling through social media is everyone's pastime. But you need something interesting and eye-catching if you want your customers to actually engage with your content.
For this very reason, marketing experts expect the bold color saga to come back with a force in the coming year. This 2022 graphic design trend prediction bases itself on the fact that bold colors get more attention and stand out against the white backgrounds most feeds adopt.
They also connect well with a younger generation who looks for brands with a strong style statement instead of fading into the background. So, for your social media content, package design, and even overall design palette, we suggest leaning into the bold and bright color scheme more.
Kimp Tip: Working with bold colors can be a challenge. Especially if your traditional brand colors are bright too, creating a conflict. You must be careful and ensure you bring harmony to your designs.
With Kimp Graphics and Kimp Videos exceptionally talented design teams, you can lay those doubts to rest. Trust us to deliver what you want. Book a call today.
4) Illustrations
We don't know if it is the sense of whimsy or artistry in much of the current consumer base, but they love illustrations. Both Gen Z and millennials prefer brands to have a distinct personality and their own character rather than being one in the crowd. Illustrations help you bring a sense of unique identity to your brand better than any other graphic design tool.
By including representative characters or blobs across your branding and marketing, you can appeal to everyone's visual taste to connect with them. Illustrations also make it easier to incorporate inclusive design visuals into your marketing, which is probably why people like them so much.
Most brand personalities are abstract and hard to describe. How do you visually represent an inclusive kid's brand with a fun personality? Images can become hard to source, but custom illustrations can solve this conundrum for you.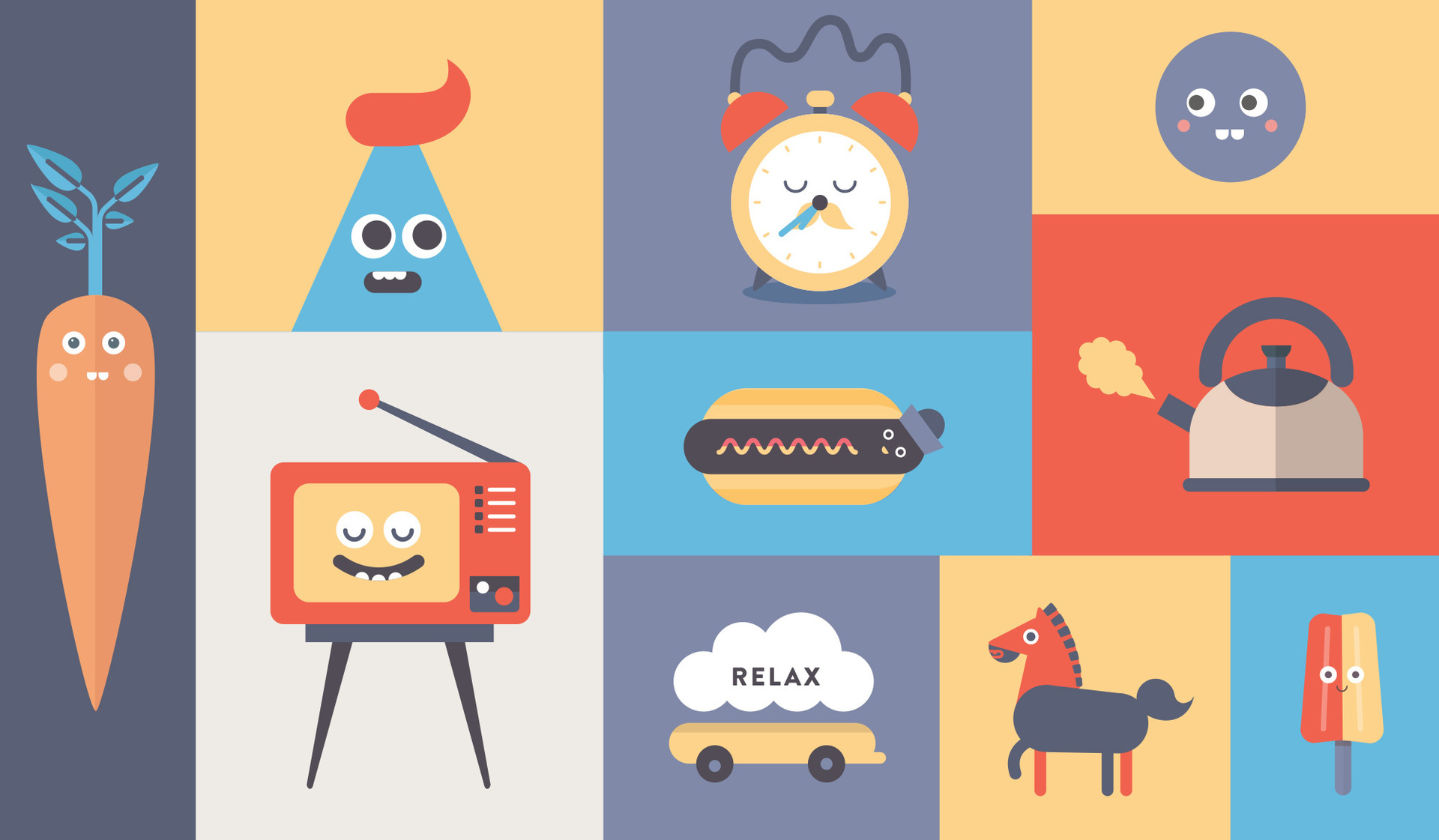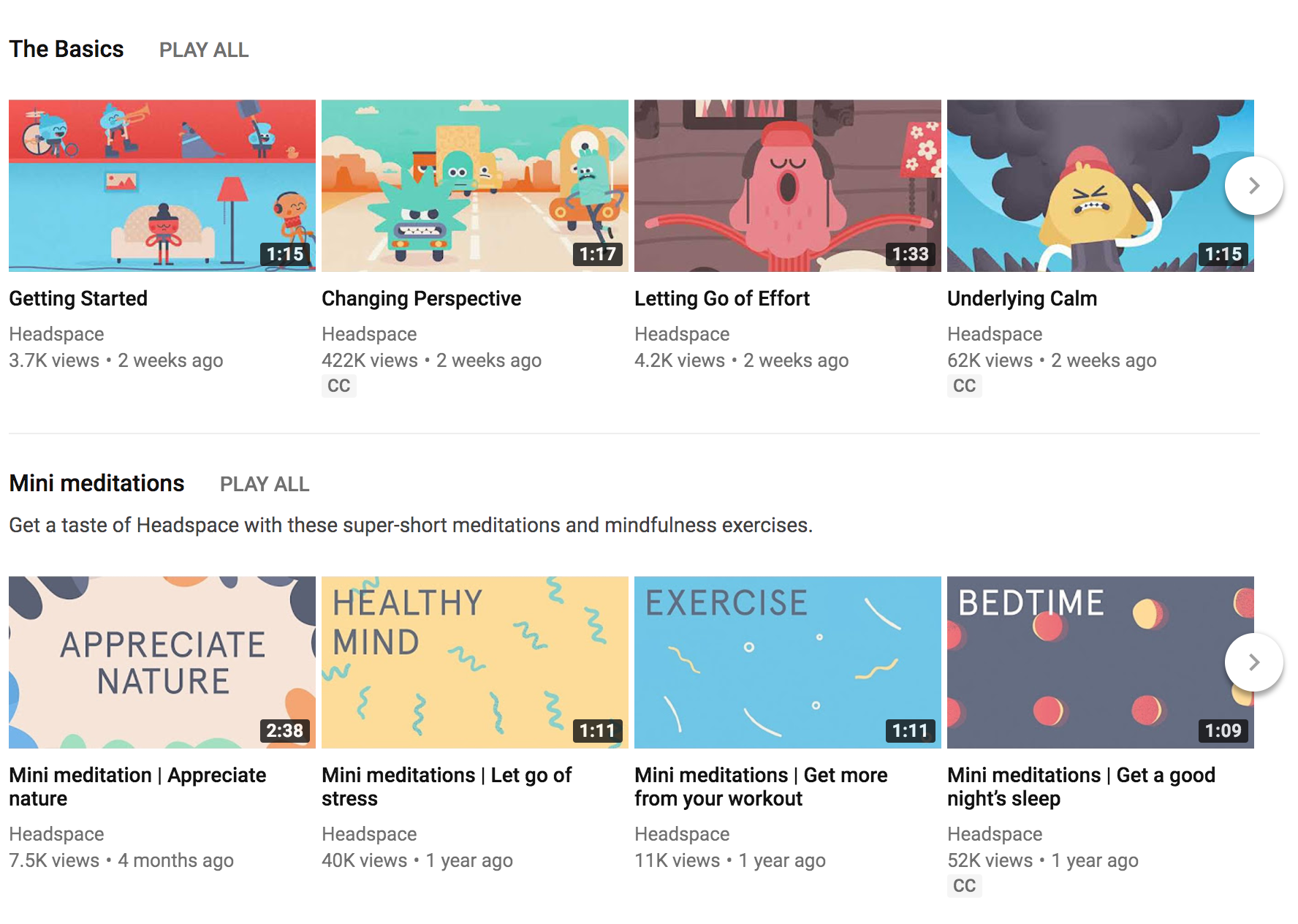 Headspace leverages the power of illustrations to convey emotions via its content. Did you know that the Kimp Graphics subscription plan covers custom illustrations for your branding and marketing efforts, too? That's right. All under one roof at a flat monthly fee.
5) Custom fonts
For a long time, fonts have been quite mainstream. Out of the four major types of fonts available to marketers and designers, they picked one that suited the brand the best. This has many constraints as new businesses enter the market. Not every business fits into the division of traditional or modern clearly. More often than not, they are a mix of both.
And this demand for something more than traditional typography has paved the way for custom fonts. Fonts that designers create after understanding the brand, target, and marketing campaign in detail. You can consider them to be illustrations but in font formats.
Custom fonts can help you build a unique brand personality and stand out in the crowd.
Kimp Tip: Sometimes, experimenting with the colors you choose for your fonts can be helpful. Vibrant colors combine the benefits of bold and bright shades with the uniqueness of these custom fonts. With the right combination, you can truly create something unique and attuned to your customers' preferences.
Wondering what the right combination will be? Sign up for Kimp Graphics' free trial, and we can whip up the mockups together.
6) Psychedelic design
Some art forms are so great they inspire countless other artistic trends. But sometimes these inspirations get forgotten while the newly born trends reign supreme. Pop Art and most modern art that came from the psychedelic art form are prime examples.
A popular art form of the 1960s with bright colors, groovy lines, detail-oriented design, kaleidoscope, and spiral patterns, many consider psychedelic art as inspiration for 20th-century fine art.
Rock posters and Pop Art once immortalized this art form, and now it is back. Edgy designs, bold colors, and a modern take on the world's realities – ticks off all the boxes for today's culture and world problems-conscious youth. And chaotic designs make for a wonderful medium to showcase a lively brand personality.
When done well, it can be a part of your brand's visual identity and represent you across catalogs, fliers, package design, podcast covers, website design, and more.
7) Branded memes
Memes are close to becoming a universal communication model. Most of the people who access social media regularly get their daily dose of worldly happenings, majorly from memes. They are highly shareable and have some of the highest engagement rates of all content types.
As a brand, you must try to insert yourself into popular culture and trends as much as you can. It improves brand visibility and imprints your brand into the customers' memory with no active selling. Memes are the easiest way to insert yourself into popular conversations on the Internet.
Now, just creating and sharing memes will not cut it. That is why branded memes are the 2022 graphic design trend to watch out for. You must create memes that align with your brand values, give you a way to place yourself in the conversation, and are popular with your target audience.
While trend hopping is not always a recommended strategy, it is one for memes. The faster you create memes and share, the sooner you reach more people. So work with a design team that can deliver quality in a short TAT aka turnaround time like Kimp Graphics.
8) Video/Motion graphics
If you use social media regularly, you may have noticed that it is videos, videos, and more videos wherever you go. No matter what the platform is about, there is only one thing you see everyone creating. And it is videos.
Experts believe this trend will continue and become a part of the 2022 graphic design trends as well. Videos or motion graphics are extremely engaging, interactive, and easy to share across social media platforms. Most social media algorithms today support videos over any other content form.
Another emerging trend within videos itself is the increasing use of texts, animations, and other design elements instead of expensive products. The COVID-19 pandemic forced creators to be innovative, and the customers have welcomed it with open arms.
Did you know the Kimp Video team can help you create animated videos, edit your mobile videos, add closed captioning, and license stock audio too?
Choose Kimp to ace the 2022 Graphic Design Trends
Every piece of content you publish reflects your brand. That is why you have to be careful even when you are following trends. A smart design team can help you choose the graphic design trends to adopt in line with your brand's personality, vision, and existing visual identity.
And since most of these trends extend across static and motion graphic designs, you also need a versatile team. Now, sourcing all these resources can become an expensive affair, which is not something you want for the new year.
But with Kimp Graphics and Kimp Video's unlimited design services, you can now leverage the best of the 2022 graphic design trends at an affordable cost. Create with no limit on requests, revisions, and user profiles. All at a flat monthly fee and nothing more.
Sign up for the free trial now.