2021 Black Friday Ads: 8 Ideas Ecommerce Brands Need To Try
Are you ready for the end of the year? The holiday season is upon us, and it is time to bring out the big marketing guns. Right from Halloween, brands across industries see a huge spike in their sales and overall customer engagement numbers.
While each of the major sales this time of year has its own importance across industries, some are truly show stoppers.
Black Friday and the subsequent weekend are definitely some of the biggest.
Over the past few years, the shopping industry has witnessed a gradual shift in Black Friday sales from brick-and-mortar stores to ecommerce portals. However, the biggest jump came in 2020 with the COVID-19 pandemic. With the many safety restrictions in place, customers opted for online shopping and delivered or curbside pickups at the most.
But the growth doesn't stop there. The projections are that the Black Friday deals and the surrounding marketing in 2021 will break the old records.
As an ecommerce brand, are you looking for marketing and advertising ideas to take your share of the pie? You have come to the perfect place. The Kimp team has put together an extensive list ideas for Black Friday ads for your ecommerce brand.
But before we get into them, let's take a look at the Black Friday trends and numbers from 2020 so that you know how big of an opportunity is coming up for you.
Black Friday: The sales event to end your year on a high
Holiday spending is an age-old phenomenon. This is when the purse strings come loose, and people have more and more reasons to shop. Whether by tradition or just by peer pressure, spending in the last three months of the year usually creates a spike in revenue for all businesses.
However, Black Friday in 2020 went down in US History as one of the largest online spending days, just after the 2020 Cyber Monday. With a 22% year-on-year surge in online spending, the final numbers ended up being a whopping $9 billion.
The searches for "Buy Online" also saw an upward trend in 2020 helping ecommerce brands in their Black Friday sales efforts. In turn conversion rates went up in 2020, showing that the marketing and advertising efforts were coming in handy.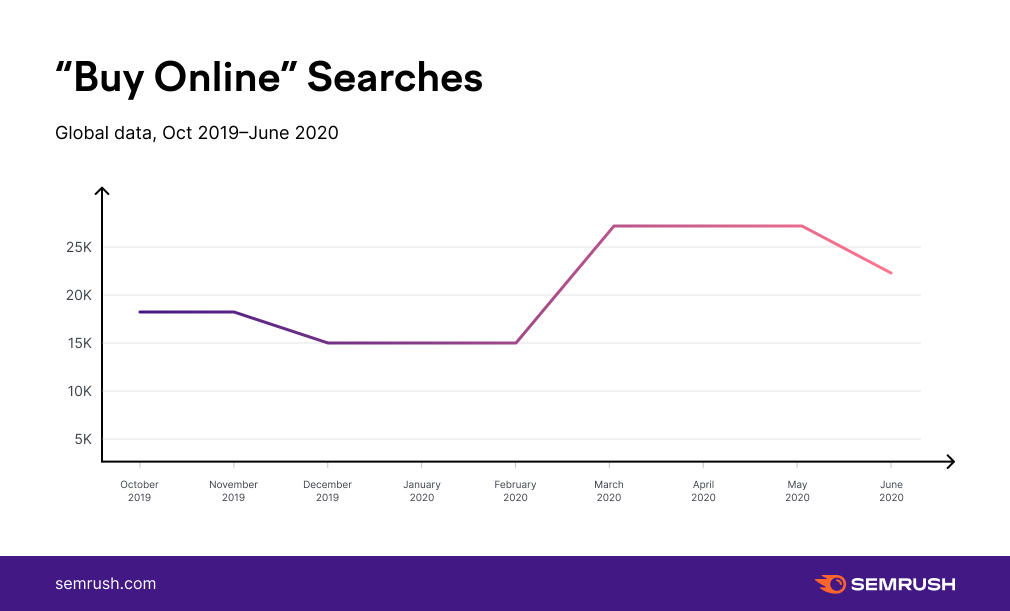 The year 2021 has an advantage and a disadvantage. The advantage is that customers will most likely continue to spend on ecommerce brands, which is great. But the disadvantage is that they are now competing with more and more brick-and-mortar businesses that have created an ecommerce site. Companies have to truly step up their game if they want to edge out their competition.
So how do you ensure you pass the gold standard expectations of the shoppers this 2021 Black Friday season?
Optimizing your 2021 Black Friday Ads for higher conversion
The early bird gets the worm. Every time. So, launch your campaigns early for the 2021 Black Friday sales. You can start by announcing exclusive offers for people who sign up via your ads and then launch targeted email campaigns. Starting early also means you are the brand the customer sees before your competitor.
Most ecommerce cart abandonment happens on Mobile. Coincidentally, mobile shopping also holds the record for most sales. What does this tell you? Your entire advertisement spectrum, from landing page to ecommerce product page, has to be mobile-friendly. Work with your designer for a seamless experience on smartphones for higher conversion rates.
Personalized advertising is vital to attract and engage customers across the spectrum. Have a fluid advertising design template and use marketing insights to personalize designs and copy for your customers.
Ensure that your advertising designs cater to different target audiences of your brand using the design principles that attract each set the most. These designs must also cover the entire spectrum of the customer journey, right from brand awareness to comparison to the final stage.
8 Ideas for Black Friday Ads for Ecommerce Brands
In this race to grab customers' attention and ensure your CTR on every ad is through the roof, every idea has to be high-impact. Ecommerce brands today must try to expand their horizons and reach customers in many ways. The stronger their presence, the stronger the chance of a conversion.
Now, organic marketing campaigns and engagement rates are surely helpful to keep the momentum going. But, for increased conversion rates and higher impact, you have to up your ad spend during the Black Friday shopping season.
To help you make the best use of your 2021 Black Friday Ads, here are some must-try ideas for your ecommerce brand.
1) Early Access Ads
In the previous section, we discussed how the key to a successful Black Friday campaign is to begin early. By starting sooner, you get to grab the early audience and attract them to your unique offerings. If you want to seal the deal soon after grabbing your audience's attention then we suggest starting with an Early Access Ad.
These ads work well on Facebook, Instagram, LinkedIn, Twitter, and Snapchat. Just choose the platform(s) based on where your target audience is.
Kimp Tip: Advertisements that carry important dates and coupon codes need a clear visual hierarchy-based design. Customers must be able to quickly glance at and understand the motive of the advertisement for better conversion rates. With a Kimp Graphics subscription, you get unlimited high-quality creatives that enhance user experience, at a flat monthly fee.
2) Curated Gift Guide Ads
The holiday season is gifting season, and most holiday marketing centers on gifting culture. People wait to buy their favorite products during the Black Friday weekend. So, a guaranteed way of attracting customers to your ecommerce store is to create and promote your gifting guides.
You can create different categories based on your target audience, personalization insights, and product characteristics.
Two ways to create and curate gift guides are:
Image-based gift guides showcasing a particular collection from your ecommerce store for this Black Friday. Facebook/Instagram carousel and catalog ads are perfect for this. You can also promote these on the Google products page.
Video-based gift guides to make your content more engaging and attractive for the audience. You can use these for Twitter, LinkedIn, Facebook, Instagram, and email marketing campaigns.
Kimp Tip: Video ads perform better across platforms but are not exactly easy to shop from. So, you must choose the format based on the intent. If the intent is to promote the brand and generate brand awareness ahead of the Black Friday sale, opt for video ads. For last-minute ad designs that must be easy to shop from, choose carousel or catalog ads on Instagram and Facebook.
If you are looking to incorporate both at different stages, then we suggest checking Kimp Graphics and Kimp Video subscription plans to get your ads designed for a flat monthly fee.
3) Countdown Ads
What is a holiday marketing campaign, without the good old hype? As they say, a cliche is a cliche because it works. Hype marketing works and does wonders in ensuring that when the sale comes, you are among the first few brands the customer remembers. The constant hype, buzz generation, and content also make people curious about the actual offers.
Some creative ideas for countdown ads are:
GIFs with a countdown ticker or the 5..4..3..2..1 animation
Short animated video ads showcasing your brand and products, along with the countdown
Static image posts with the product/sale announcement with the countdown to sale graphic
Kimp Tip: Make the countdown ads for your ecommerce brand during the 2021 Black Friday sale as attractive as possible. You want the customers to engage, share, and stay tuned until the very last day. Experiment and make them fun.
If you worry that so many creatives for Countdown ads during the Black Friday sale will prove expensive, check out Kimp Graphics and Kimp Video subscription plans. You get unlimited requests at a flat monthly fee. Create as many ads as you want.
4) Video Ads
Traditionally, ecommerce ads perform better when they are in video format. Video is currently every social media platform and user's favorite medium, so it is your best bet to reach a wide range of audiences.
Ecommerce Video ads for Black Friday campaigns also allow you to experiment and create different creatives for your customers. Instead of just showcasing the product, you can weave a story around it, use animation effects, and make it interactive.
You can post video ads on Facebook, YouTube, Instagram, LinkedIn, Tik Tok, Snapchat, and Twitter. Video ads are easy to repurpose and get a good reception across all these platforms.
Based on your target audience, you can choose between a long-form video ad or a short-form video ad. Check out our video ad guide for Ecommerce to learn more.
The YouTube video ad above, for an ecommerce brand, shows how effective videos can be for ecommerce black Friday campaigns.
Above are examples of interactive and engaging Instagram video ads.
Kimp Tip: Any video ad's success depends on the final editing, captioning, and the small touches that enhance your brand's value. They are expensive to produce, but a good editing team can help you transform your raw footage into a masterpiece. For the best eye-catching and potentially viral video ads this Black Friday season, try a Kimp Video subscription. And we do mean try – all subscriptions start with a free 7 day trial!
5) Short Term Ads
Black Friday campaigns come with many limited-period offers. Ecommerce stores also like to promote messages such as "Few items left", "Coupon expires in 24 hours", and so on. It generates FOMO and makes people eager to get clicking and buying.
A great placement idea for these types of Black Friday Ads is on the Stories feature on most social media platforms. Stories on Instagram and Facebook have viewership, and on Snapchat are popular for short-lived content.
When you design ads for these mediums, you improve the chances of them being seen by the right audience and actually selling off of these ads. Instagram Stories are easier to link products as well, making them even more ideal for short-term ads.
Kimp Tip: People tap through Stories very quickly. They appear for less than 15 seconds on their screen at the maximum. So you need a design team that can make these ads ooze attractiveness and entice people to click on your link.
Creating clickable stories is an art, one which the design teams at Kimp Graphics know very well. Book a call to learn more about how an unlimited design subscription can help your team get ready for your ad campaigns.
6) Out of Home Advertisements (OOH Ads)
Yes, you run an ecommerce business, but that does not mean that your advertising campaigns are for the digital world only. Your customers are everywhere, and for Black Friday sales, you have to be omnipresent.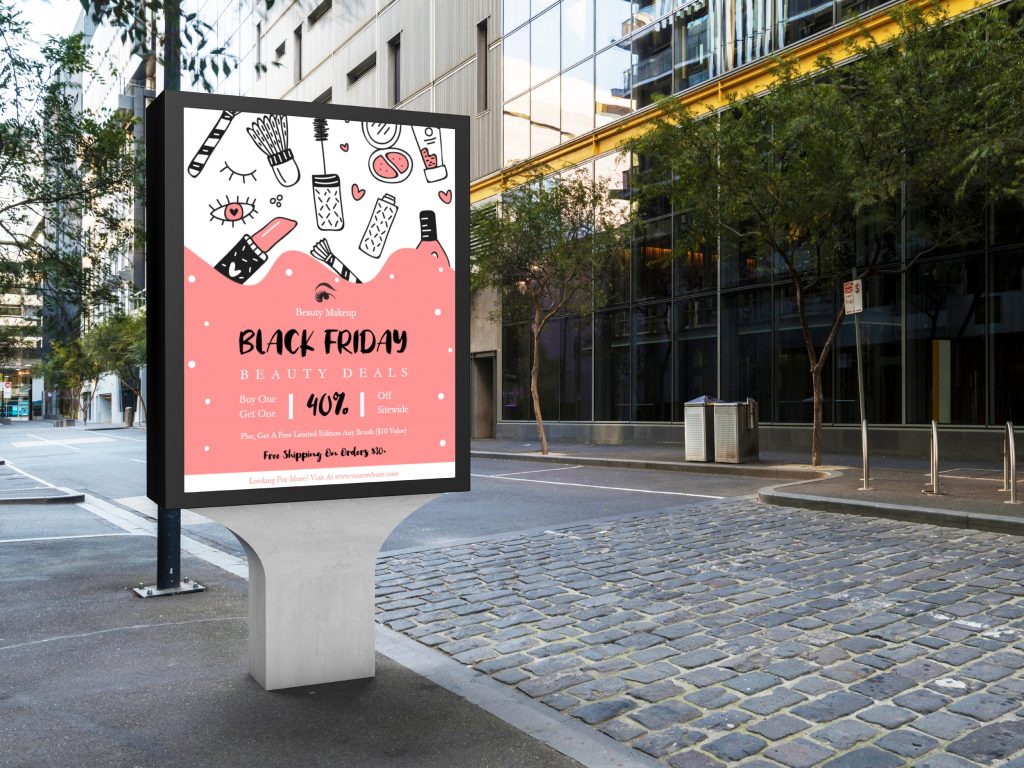 And out-of-home advertisements can achieve that for you. Billboard, street signages, banners, vehicle advertisements, and bench ads are just some examples for your ecommerce brand for Black Friday. If you know that your target audience lives in a certain region, try targeting them this way.
Billboards are the best form of advertisement to improve your brand awareness, share the latest discount sale details, and just grab the customers' attention. They are increasingly becoming one of the most popular out-of-home advertising channels. So if it makes sense for your brand, try leveraging them for this year's Black Friday campaign.
7) Website Banner Ads
Web searches for Black Friday saw a huge jump in 2020. Customers have also increased their digital usage owing to the COVID-19 pandemic in the last year. So, advertising on websites is a natural and great option for your ecommerce brand this Black Friday season.
Website banner ads work like pop-ups that direct the customers to your website or ecommerce store landing page when they click on it. They are a great place to promote last-minute offers, short-lived discount codes, and the latest sale updates.
8) Print Ads
Applying the same principle of OOH advertising, print ads are another great avenue for you to promote your ecommerce brand during the Black Friday season. Advertising in newspapers and magazines has existed from time immemorial. These advertising mediums still have a vast customer base, and you must not miss out on tapping those.
Another reason to invest in print ads is that most established brands and brick-and-mortar stores are most likely to be here. It is always a good idea to be present where your competition is. You get a share of the attention they would have taken otherwise.
Print ads can be a little difficult to design given that you have to translate your brand identity onto paper with no discrepancy. But the Kimp Team can help you with that.
Print ads also remain in print forever, improving brand recall in the long run.
Kimp Tip: Ensure that your advertisement aligns with the target audience and your brand's visual identity. The print ads must make the customer notice you in a crowded magazine and remember the message clearly enough to make a purchase. Work with a design team that can make it happen.
Book a call with the Kimp Graphics team to learn more about how a Kimp subscription can help you get your audience's attention.
Ace Black Friday Campaigns for your Ecommerce Brand with Kimp
Black Friday advertising campaigns are a long marathon. It starts at least 4 weeks before the holiday and extends for a week after. In these 5 weeks, you cannot drop your guard even once. You have to constantly create, promote, and engage for that lucrative bottom line.
With Kimp Graphics and Kimp Video, you can rest easy knowing that your creatives are in expert hands. Our team will keep dishing out designs as you keep making requests. No limit on requests or revisions. Just aiming for perfection and complete customer satisfaction.
Sign up for the free trial today and try us out for yourself!