Design An Unforgettable Welcome Email Series
Among all the emails you can send to your customers and/or subscribers, welcome emails hold a very special place. A welcome email series receives more engagement than any other emails you send to customers. And it's no wonder. Those who sign up your emails are doing so because they like what they've seen and what to learn more!
Welcome email series have a read rate of 34%, which is 42% higher than other emails. And 74% of consumers expect a welcome email as soon as they subscribe. But only 57.7% of brands are said to actually send them out. You know what that means – by adding a welcome email series, you could start engaging your customers more effectively than your competitors. 
Now that you have a sense of why a welcome email series is indispensable, let's get to what you need to know to create one!
What are great welcome emails made of?
A great subject line
Your subject line is how people will recognize your welcome emails. And the engagement that follows depends on this identification. So, you have to make sure that it's clear to convince them to read through. Most marketers start their welcome email subject line with the word "Welcome".  While the word does grab attention, you can be more creative too. 
Ask a question – Pique the curiosity of the customer. With a question, you can start a conversation and draw them in.
Personalize the subject line – Emails with personalized subject lines are 26% more likely to be opened. Adding the name of the recipient to the subject line guarantees the recipient will take a second look at your email. 
Offers and discounts in the subject line – Offering a discount in the welcome email can increase the click-through rate. With limited time offers, you can also boost the leads to your website through welcome emails. Mentioning the discount in the subject line is sure to get the attention of the customer. For example, "Name, you have 20% off just today!"
You can also make the subject line more engaging by adding emojis or a promo code.
A warm greeting 
Now that you've gotten the customer to open your email, offer them a warm welcome with your messaging. Even if you chose not to personalize the subject line, we highly recommend you to personalize the greeting. Seeing their name in the greeting will make your subscribers feel special and increase their engagement with the email and the brand. Personalized email marketing generates a median ROI of 122%.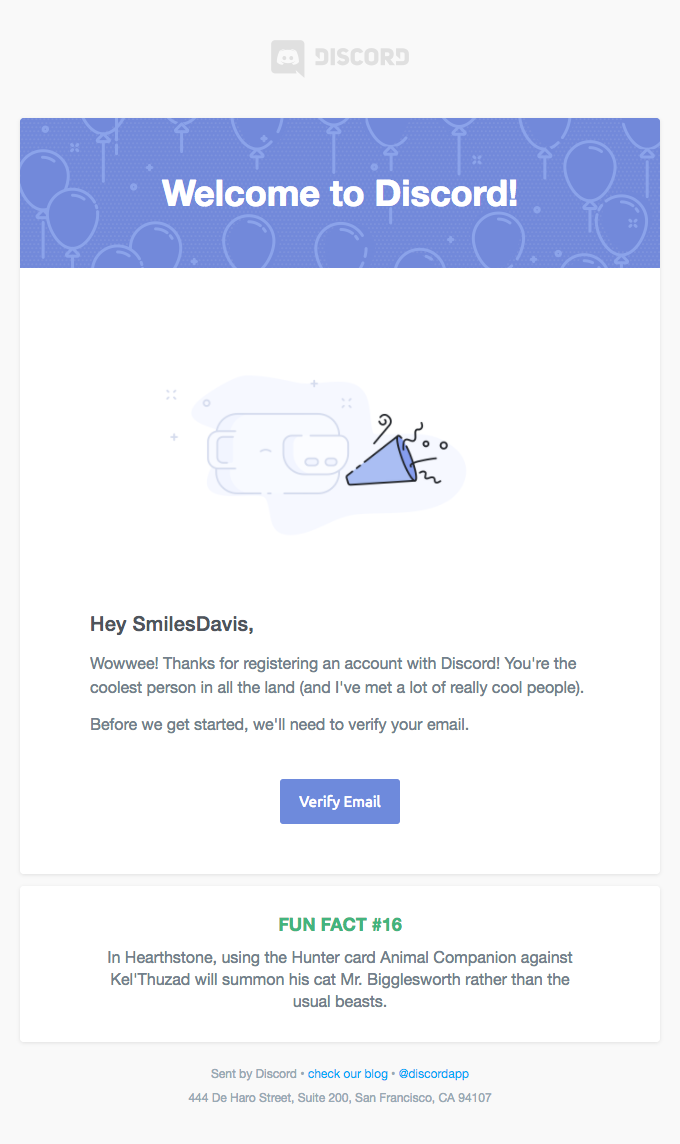 Guide to the next steps
When a customer subscribes to your emails, that suggests that they have an interest in your brand and product/service. Don't make them wait for information that will help them become more engaged with what you have to offer. Before they even ask, provide them with instructions for next steps they can take, and tips on how they can get the most from you.
When it comes to providing guidance, you can simply let customers read through instructions you provide and have this accompanied with illustrations or images. Or you can go the extra mile and include a video to give your customer a general idea about who you are.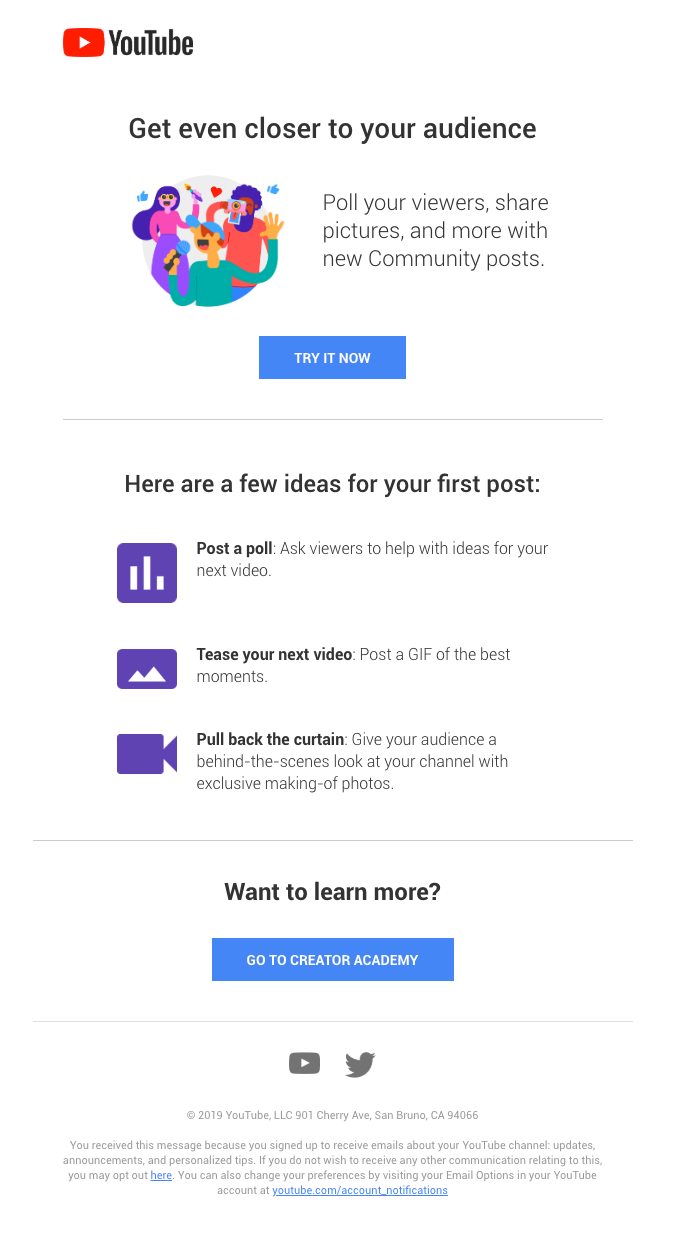 Offers and discounts 
At some point in your welcome email series, or maybe in each and every email, include offers or discounts that your new subscribers can take advantage of. To avoid making your emails come across as too salesy, try placing the offers and discounts below content which informs, entertains, or provides value in some other way. Welcome emails with offers can boost revenue by 30% per email, compared to welcome emails without offers. A little gesture like this can lay the foundation for lifelong customer loyalty.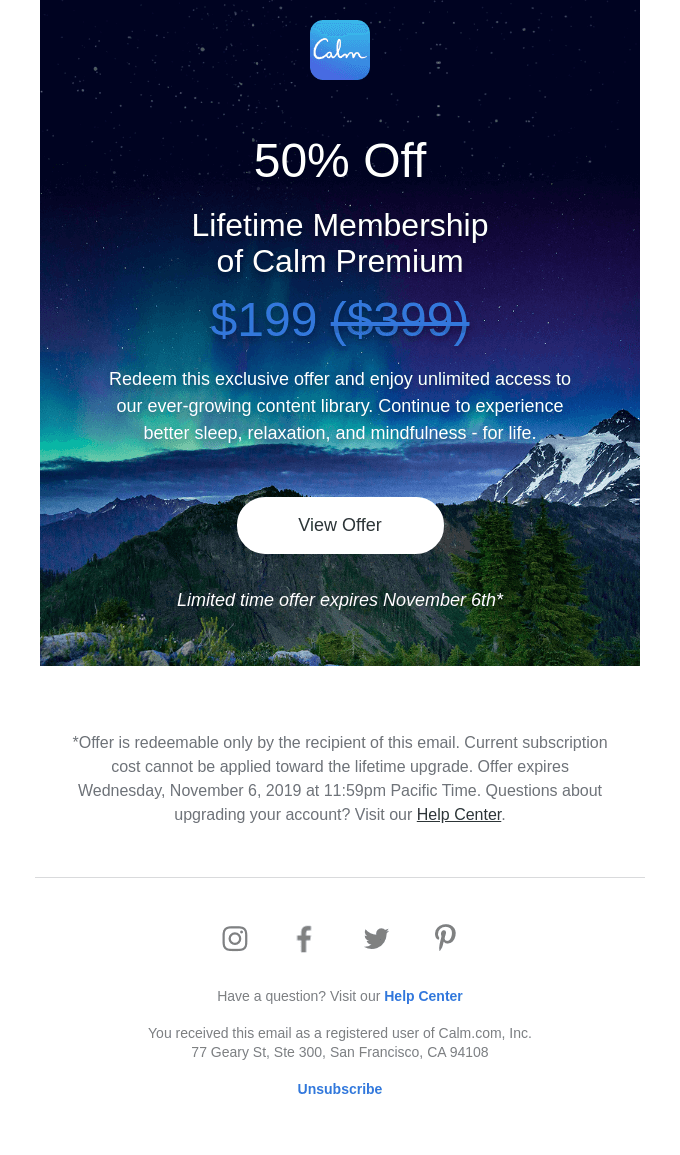 Social media links
Social media is a prominent part of your brand's digital presence. Some customers may prefer to connect with you via social media. Or they might just want to follow you to see more of your content. Always include links to your social media accounts in the footer of your email design. 
A CTA and an unsubscribe button
Empower your customers to take the actions they want by including a call-to-action in each email in your welcome email series. And also include an unsubscribe button. Your calls-to-action here can invite your subscribers to "Learn More" or "Book A Demo" or "Get Started". Try using a variety of CTAs to engage your subscribers in different ways. An unsubscribe button may seem contradictory to the intent of a welcome email. But adding an unsubscribe button allows your subscribers to modify their email preferences and will signal to you whether you're sending too many messages. Or messages that aren't connecting. Keep an eye on your metrics to determine at which point in your welcome email series that people seem to be dropping off.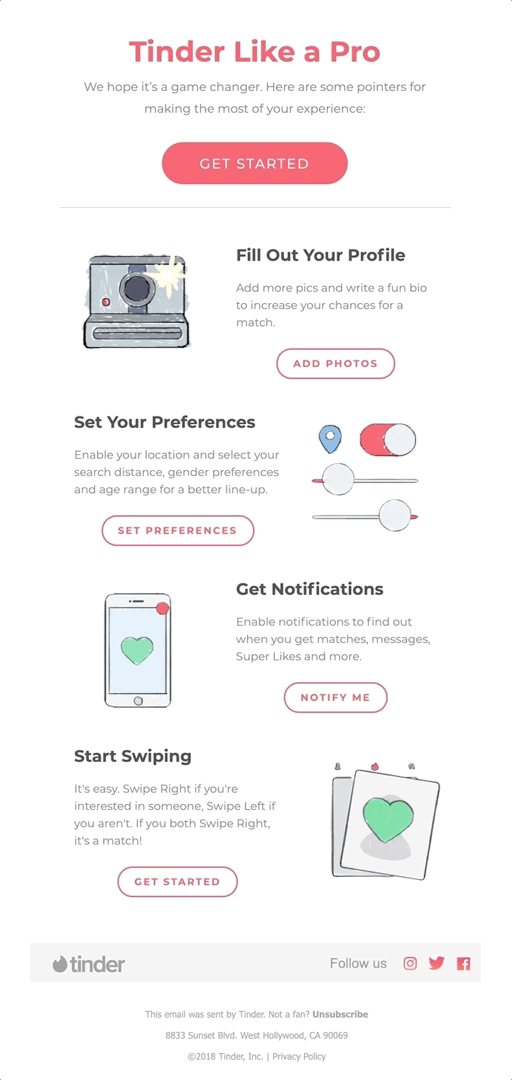 As part of your welcome email series, don't forget to ask your customers to mark your emails as safe/preferred so they don't land in their spam folder.
Now that we're familiar with a few tips on what to include in your welcome emails, let's look at how to structure the welcome email series.
How to structure your welcome email series
A series of at least three welcome emails generate 90% more orders than a single welcome email. If you have more to say, great! But aim to limit the length of your series to 5 emails. Through a series, you'll be able to lay the groundwork for building a relationship rather than sending a single email and hoping for the best. Not only do you make a bigger impact on your customer, but you get to tell your brand story, and highlight the features of your product or service, through a few emails.
Your first welcome email
Your first welcome email should be delivered to your customer immediately after they subscribe. Most customers expect an email as soon as they sign up. So don't keep them waiting.
Welcome your customers and thank them for choosing your brand in your first email. If you've offered a discount or lead magnet as incentive to sign up, be sure to clearly include the details on how to access your offer. A few goals you can consider for email #1 is to get subscribers to use your products or service, give them helpful info and/or introduce them to your brand story.
To give a snapshot of all that you have to offer – a few well placed stats can help here. And lastly, you'll want to give them a general idea of the perks to come from your emails.
Your second welcome email
You can wait 1-2 days after the first email before sending out the second email. With the second email, you can build up customer relationships more. Get to know them better by asking for details like birthday, location, any other relevant details. Give your subscribers incentive for signing up with an exclusive offer or discount. The more information you have about your customer, the more customized and relevant content you can send them.
Another approach you can take with this email is to introduce all of your product categories or the different types of services you offer. This will help your subscribers in the consideration stage of the sales funnel as you move them closer to potentially converting.
In the second welcome email you want to move your subscribers from being "problem aware" (i.e. the problems they're facing) to "solution aware" (i.e. the solutions you're offering).
Your third welcome email
About 1-2 days from your second welcome email, send out your third email of your series. In this email, consider being more anecdotal. Share details of how your clients are using your product or service to solve the challenges they're facing. You might do this by highlighting content from a platform that you have a strong presence on. Have an amazing Instagram presence? Let your subscribers know why they should follow you by sharing content from a post. Have a great blog? Share an excerpt and let your subscribers know where they can find your content.
Your fourth welcome email
About 1-2 days after your third welcome email, send out your fourth welcome email. In this email try to create messaging that speaks to your product or service will benefit your customers in the longer run. As chances are they won't have been able to discover all the benefits in the short time that they've started receiving your emails, paint the picture of how your offers will change their lives.
You can do this by addressing the benefits your customers will get right away, in a few weeks, and/or in a few months or even years. Phrases like "imagine", "think about" and "what if" can go a long way here.
Your fifth welcome email
In email five, which you can send about 1-2 days after your fourth email, you'll want to push for your sale a bit more. Keep it subtle by using testimonials or a customer story to emphasize value, and include a limited time offer.
After your final email in your welcome email series, be sure to leave a gap before starting your subscribers on your marketing emails, following your welcome email series. We suggest leaving a week so as not to overwhelm your customers and potential customers with information overload.
How to design a welcome email series
How you design your welcome email series will define how your subscribers come to see your brand. The use of colors, imagery, fonts and copy are all important here.
Colors in your welcome email series
Stick to your brand's color palette, and/or complementary color palette. Maintaining a uniform colour scheme throughout the email series will reinforce your brand identity. You can always add a bit of variation, through a pop of color for example. But it shouldn't be anything to the extent that a subscriber can't identify your brand at a glance.

Imagery in your welcome email series
The imagery in your welcome email series will capture your audience's attention before anything else. So, be mindful when choosing your images. Especially that hero image that will be the first thing everyone sees. Make sure the images are relevant, have appropriate contrast and a layout that allows for any text you may wish to add, and for the placement you need them for (e.g. portrait or landscape).
In the case of custom illustrations, you'll have more freedom to create exactly what you need. But if you're short on time, and just looking for a vector or photo that will do, be sure they complement the look and feel of your brand, from colors to capture an aspect of the user experience.  

Fonts in your welcome email series
If you've already been using a certain font or fonts in your marketing creatives, you'll be able to use those in your welcome emails as well. If you don't have a particular font that you've been using for your digital creatives, now's a great chance to choose one. A few rules of thumb here are that you want fonts that are easy to ready – none of those fancy scripts here. And don't go overboard with multiple fonts. One font, used in multiple weights can go a long way. Alternatively, you can add an additional font if you feel your design will not be compromised. Be sure to consult your designer about this.
Text copy in your welcome email series
Don't make your welcome emails too long. A range of 50-150 words will typically do, as you want to visually convey as much as you can. It will also ensure that your messaging is clear and direct. The only tones that you need to keep in mind here are friendly and informative – i.e. welcome. 😉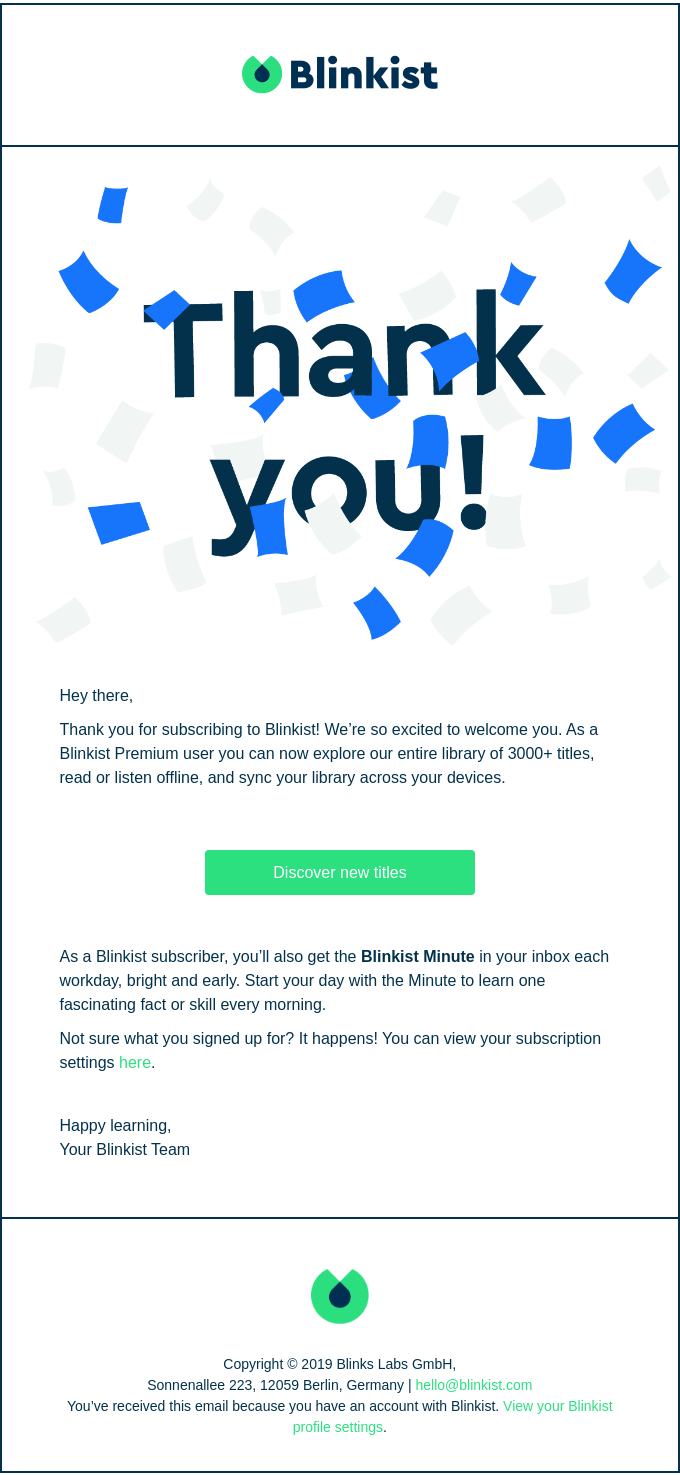 Ready to send out your welcome emails?
Welcome emails can help you achieve a wide range of goals. These include cross-sells and upsells, informing subscribers and helping with onboarding clients. And more than that, they are your brand's ambassadors. They should include elements of your brand identity and embody your brand's personality. The more your welcome emails reveal to your subscribers, the closer they will grow to your brand. So get to it, get cracking on a welcome email series of your own. And if you need a hand with your designs, reach out to Kimp. A dedicated design team is ready to help you make your welcome email series exactly what you need it to be.