10 Quick And Easy Ideas For Your Video Content Marketing
Video content marketing is the key to more. We mean more sales, more traffic, more engagement. More everything! It allows you to convey your messages in ways that connect with and inform your audiences with ease. 
In fact, this year alone, 92% of marketers have said that video is a crucial part of their marketing strategy. In 2015, this was just 78%. The reliance on video is steadily increasing and this is because the results can't be denied. In addition, 88% of marketers said that video content marketing makes for better ROI. In 2015, again only 33% agreed on this.
If all that is not enough to convince you of the power of video , 8 out of 10 people have said that they have purchased software or an app after watching a branded video. 
And in 2019, people spent roughly 6 hours and 48 minutes watching videos each week. It has been estimated that in 2021, this will increase to 100 minutes each and every day. 
With all these numbers reinforcing the value and overall importance of video content marketing, it's important for businesses to invest in this format. 
But where do you start? 
It can seem daunting at first to consider video content marketing but there are tons of different options you can try out. Many of which don't require fancy equipment or big budgets. We've put together a list to help you get started. Take a look and think about which ones will resonate most with your audience.
#1 – Product demo videos
If you are just getting started with marketing videos, product demos are really good to begin with. And even if you've already dabbled in them, there's always a new angle you can explore. Or a new season you can celebrate/commemorate with them (e.g. the holiday season is just around the corner).
To get ideas for how to present your product, and which aspects of it to focus on, speak with your customers and your team members. Ask them how they use the product. What are the challenges they face? How does your product help to address them? Are there any unexpected or unique use cases for your product? Run these questions by your customers and team, and any others you can think of, to figure out how you can create the most value through your product demo videos. 
#2 – Do a ten second feature demo video
If the product that you are offering has multiple features that you want to highlight, you can try out this type of video. To decide on the features to focus on, consider which ones are the most popular. Or the features that you believe are most beneficial to your target audience.
Again you can benefit from reaching out to various team members and customers to get insight here. Then in each of your ten-second feature demo videos, focus on one particular feature. These are actually perfect for social media and for pre-roll ads. They also increase the number of people who watch your content since they're so short and to the point, quickly demonstrating value.
#3 – Thank you videos to show your appreciation
You may be expressing your gratitude to customers through your social media and your email marketing already, but have you tried video yet? When you interact with your customers after they buy from you, they will return to you for business and will also bring in new customers. Their word of mouth can attract others who have never bought from you before. And we all know have valuable reviews and recommendations from trusted sources are.
After your video has been made, you can simply embed it into your thank you email. You can take this idea even further by crafting personalized videos for especially loyal customers. These customers will then feel like they're getting VIP treatment and will be even more likely to engage with and purchase from you. To make this process easier for you, work with your designer to come up with a branded template that you can then simply update for each campaign or client. With Kimp's new video design subscription you'll be able to get videos like this created, and tweaked as you need them.
#4 – Customer testimonial videos 
In 2015, Nielsen conducted a study that showed that 83% of customers trust the recommendations they get from friends or family when shopping. The very same study also found out that 66% of respondents trust online product reviews that have been posted by other customers. You can leverage this valuable social proof in your video content marketing.
Just get some customers to give candid testimonials on camera. Let them know if you have any guidelines for them and they can film it using their webcam or phone. You can then get the raw footage edited and add your branding to it too. This definitely adds a bit of personalization to your content marketing efforts. And it builds a sense of trustworthiness that new customers, and existing ones, will appreciate.
#5 – Turn your blog into a video
If you happen to have blog posts that have performed well then you need to be thinking about repurposing them! You can break them down into social media posts, infographics, ads, or create videos.
To use a blog as the basis for a video think about your blog as the outline. You can use shortened versions of the subheadings in your blog throughout your video, and animate visuals that you've used in your blog. Or you can use a narrative approach and show scenes in your video that capture the points made in your blog. Regardless of the approach you take, remember that your video is meant to share the highlights of your blog, and not to act as a word-for-word adaptation.
#6 – Interview a team member
Interview team members to share some of the faces behind your brand. This could be anybody from a product developer to front line staff to your founder. And be creative with the topics that you cover. You'll want them to be interesting to your target audience, and at the same time, you'll want them to tie back to your product and brand personality. For instance, you can ask a product developer how they work to overcome challenges in the design process. And you can also add in some lighter questions to find out things like how they use your product. And how they first got involved with the brand.
#7 – Q & A sessions
Ask customers to submit questions about anything and everything they'd like to know about your brand. And be sure to let them know that these will all be answered via an upcoming video to build up some suspense. Next filter through the questions to find the most relevant, and interesting questions. If there's anything that's a bit quirky, keep that in the mix too. It's always fun to give your audience something they're not expecting. You can also just make up and add some questions into the mix as well.
You can film this video and then get some help with editing so that it's polished and branded. Or you can make it text and/or image-based with a voice-over. Either way, these types of videos will help encourage more sales, because they address customer challenges and experiences.
#8 Value propositions video
Not getting a lot of questions from your target audience or customers? This could be because they're just not aware of what you have to offer. If your target audience doesn't understand all the benefits of using your video you could be missing out on opportunities to engage them and generate sales.
Work on a value proposition, or value propositions, that make the perks of using your product or products very clear. Then explain and show how your offerings are better than others on the market. You might not be able to cover all of your points in one video and that's okay. You can create a series of short videos to drive home the impact of your product(s).
#9 – The "How-It's Made" Video
Give prospective customers a look behind the scenes at how you create your product. There's a saying that how you do anything is how you do everything. And by demonstrating the care and effort you put into creating your product, you'll be able to impress your audience with the quality you offer.
If you're wary of giving away proprietary secrets in your production process, don't be! You don't have to show the full process from start to finish. Just a few key moments that you think will make an impact. This includes what goes into the production of your product and why it's designed in the particular way that it is. Make sure that you draw attention to anything that's special or unique about the materials or ingredients you use, or even the manufacturing process.
#10 – Seasonal videos
You know that certain seasons, holidays and special occasions resonate with your target audience. You even plan sales and promotions around them. So why not add some video content marketing into the mix? You don't need to get into cliches – unless they work well for your brand – or get super cheesy. But you can easily take advantage of special seasons in a variety of ways.
Get your team to record a greeting and then splice it together with some of your branding in the mix. If your brand uses a humorous tone and tends to air on the side of being witty you can get really creative and film a parody. Just make sure that you run the idea by some of your customers to make sure that it'll connect before you invest a lot of time into that.
Or you can simply share a well-designed video that uses a combination of text, elements, and video footage to show that your brand is embracing the festive spirit – be it Christmas, Hanukkah, Kwanza, Diwali, or all of the above. A word to the wise, spring for a separate video for each occasion. You don't want to confuse your audience and dilute your message by trying to get too much across at once.
What should you include in your video content marketing? 
Here are a few tips that will help you with creating engaging videos, along with some examples of brands that hit the nail on the head when it came to creating videos that got their messages across impactfully.
Focus on the story, not just on the sales
If all the video marketing content that you create is always focused on sales, you will not have much engagement with your customers. People connect with great stories and find that their own stories resonate with them too. Building and telling stories through your brand will create lasting relationships with customers.
In 2016, Canadian Tires did an ad called 'Wheels' that actually does not promote them much at all. However, it narrates a powerful story. The content went viral as a result. The key takeaway here? Your story arc needs to be well built and your story should be cohesive and concise in order for it to connect.
The first few seconds matter the most
The average attention span of a person these days is only 8.5 seconds. What does this mean to you and your brand? Well, you have just the first few seconds to grab the attention of your viewers and convince them that they cannot miss your video. You can do this using a couple of methods:
Create a hook. Something that gives your audiences the need to know more. Check out this example below to see what that can look like. Gary Vee does a great job of providing a teaser of the content to come in his video, which encourages the viewer to stay put to find out more.
Upload an exciting thumbnail. This can basically stop a scrolling customer and make them pause and pay attention long enough to want to click on your video.
Target your content strategically
Facebook is one example of the many social media platforms through which you can target your content to the right audience. When you are targeting a post you can consider factors like age, location, gender, and languages.  You can also target your posts by interests. You can choose up to 16 interests per post. Targeting will not limit the reach you get. It just makes sure that people within that target group definitely see the content that you have created.
Consider how your video looks without sounds
When you create your video marketing content, they should be designed so that they are effective with sound and without sound. You see, most people will have videos on autoplay on social media without sound – as much as 85% on Facebook alone. So when people are watching a video without sound on, they should still find it informative and interesting. Using captions is something that can help you to this end. And the same goes for the descriptions that you upload your videos with. They should be text-heavy to complement the striking visuals in your video. 
Don't forget the CTA
No matter what form your video takes, and whether you're focusing on sales or not in them, you need to include calls to action. After putting so much effort into crafting the right videos, you shouldn't miss out on the opportunity to really leverage the connection you're creating. Your CTA needs to be put across clearly and in a compelling way to the viewer. You can have it linger in the final frame for a few seconds so that your audience can't miss out on the action you're asking them to take. Some clear and concise CTAs that you can use are:
"Subscribe to our channel"
"Follow or like our page"
"Share the video with your friends"
"Post a comment and let us know what you think"
"Check out other content from us"
You can post your CTA in one of the following placements:
Pre-roll Calls to Action should be at the very start of the video. This ensures that people see it and that they actually click. 
Mid-roll Calls to Action can be placed between the very beginning and the very end of the video. These target viewers who are very well engaged in the video. 
Post-roll Calls to Action will show up at the very end of the video. They are there to ensure that the customer is highly interested, before giving them the CTA.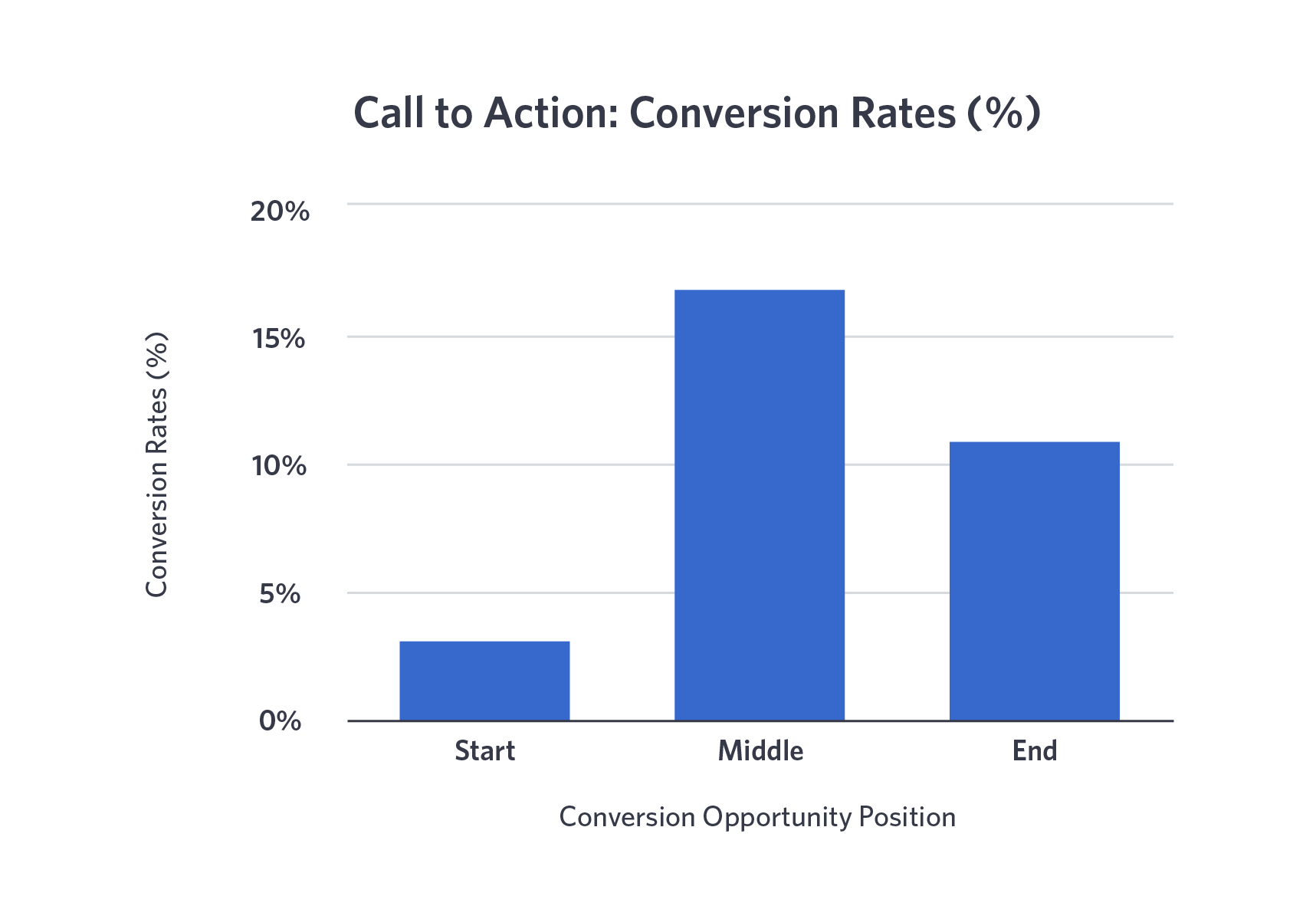 How can you promote your video marketing content? 
Just as it's important to know what to include in your videos, it's crucial to know how to promote them. This will help you get the best returns on the investment that you have made. Here are some of the ways in which you can do just that:
Optimize the thumbnail for the video, and smile!
The thumbnail on your video is by far the most important thing that will get a viewer to either click, or just scroll on. We do judge books by their covers and there is no getting around that. This means that your thumbnail has to be a very compelling one. One of the best techniques for this is actually using the smiling image of a person making direct eye contact.
Run a social media campaign
Use social media to promote your video to increase brand awareness and engagement. And when you take the social media campaign approach, you'll want to make sure your CTA is compelling enough to get a click. Consider making your audience an offer they can't refuse. Or creating enough intrigue in your video that they are driven to your landing page to find out more.
Ask people to share your video
While you may think that this lacks tact, you actually stand to gain quite a bit by asking for a share. And of course, if you do not ask, the answer will always be no. Asking for people to share your video can be as simple as adding that as your CTA. Or asking friends, family, and team members to share the video on their profiles too. The more shares, the more likely the algorithm pushes your video up for others to see it too.
Collaborate with influencers and even other brands 
People trust peer recommendations over company ads. Trust is a big deal in business. When an influencer who is trusted recommends a product, it can immediately feel more trustworthy and genuine, than you talking about your own product. Like the CEO of Intuit, Scott Cook, says, "A brand is no longer what we tell the consumer it is–it is what consumers tell each other it is."
Video content marketing is only getting bigger
Whether you've got a new brand or a longstanding one you'll want to invest in video content marketing. Year over year the format is only getting bigger and expanding its reach. Video marketing content can be found everywhere from websites, to social media profiles, to blogs and emails. How will you use it to amplify your marketing?