Social Media For Nonprofits: 8 Tips You Need To Know
Zune runs a nonprofit that helps underprivileged kids in education and fights for their right to a clean environment. For many years, they have grown this organization from the ground up, and now it is a well-known name in the local community. Zune now wants to grow the organization and take the organization to new heights.
One of his peers from the marketing world suggested taking it to social media and marketing it for wider reach. But Zune is now feeling confused. Promotion, brand building, and marketing sound alien to their ears in the context of a non-profit organization.
Can it really work with no apparent product to sell?
Do you work in or spearhead a nonprofit organization like Zune? Are you in the same dilemma?
If you work in the nonprofit industry, the going can get tough. An avenue to build your brand, spread your message, and raise funds for the important work you do can be life-changing.
Social media can be the best avenue for you for all these goals.
Curious about how social media can make a difference to your nonprofit organization?
Read on.
Why social media for nonprofits?
Nonprofits need two types of people to succeed in their mission. The doers and the supporters. Now, you are the doer, and you are doing a splendid job like Zune. But where are the supporters?
Yes, you can run offline communities, reach out to your peers, and contact philanthropists for help.
But that is a long and a very narrow route. You need a platform that takes your voice to millions instantly. And that is, of course, social media in today's day and age.
Being on social media can improve your nonprofit's visibility immensely. While word of mouth is still the primary channel of discovery for nonprofit organizations discovery, Facebook and Instagram are not far behind.
Being on social media helps people to talk about you over the Internet speeding up the discovery process.
Social media platforms also inspire people to donate to your causes and listen to your content more.
All in all, an emphatic social media presence can add considerable value to your organization.
There is another advantage to being active on social media for your nonprofit organization compared to a website or offline channel.
Because of the growing popularity of these organizations on their platforms, social media companies have launched specific tools to make the most of your profiles.
Leveraging the perks of social media for nonprofits
Every social media platform lends itself beautifully to the work of nonprofits. With smart content and even smarter planning, a nonprofit organization can engage meaningfully with the audience to create the change they seek.
Most major social media platforms have dedicated features for the niche requirements of a nonprofit.
Facebook, for example, has the donation action button, fundraising tools, and even donation reporting features. Instagram, too, has the donation sticker and button if you have an Instagram business account.
With Twitter, nonprofit organizations can help their followers take part in their cause and spread the word via the conversation card feature. The platform also has a Tips feature for donations and monetary support.
If you have a video-heavy content bank, then the YouTube nonprofit's assistance can come to your aid. You can reach a global audience and fundraise via your most interesting video content for the best results.
All this sounds great, right? But you know what they say. The algorithm helps those who help themselves. To make the most of the features and programs, your nonprofit needs a solid social media presence.
So, with no further ado, let's dive right into building a stellar social media presence for your nonprofit.
Let us begin with a quick checklist before discussing content and distribution strategies.
Launching social media profiles: A quick checklist
All the statistics and data must have gotten you to raring you to get active on social media. Well, that was the intention, so we are happy to know we hit the nail on the head. But like many other things, well begun is half done here too.
So before you begin your social media campaigns for your nonprofit, here is a quick checklist for good beginnings.
Before you begin any campaign, start by understanding your social media goals and defining them with clarity. Is it brand awareness, short-term fundraising, gaining followers, or diverting traffic to websites?
Next comes the target audience. Each social media platform has a niche audience, and some audience groups overlap too. You must understand who your ideal customer is to craft campaigns accordingly.
With the goals and target audience in mind, move on to devising a relatable, meaningful, and captivating social media identity. That includes visual elements such as logo, cover images, visual language, and design styles, besides the content style, brand personality, and tone.
Build a content bank for each social media platform to fill up your content calendar for the near future. That will ensure consistency and a cohesive campaign across platforms.
Choose from third-party tools for automation of content posting and distribution.
Setup mechanisms and systems to review the success/engagement rates of your content for retrospection.
Having these in place before you launch any campaign can improve its effectiveness. So get these squared away before you begin content creation.
Speaking of content creation, the Kimp team brings you a list of top tips and strategies to ace social media for nonprofits.
Check it out.
Social Media for Nonprofits: 8 Tips for a Successful Presence
As a nonprofit, your goals and aspirations from social media are slightly different from any other brand. You are here to sell an idea and gain momentum for your cause. So the modus operandi here is a mix of tried and tested techniques with some out-of-the-box thinking.
These tips from Kimp aim to help you get the most out of your social media activity across platforms.
1. Share Heartwarming and inspiring stories.
People connect, engage, and eventually donate from the heart rather than the head. Even in commercial purchases, the subconscious has a much larger role to play than we consider. So you have to tug at your audience's heartstrings to bring out any reaction in them.
Thankfully, the nature of your brand as a nonprofit enables you to do this without having to manufacture heartwarming content.
Putting the actual stories of people who represent an abstract cause will make people decide in your favor.
Share videos and images with first-person accounts of the people who are pivotal to your cause. It can be an employee, a social worker, a help recipient, and so on.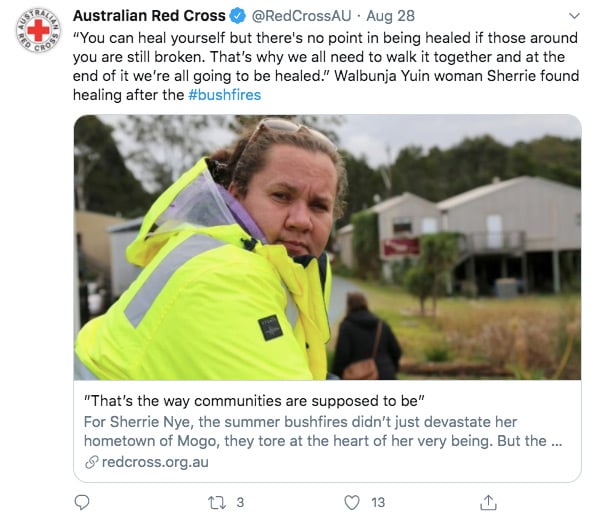 Best Suited for :
Facebook as images and 1-minute videos
Instagram Reels with trending audio
Tiktok Business Accounts
Image or video format on Twitter
Kimp Tip: The stories have the power to melt anyone's heart, but you can do more with the right image and video. Sometimes, it is not even the media, but the presentation takes the cake. It can be a video montage with the best images edited together with the appropriate audio. Or, it can be a carousel post with perfect images to brighten up anyone's Facebook feed.
The options are endless, and you must experiment to your heart's content to pick the best-performing content. With Kimp Graphics and Kimp Video subscriptions, you have no limit on how much you can create. Talk to the team to know more!
2. Maximize Visual content
Social media platforms are inherently visual. Images and videos are easier to understand, glance at, and engage with than long-form text. They also condense information into bite-size pieces best suited for the double-tap, swipe, and scroll generation.
The world runs on first impressions, and nothing gets you a better first impression than visual content. People retain faces more than names, images more than text, and movies more than books sometimes.
An attractive visual content strategy can help you leverage this behavior to build brand awareness and recall in the market.
This means :
Picking a cohesive template and visual style for platform-specific content
Including branding elements such as brand colors, logo, typography, and imagery across your content. This applies to images, videos, and GIFs.
St. Baldrick's Foundation is full of visuals for products, invites, fundraisers, and statistics. They follow a consistent color scheme of blue, green, and white acing the Instagram aesthetic for a nonprofit.
Kimp Tip: Consistency in design and branding element domination are your two aces in the hole to build brand awareness. They also tell your customers that you care about presentation and are serious about your nonprofit. All this ends up in you generating goodwill and generations.
So, choose a design team that can deliver a variety of content and maintain branding consistency. Someone like Kimp. We have graphic design and video design teams at your disposal for all your needs. Book a call today to know more!
3. Leverage the power of videos
While we already covered the importance of visual content, videos deserve a special mention. Every platform today is pushing video content and rewarding profiles with engaging and high-performing video content. Not to mention the insane popularity of videos among the younger demographic and most typical social media users.
Videos are also increasingly shareable, which makes them ideal for improving your brand profile's reach over any social media platform. Last but not the least, videos keep people longer on your feed, which signals good things to the platform, improving your reach.
For a successful video marketing strategy,
You must develop short-form video content such as Tiktok videos, Instagram reels, Instagram video stories, and Snapchat stories.
Improve the distribution of your video via a video repurposing strategy.
Create informational long-form educational video content for YouTube, Instagram TV, and LinkedIn.
Kimp Tip: Worried TikTok or Instagram Reels don't fit into your brand identity? Wondering how to create trending content for these platforms without being on camera? Check our guide on faceless branded Instagram reels for ideas and best practices.
4. Develop an omnichannel presence
Omnichannel presence is a boon for any brand. It is the social media equivalent of not putting all your eggs in one basket.
Developing an omnichannel presence (across all major social media platforms) and a content marketing strategy to supplement that can be game-changing. Each social media platform has a different audience base. They vary based on demographics, income levels, choice of content, and so on.
An omnichannel presence allows you to tailor your content for each platform with minor tweaks and repurposing so that everyone enjoys it.
Content repurposing is also essential to have consistency in messaging with the flexibility in the format in your social media marketing strategy for your nonprofit.
Kimp Tip: Creating content for omnichannel presence can be daunting. But if you have the right design team, you can repurpose a lot of content across platforms without the feel of repetitive and overused content.
Check out this guide on content repurposing with branding consistency for more details. Sign up for the free trial for Kimp Graphics to see what our team can do for you.
5. Create digestible information
People's attention spans are constantly reducing. It is now at 12 seconds for millennials and 8 seconds for Gen Z. But, these groups make up a majority of donors. Yes, you can put out flashy content that is consistent with their attention spans and garner attention.
But, sometimes your cause needs more. Nonprofit and fundraising are serious businesses. You have to put our reports, analysis of current issues, status updates of fundraising campaigns, and raise awareness.
These are long-form content, and every piece of information is vital to the complete puzzle. The trick here is to make this information easy to digest so that people can consume it with ease to support you.
Some design aids that can help you accomplish this are:
Infographics for statistics and fundraising journey updates
Presentations or carousel posts for Reports
Videos for current issue analysis and commentary
Kimp Tip: Many consider the numbers to be boring. And it is easier to pitch human stories for fundraising than these numbers for an internet follower. But the head also needs fodder as much as the heart. So all you can do is make the fodder engaging and easier to consume.
Maximize images, icons, and pictorial representations of content in these reports. Work with animated video designers such as Kimp Video to transform reports into videos and improve readability.
6. Seek out engagement
Engagement is the golden standard on every social media platform. It decides your reach and forms the basis of everyone's judgment, including the platform itself. So obviously to win at social media, your nonprofit has to absolutely ace the engagement section.
As we mentioned before, you can create video content, share heartwarming stories, and share digestible but pertinent information to seek engagement.
But what do you do on a dry day? When there is nothing new to say? The algorithm gods will not forgive you for slacking off, so what's the alternative? You create content that actively seeks and brings you engagement. How? By just asking for it. Yes, studies show that posts that seek comments, likes, shares, and taps do result in higher engagement.
These posts include :
Twitter Polls
AMA sessions on Instagram or Snapchat
Interactive questions about frequently asked topics on Instagram stories or Twitter
Engaging posts that seek comments across platforms.
Memes on topical content that matches your brand's message.
Kimp Tip: As a nonprofit wishing to keep the boat afloat on social media, you will have to do these more often. So, a template for Instagram story sessions, Story highlight covers, Twitter poll designs, or Question-posts can come in handy. Have an approved design at hand so that your design team can just modify it in an instant if the need comes.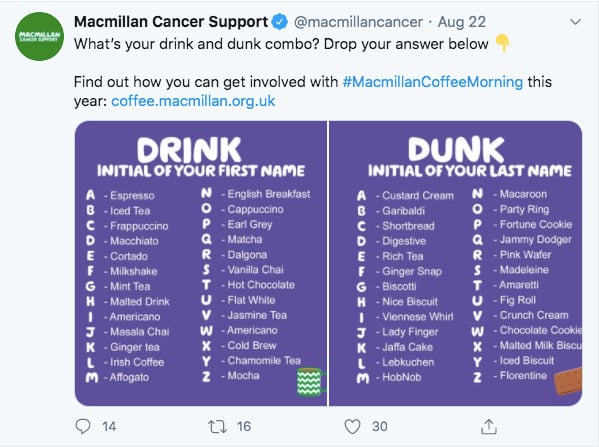 7. Launch Virtual Campaigns
What is a nonprofit social media account without challenges or virtual campaigns? Trends for social causes have taken the world by storm in the past decade. It can be breast awareness week, Earth day, gender equality, or drug abuse. People like feeling like part of a community and chipping in their two cents if they can.
A virtual challenge or campaign allows them to do this.
So, launch a campaign, if possible, with a branded template that your followers can use to create content.
Or, you can invite them to create Reels/ Stories/ Snaps for your cause. Again, if you can launch an AR filter for these, it's a jackpot on brand awareness.
Reposting and promoting such user-generated content can skyrocket your reach with ease.
Kimp Tip: Filters, photo templates, and even Reel templates can help your virtual campaign go viral. And improve your brand awareness while it is at it. So choose a design that works for your target audience and your brand's visual identity.
8. Peek behind the curtain
If you want to humanize your brand and build a personal connection with your audience for the cause, give them a peek behind the curtain. Show them the heart, brain, and body of the organization.
When someone speaks passionately of a cause, shows the impact that involvement can bring, it inspires others to follow suit.
You can share founder interviews on YouTube or Instagram, share BTS of campaign and relief work via Instagram, Twitter, or Snapchat, and showcase the team on all platforms.
This gives people a face to join with the brand name and connect on a deeper level with your cause.
Worried about video production causes? Not sure how to shoot polished videos you see everywhere? Don't worry. With a Kimp Video subscription, you can transform your raw footage into social media-worthy videos with ease. Book a call to know more about our services today.
Habitat for Humanity does a splendid job showcasing its team members and familiarizing the world with the hands behind their work.
Build a Social media presence for your NonProfit with Kimp
Running a nonprofit is a hard task. Managing social media for a brand is no less of a challenge, even without the pressure of content creation.
So leave it to the experts at Kimp Graphics and Kimp Video teams so that you can do what you do best with no worries.
Our unlimited graphic design services come with no restrictions at a flat monthly fee. It is the best option to scale your nonprofit quickly.
Sign up for the free trial today!