Holiday Email Marketing Ideas Your Brand Needs To Try
If there ever is a time for your brand to shine and dazzle your customers, it's the holiday season. As consumers are looking forward to gifts, possibly some family time, and festive fun, it's a great chance for brands to get on their radars. And holiday email marketing ideas offer ample opportunities for this. 
There are so many reasons why email marketing is a great tool for brands of all sizes, across industries. And when it comes to the holidays it can help you share the value products and services deliver, like no other marketing channel. So let's take a look at why holiday email marketing ideas are so effective. And we'll share some inspo for you as well!
Why holiday email marketing ideas are so effective  
Regardless of the time of the year, holidays are the perfect way to boost sales with your existing email subscribers. They also have the added perk of letting you engage new leads and build relationships with them. Just make sure that you encourage your subscribers to share your offers by including social share buttons and even a prompt in your copy. When your subscribers forward your emails to their friends and family, they'll be helping you with your marketing and you can be sure that you'll get warm leads.
They are perfect for mobile 
The shoppers on your email list turn to their mobile devices for everything and anything. This means that they often go from considering and researching your products to purchasing them all on their mobile devices. And year over year, research is showing that there is an increasing amount of people using mobile devices for their holiday shopping.
During the past four years, purchases that were made on a mobile phone went from 3.4% to 36.7% according to Castor. Even when it comes to Cyber Monday and Black Friday, it was observed that the vast majority of marketing emails were opened from a mobile device. So you see, emails are great because there is a higher likelihood that people will actually open and read them since they're so easy to access from their phones.
They allow instant purchasing
To make it as easy as possible to convert their subscribers, 41% of retailers opt for a  'Buy Now' CTA button. Rather than having to navigate to a website and then take several additional steps before making a purchase, with a "Buy Now" button consumers can click and buy.   
During the holidays, by using a CTA button, you can easily pull focus to a particular gift, discount, or offer. The holidays are hectic. And this year more consumers than ever will be making their purchases online. So do yourself and your subscribers a favor and eliminate any extra information or steps. Keep things simple with a clear and direct CTA button.
They reinforce your other campaigns
You can use holiday email marketing ideas to promote offers, holiday events like flash sales, or amazing gift ideas. And you can take that a few steps further by sharing a thoughtful gift guide to make holiday shopping easier. Any combination of holiday email marketing ideas can help you engage subscribers, and give sales a boost, throughout the holiday season. And it doesn't stop there. Your holiday marketing emails can also help all your other marketing initiatives. Selling on social? Great! Mention it in your holiday marketing emails. Have a rewards program? Awesome! Share it in your holiday marketing emails. 
Emails allow for automation and personalization 
Some holiday marketing channels might require you to be a lot more hands-on, or to tackle things manually. But holiday email marketing ideas allow for automation and personalization. Which is doubly helpful considering how busy the holidays are. Once you've got your emails designed and ready to go, be sure to automate them so that they are being sent out at regular intervals and are triggered by events like sales. You'll also want to segment your subscribers to create more personalized emails. When you personalize your emails you can increase transaction rates by six times!
Tips for holiday email marketing 
Before you get to designing your holiday email marketing, it's important that you're familiar with a few tips. Here are some helpful pointers that you can try out to help you get the biggest ROI from your emails.
Your subject line needs to be spot on
The subject line can influence whether or not a customer decides to open your email or simply press that delete button. Here are a few ways in which you can come up with a compelling subject line:
Use powerful words that grab attention. Not all words are created equal and below, we've included some examples of power words that are sales driven, relate to timeliness, evoke holiday vibes, or speak to gratitude.

Sales power words: Savings, Promotion, Discount(s), or Hot Deal
Timeliness power words: Order Now, Limited Time, Today Only, Last Minute, Open Now or Exclusive
Holiday power words: Season's Greetings, Deals For Christmas, Good Cheer
Gratitude power words: Token, Your Support, Appreciation, Thank You

Use personalization. Simply add the first name of the subscriber to the subject line to grab their attention. 
Add holiday emojis to the subject line to spark some holiday cheer. 
You can also ask a question in your subject line. For example something like "need some gift ideas?' is engaging and offers value.
Tell the customer what your offer is in the subject line itself. Customers will have a lot of offers coming their way, and this will make yours stand out.
Optimize your emails for mobile
Ever since smartphones came into play, email marketing has changed dramatically. Screen real estate has become a priority and it is essential that your emails are optimized for mobile.
Add visual appeal
This means that you need to use crisp, clean and high resolution imagery in your holiday email marketing. Your logos should be compressed so that your emails will load quickly, and also use less of your customers' data.
Keep it relevant
You should not only give customers a reason to browse through your email, you should also give them a reason to convert. Give them a sale or a promotion that they cannot say no to.
Offered added perks
In addition to your offers and sales, give your customers a bonus. Have them automatically enrolled in your loyalty/rewards program. Or give them a gift with a minimum purchase. Not only will this make your subscribers feel valued, it'll also incentivize them to purchase more. Or forward your emails. 
Your emails should be short and punchy
Trust us, nobody wants to be reading through a bunch of text in an email. The shorter and more snappy that you keep it, the higher the chances that people will actually read and respond to the email's call to action. Make sure that the message you want to deliver is being conveyed with impact and clarity.
Holiday email marketing ideas to try 
Whether you've kicked off your holiday email marketing, or need some ideas to add into the mix, we've got you covered.
Holiday gift guides
You can help your subscribers with their holiday shopping by curating lists of gifts for different segments of customers. For example you can curate gifts within a certain price range such as "Gifts under $25". You can also curate gift collections for different purposes. For instance "Gifts for him", or "Gifts for her" or even "Gifts for your parents".
Even though shoppers can Google anything they want, they might still be having a hard time figuring out which gifts to give. And others may just be waiting until the last minute to do their shopping. So inspire them with your gift guides. And get your products on their radars.
Holiday preview sale emails
Help subscribers get ahead of that maddening Black Friday, Cyber Monday or holiday rush. Hosting a holiday preview sale means that you give people the chance to shop early on. It's a tactic many businesses are using this year. And it's not just directed at your subscribers. You can encourage them to share the sale with friends and family too.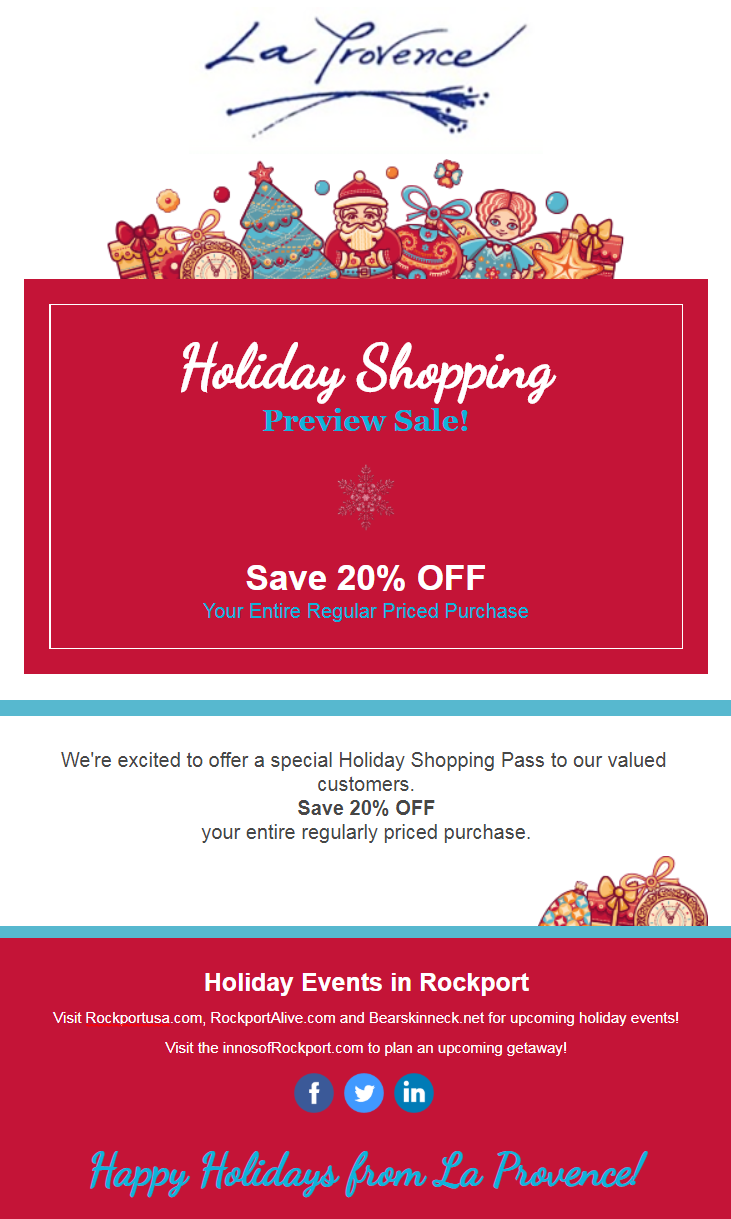 Cyber Monday offers
This is one of the biggest shopping days of the year. So don't just send a single email about it. Schedule a series of emails leading up to the big day. This will help ensure that your subscribers are aware of the special discounts and offers that you will be sharing. Be sure to send a final reminder on the day itself.
Free shipping emails
Another email that you can send out is alerting your customers to extra perks that you will be making available during the holiday. For example, letting them know about free shipping is one way in which you can incentivize them to purchase from you. This can mean a lot of savings to your subscribers and they may just reward you by doing more of their holiday shopping with you.
Giving a gift card bonus
Apart from giving people the usual discounts that you have planned out, add value and give them a reward. You could do this, by giving them a gift card or a coupon code code for their next purchase. This will help you increase immediate sales, and it'll incentivize your subscribers to buy from you again. And if they share that bonus with a friend, even better. You'll be getting a new customer in the mix too.
Exclusive coupons for the holidays
Offering limited-time coupons through your holiday marketing emails can help motivate your subscribers to make purchases. Try not to include any other details in these emails. Keep them simple and make sure that all of your subscribers' attention is drawn to your coupon code and CTA.
Emails with coupon codes help to increase the click-through and open rates of your emails. But keep in mind that you don't want to be sending them too often. Otherwise, your subscribers might just wait until the next coupon code comes their way.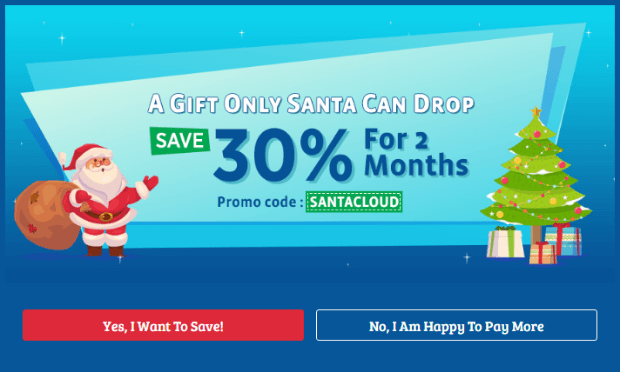 Send out an "Order Before" email
Try sending out emails that let your subscribers know of when they need to place their orders by to guarantee shipping ahead of the holidays. For this type of holiday email marketing idea, be sure to run the campaign as early as you can. And to be as specific as possible. You want to tell your subscribers exactly when they should order by, and exactly when they would receive their purchase by. This type of email is especially helpful with engaging last-minute shoppers. They're likely stressed and maybe even frantic. So put them at ease with this kind of email. You can also include details about your expedited delivery options, as well as discounts on shipping. The more informative you are, the more likely you'll get your sales.
Send out a holiday to-do list 
Holidays are a very busy time of the year. This is true for your subscribers as much as it is for marketers. In a time that is super hectic, a lot of us like to make lists of things that we must get done. But how can you use this as a marketer? Well, you can create a to-do list of the most important things your customers need to get done. Keep it concise and helpful like BONOBOS.
This email from Bonobos isn't just a plain old boring to-do list. It uses the brand's voice and personality. And it also links to pages of their website that will help the customers get their errands done.
Give your holiday email marketing a boost
The best thing about holiday email marketing campaigns is that you can be as creative as you want. And you can leverage all the momentum of holiday shopping, as it gears up towards the end of the year. So go ahead, offer people discounts, helpful information, or even some entertainment or comic relief to give your brand awareness a boost. And not only will your bottom line benefit, but you'll build relationships with customers too!
It won't be easy to get your emails noticed in the crowd. But remember, challenges are opportunities. They are how businesses grow and thrive. And facing them is how you go from being good to great. So this holiday season, get into a festive mood and challenge your business to rise above and beyond the expectations of your customers.