Designing Packaging Inserts To Increase Brand Loyalty
Goodwill counts for a lot in business. In the ecommerce industry, packaging inserts can go a long way towards helping build goodwill with customers. It also improves brand loyalty. This is why you should put some thought into designing packaging inserts so that you can use them to connect meaningfully with your customers.
They are ideal for fulfilling the shipping and fulfillment strategy you have as a business. The best part about it is that customers don't have to pay anything additional. However, you, as a brand can create more awareness about your brand, and add value to your business. Packaging inserts are also a creative and very cost-effective way to build strong and lasting customer relationships.
Designing packaging inserts come with a whole bunch of great advantages for you. Knowing what these are will help you decide what kind of insert you would like to try out.
The benefits of designing packaging inserts
They get noticed and are appreciated
You know that feeling when you've been waiting for a delivery to come along? That's exactly what your customers experience too. When they take off the packaging itself, packaging inserts create another touch point with the customer. There is something about these little inserts that reminds us of getting a heartfelt note from somebody. They make customers feel that a brand cares about them.
They don't cost much
You are shipping the product anyway. A few grams or less from a packaging insert is hardly going to cost you anything much – if anything at all. But the time you've taken in designing packaging inserts will pay off in how much your customer connects with you.
They are very cost-effective
Depending on the kind of packaging insert that you want to have, you can actually get them done for a very low budget. For example, if you happen to be a micro-business, you can simply find great stationary and use some handwritten notes!
Packaging inserts allow for lots of customization
With ecommerce, personalization is something of a trend that hasn't gone out of style. Designing packaging inserts allow you to deliver a very personalized message to your customer. And you can do this just by personalizing your inserts according to customer segments.
They help you increase conversions
The average conversion rate for marketing that includes packaging inserts is 35%. While this figure can range from 1% – 15%, the average is calculated at 35%. This is just for the acquisition of customers who do not know about your brand at all (e.g. those receiving a gift). So, if they work so great for just getting in new customers, we can assume that they will work even better for your existing customers, to increase their brand loyalty.
How well your packaging inserts bring you results will depend on many factors. The main two factors would be how interesting you can make them, and the value they will give your customers.
To help you decide what kind of packaging inserts to choose from, we have a few types we've identified below.
How to choose your packaging inserts
Educating your customer
One of the most commonly used packaging inserts are the ones that offer customers more info on how they can make the most of the product they have just bought. For example, food and beverage and kitchen products can offer a selection of recipes. Or guidance on how to set up the appliance in the instance of kitchen products.
You can also give your customers some ideas for inspiration on how they can enjoy the product with their family. For example, like in the image below, the insert shows adults how the can have a fun time with the little ones in their lives, using the product.
Warranties as packaging inserts
When you give your customers a product warranty as their packaging insert, you let them know that you are guaranteeing the quality of your products. It serves to build trust. There is also another benefit here. When your customer signs up for this warranty, they give you their contact info. This will allow you to communicate with them directly. The key here is to make sure that the warranty is provided for products that actually need them. For example, if somebody ordered a product that has only a single use, including a warranty packaging insert wouldn't make much sense.
Discounts and offers as packaging inserts
A really popular type of packaging insert is one that gives your customers a discount or any kind of offer. While you may think that this can be done via email, sending these in packaging inserts means that your customers will read them at a point when their interest in your product is at their highest.
In the example we've given above, the Shea Brand which specializes in beauty delivers several types of packaging inserts. They include a coupon code to get 20% off, the next time customers' buy. It would be very cost-effective for you to print these offers as inserts at the same size as business cards. You can also include two inserts instead of just the one, so that customers can actually share it with a friend. There's no recommendation that's more valued than one from a trusted friend or family member. Some of the types of offers that you can come up with (based on your audience's preferences) would be:
Free shipping on the next order
Credit towards the next buy
A certain amount off the next order
A complimentary gift with the next purchase
A free upgrade the next time they decide to buy
Product sample inserts
Giving out a small sample is a great value addition to the purchase. It offers you a fantastic chance to cross-sell to your customers and introduce them to products they were not aware of, or always wanted to try. For example, as in the image below, BrainZyme which is a nutritional supplement store based in the UK has a three-product range. They offer free samples so that customers can try their complete range of products. This has led to a lot of word-of-mouth publicity, as customers tend to share these samples with friends too.
A token of appreciation as an insert
Very much like the sample idea, giving your customers a small free gift, is a great way to thank them and also introduce them to other products. All this without making an obvious attempt to sell more. The gift can be very inexpensive because it is complimentary. That's something that will delight your customers and your bottom line.
Personal notes and thank you cards
If you want to keep this budget-friendly, simply use some good stationery – or better yet have it designed with your branding – and add a handwritten thank you card or a personal note. This will help build brand loyalty as well. If you are a startup, this is a great advantage to you because most large scale companies just won't have the capacity to add a handwritten note.
Some tips for your handwritten note:
Use the first names of your customers
Express that you are thankful and that is why you are sending the note
Tell them how much you enjoyed serving them
Tell them that you expect to hear from them soon
End the note with a warm and professional sign-off. Something like kindest or best regards or even sincerely, would do well.
Now that you know some of the types of inserts you can choose from, you next need to make sure that you are following the best practices for designing packaging inserts.
What are the dos and don'ts for packaging inserts?
DO
Consider asking for a review if you have set up a platform for customers to leave reviews on. Make sure, however, that you simply ask for an honest review and not specify it as being positive or negative.
Tell them what the product does. You can consider designing an infographic to provide step by step instructions on setting up the product. It will help keep things simple for them and will also portray the brand as being informative and considerate
Include the logo and brand details. Your packaging insert is a great marketing opportunity and a way to build customer relationships. Make sure that you include your brand details and your logo, because otherwise, it's pretty much like you are sending them a simple postcard.
Work on the next sale. You need to be thinking of your future business too and not just the one that was completed. The process is not over yet. If you want to motivate them, include a discount for your customers on their next purchase. If you do not want to lose too much profit, offer them this discount on a product that moves slowly, so that they would be encouraged to purchase it.
DON'T
Violate any terms of service. Unless you are shipping all on your own, you may be associated with a company, like Amazon for instance. Make sure that you do not violate any of their terms of service in your packaging insert information.
Incentivize your reviews. Do not ask for a positive review or offer anything in exchange for one. Only ask for an honest review.
Get skimpy with the actual packaging. No matter how amazing the insert is, if the packaging is below average your customer will not buy from you again. They may not even give you a review.
Talk badly about your competition. Focus on how awesome your products are and do not smear the competition. It only looks bad on you.
Now, you should have a good idea about how you want to go about your packaging insert. And below are some examples that work well, that you can look to for inspiration for designing packaging inserts with a personality.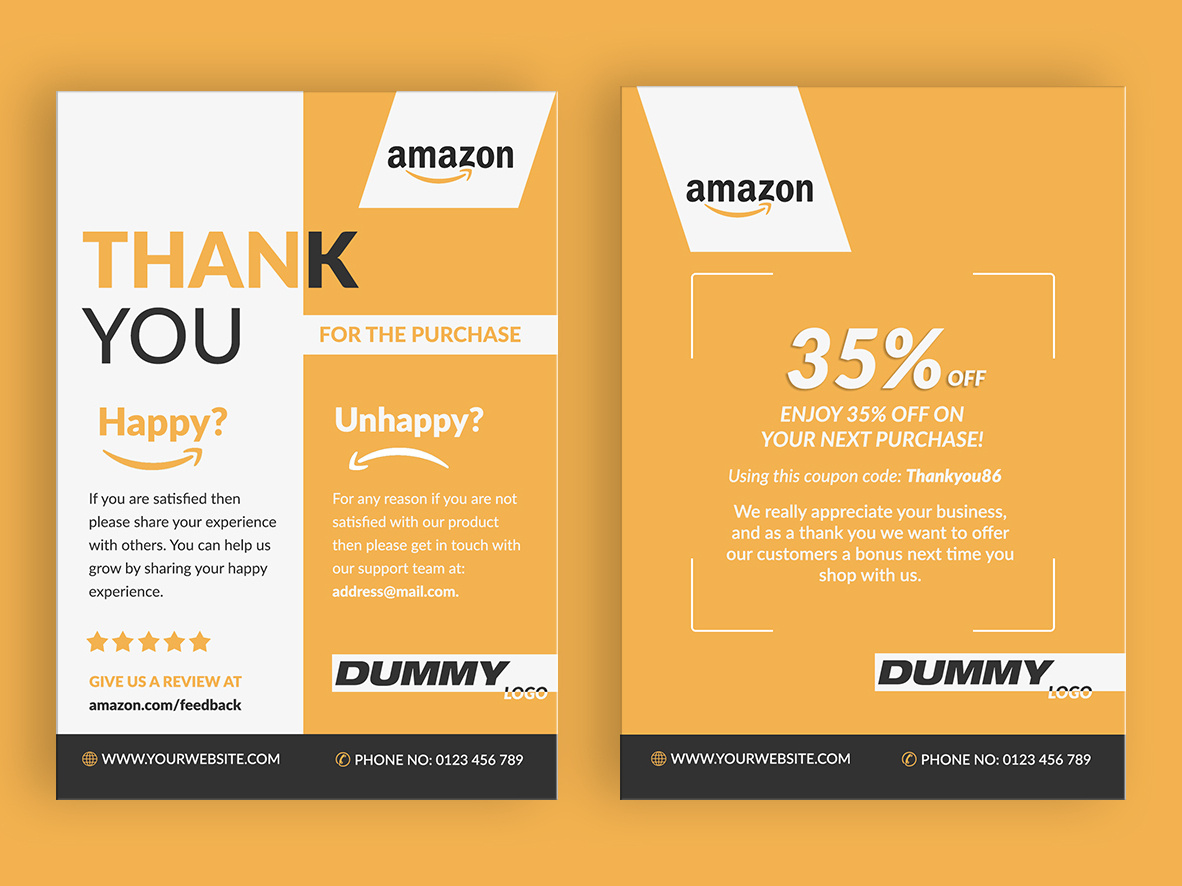 This is a great example of a design that implements the use of just 3 colors and readable fonts. It goes with a thank you and a 35% discount that will motivate customers to buy again.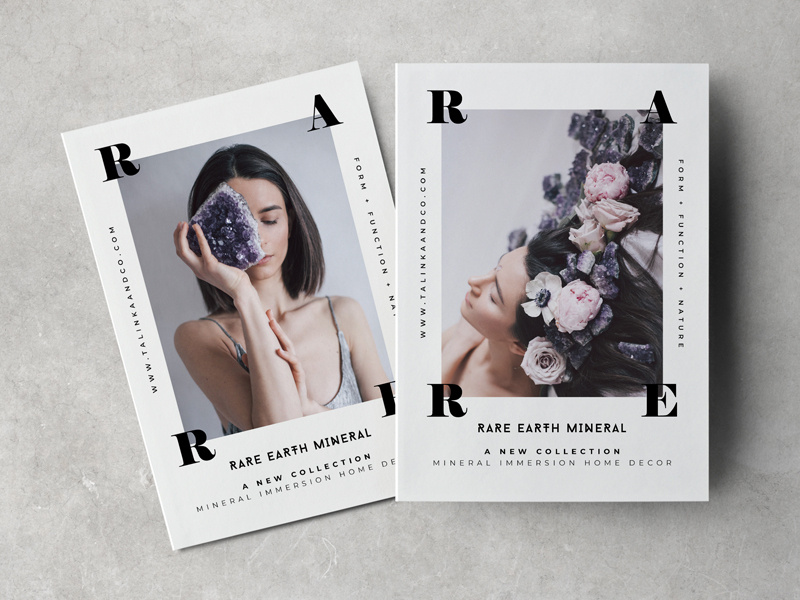 This beautifully designed packaging insert uses plenty of negative space and elegant styling to give out information about raw materials they use in their collection called Rare Earth Mineral.
This is a rather cute and quirky design with a flower pinned to the top that offers appreciation to the customer and also gives them instructions. It is cost-effective and fun!
While you are getting creative and excited about designing packaging inserts, you should also think about the information that you can include. Here are some tips that you will find helpful.
What can you include in your packaging inserts?
When you're designing packaging inserts, you should also think about what kind of information you can include that will add value to the purchase of your customer. Like we said before, there are many ways in which you can pull this off and create a great impression. A lot of these details will change based on what you are selling them. Some of the information that you can include are;
Ways to care for the product
A recipe or a fitness instruction if the product is related
A good workout strategy if the product is sports related
QR codes – in this case you could use this as means of linking your marketing channels. They will also drive traffic to your website. Instead of simply directing customers to your homepage, use these for:

Mailing list subscriptions
Recommendations of product lists
Your reviews page
A link to download your mobile app if you have one
Some helpful videos about the product they just bought
Your contact information
Returns and refund policies
Any customer service information
A word to the wise
Remember that designing packaging inserts should be carefully thought out. Don't make your messaging sound like you are just trying to get more business. Focus on getting across the message that you want to create value for your customers. Be creative and subtle in encouraging your customers to keep on doing business with you.
Keep in mind that most businesses are taking a transformative leap into ecommerce these days. So you have a lot of competition that you are going up against. The best way to stand out from the crowd will be to make sure that you maintain your integrity as a brand and demonstrate high quality and value in every aspect – including your packaging inserts.  
Need help with your packaging designs? Get unlimited graphic design from Kimp!