Why You Should Consider Car Wrap Designs
Want to advertise your business all over the city without having to spend thousands of dollars? Think car wrap designs. These are actually a very popular design idea for small businesses. Especially as they get you great visibility without a huge price tag.
Can't afford a billboard ad? No worries. Car wrap designs allow you to have a pretty great alternative – on wheels! And the best part is that you only need to invest in them once. 
Car wraps are made out of large printed vinyl stickers. They then get applied to the surface of a vehicle. Designing them can be a bit tricky though. So it's important that you work with a designer that has, at the very least, an intermediate skill level in graphic design.
And when you're creating the brief for your car wrap designs, it's important that you keep the content and copy short, and to the point. This will make it easier for your audience to recognize your brand and understand your messaging when they see you drive by.
What are some types of car wrap designs?
To get you started, we are going to take you through some of the most commonly seen car wrap designs. 
The Die-Cut Vinyl Custom Wrap
This car wrap design is pretty affordable and can advertise your brand well. You can get the basics covered with this option. Your name, logo and your brand's website, allowing them to be transported to wherever your vehicles may go. Since this vehicle wrap is text-based, you'll want to pay extra close attention to the fonts you're choosing.
The Partial Vinyl Custom Wrap
This type of design will offer coverage for just a portion of the vehicle. This will usually vary from ⅓ – ⅔ of the vehicle. These types of car wrap designs are great for service vans and other such vehicles. You can display your logo, the name of the brand and the brand colors along with a list of services that you offer. 
The Full Vinyl Custom Wrap
Yes, you guessed it right! This type of design will cover the entire vehicle. It is meant to make a loud and bold statement. It allows for a lot of space for you to place your design on, and definitely will catch the eyes of people on the road. The entire body of your vehicles will be merged into one flowing and attractive design. All this without disrupting the visibility you need for driving.
How can you decide whether car wraps are for you? 
Here are some of the most important points that you need to consider before you choose this method of marketing for your brand.
How effective are car wrap designs?
According to ARD Ventures in the US alone, vehicle wraps generate between 30,000 – 70,000 vehicular impressions on a daily basis.
Perception Research says that mobile advertising is capable of driving 2.5 million times the attention that a static billboard drives.
In a study that was conducted by the RYP & Becker Group, it was observed that messages on an outdoor billboard bring you a 97% recall rate.
When we consider these stats, it is not hard to see why business owners would want to choose this form of advertising.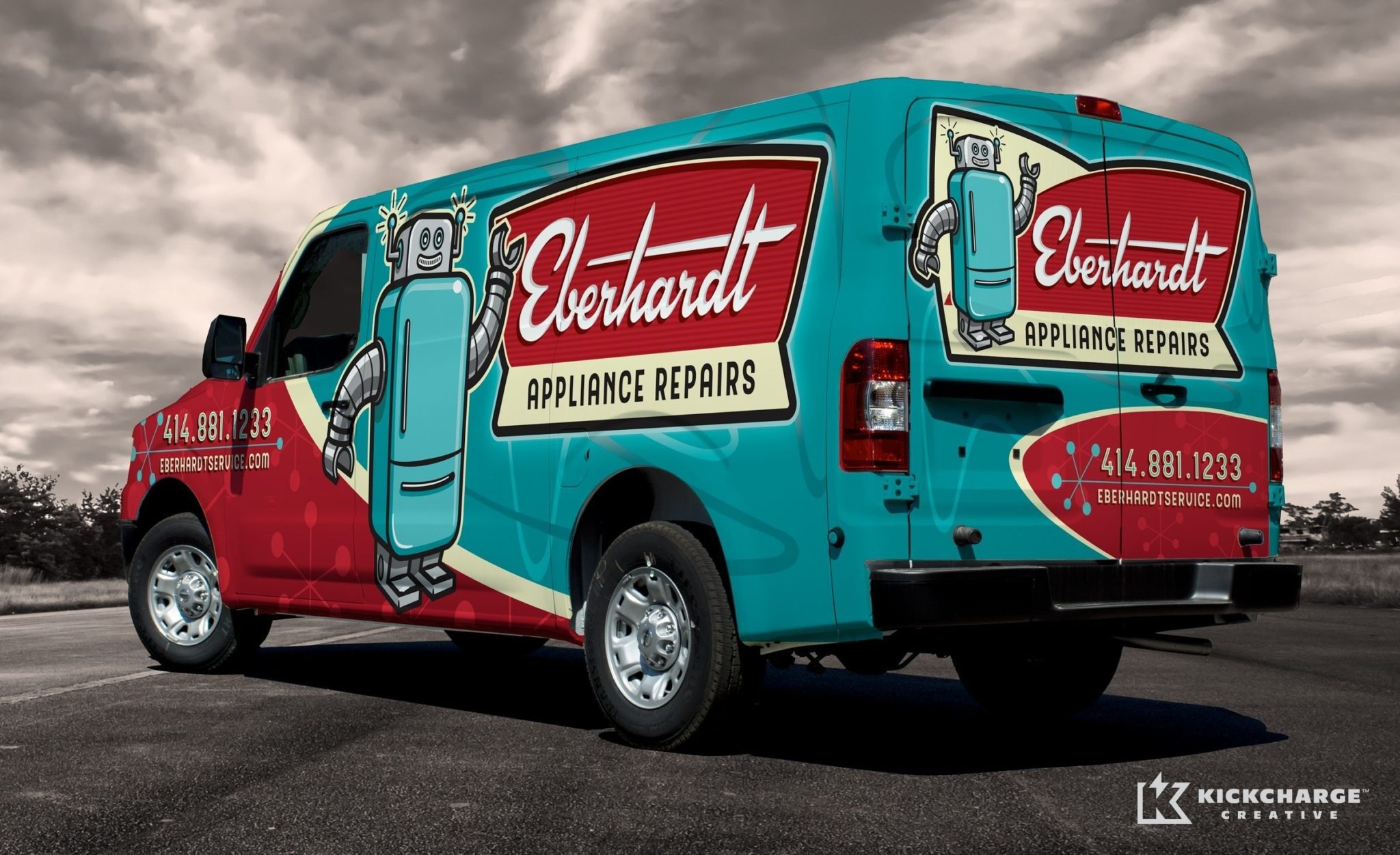 Are car wrap designs only for large companies with massive fleets?
Think again.
Maybe you don't own a fleet. But you can still rent out a van, car or truck that is willing to advertise for you. The owners of the vehicles that you rent will have the ability to make an income by allowing you to market your brand on their vehicle. Even though you may be a small business, this type of design will allow you to introduce your logo to many customers and will create the impression of you being a large enough business to have a fleet.
How much will car wraps cost you?
The rough cost based on the type and size of wrap design will be around $1500 – $3500. This includes the costs of:
Printing
Vinyl graphic designs
Installation by a professional
You will also save money (if you own a fleet) because you will not have to paint your vehicles time and time again, which costs much more. If you painted these ads on the vehicle you would have to repaint the whole thing in case you were looking to change it. But when you get a custom wrap done, you can change it if needed without damaging the original paintwork. Just make sure to get a professional to remove the wrap. 
Do car wrap designs perform well against other forms of advertising? 
The Outdoor Advertising Association of America says that wraps reach more customers at a lower price than other forms of advertising.
Wraps will cost you, on average, about 4 cents/1000 impressions. On the other hand outdoor signs will cost you about $3.56 and newspaper ads about $19.70 per 1000 impressions.
They can increase the outreach of your marketing campaign by allowing you to display your details in the form of a mobile billboard. For example, if you advertise on a newspaper you will limit yourself to the demographic that reads it. But in this case, you can actually reach anybody from kids to adults easily.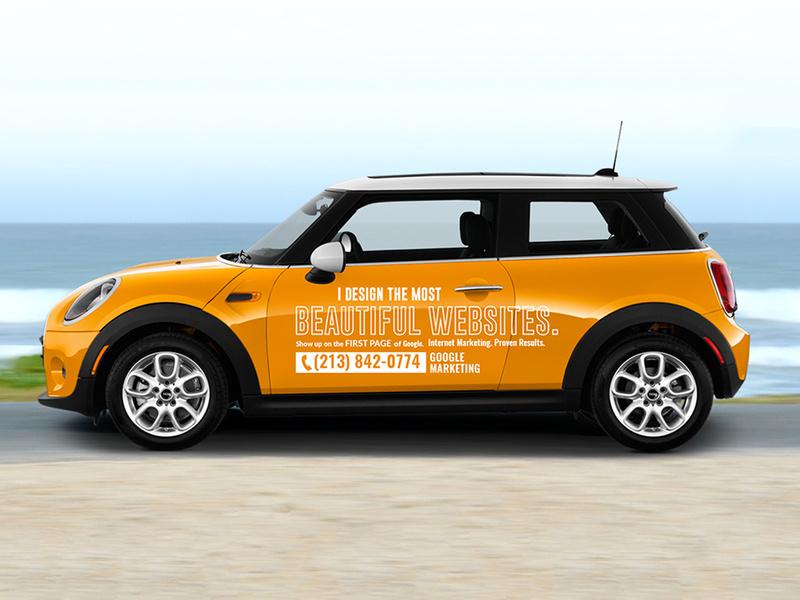 What types of businesses can benefit well from wraps?
Businesses that are very reliant on local customers and those using local methods of advertising can benefit from having car wrap designs. This will allow you to show your brand to more people in the community easily. 
Businesses that have fleets will find it easier to get into wrap advertising because you already have the main requirement. Other businesses can rent out vehicles to do the same too. The only difference is that if you already own a few vehicles, you have them at your disposal. 
The pros and cons of vehicle wraps
PROS
Doing a complete wrap on a vehicle will cost you less than a paint job. Affordability is one of the key attractions here. 
There is very little downtime involved. If you are choosing to paint a vehicle, the time that is required for the complete process can range from a few days to a few weeks based on different factors like quality and complexity. The turnaround for a wrap is however much less. Once the vehicle is clean and the design has been finalized, it will simply take a couple of days at the most for a professional installation. 
Because vinyl wraps come in a wide variety of design options, they offer you more diversity than painting. There are even color-changing wraps that respond to the angle of light.
You can also choose from matte, semi-gloss, gloss, or satin versions. In fact you can also mimic the textures of other materials like chrome, leather, stainless steel and carbon fiber.
The removability of vinyl wraps ensures that if you want to change the ad or if you simply want to get the vehicle back to its original color, you can do so without any damage. 
It also helps to maintain the actual paint of the vehicle and protect it. Supposing you would like to sell the vehicle for any reason, all you need to do is remove the wrap. 
You can implement great designs that will completely change the look of your vehicle. All you will need is the inspiration and the services of a good graphic designer.
CONS
You must be willing to invest in high quality. There are vinyl wraps that will protect your vehicle and stay durable. There are others that come at a lower price that may not have the same excellent quality.
You must be willing to invest in the expertise of a professional. Like we said at the start of the blog, vehicle wrap designing needs a certain level of skill. Anything less will not bring you a high quality final look.
Some may argue that a good paint job brings more quality and depth than a vinyl wrap. But if we take the above points into consideration, the right investment can get you just the right result.
Because of all these pros and cons, it would be helpful for you to also know about the best practices that can get you an amazing vehicle wrap design. That's what we'll be looking at next.
Best practices and tips for car wrap designs 
Make sure your brand is clear
With a car wrap design, your vehicle will become a mobile brand ambassador. It will promote your brand to anybody who sees it. This is the main reason why you must portray the character of the brand in the design. The name of the brand, colors, mascot, and slogan along with any services you offer must be clearly displayed. 
The design should align with your goals
Usually, the goals for these kinds of designs are marketing, organizational development, and sales. If you are looking to increase brand awareness, the design should feature all the details of your brand as we mentioned in the point above. If you want more traffic, make sure that the design gives the customer an offer that they cannot say no to. 
Maintain consistency on all your channels
Car wrap designs will serve as just one component of your overall marketing strategy. There will be other channels like social media, website, TV, radio or newspaper ads that you'll likely be active on as well. Because you need to drive one clear message to all your customers, make sure that your marketing is consistent across all these channels. For example, if the vehicle wrap design is completely different from all your other ads, your customers will not recognize the brand or make the connection. 
Make it fit your budget
Vehicle wrap designs are actually rather versatile when it comes to budget limitations. You can still get something high quality done while staying in your budget. The important factor here is that you identify your constraints and plan out the design so that you are staying within what you can afford and still getting a high quality design. For instance, you can try something like a partial wrap, a decal or just lettering if that is what your budget allows for.
Get inspired by your audience
You must make sure to focus on your target audience, and customer personas, when you work on your car wrap designs. Your target audience will include customers, prospects, leads, employees and partners. And your vehicle wrap designs must always be designed from the perspective of those who will see it – whether that's your entire target audience or just a segment. Otherwise they won't resonate and definitely won't encourage your audience to keep you top of mind. 
So should you invest in car wrap designs?
If you believe that your business relies on a local audience, and stands to benefit, then YES! You'll increase your brand awareness, and increase consideration and conversion. So get cracking on planning out your design concept, and reaching out to a potential designer. Your car wrap designs will be taking your brand all over the city and beyond, in no time!
Need a hand with your car wrap designs? With Kimp you can get multiple car wrap designs for a flat monthly fee, so that you can test out different variations before you decide which one to print.