Have You Added YouTube Shorts to Your Content Marketing Plan?
How many times have you heard marketers rave about short-form videos? Probably a million times? After all, who doesn't like quick and easy snippets of information and entertainment!
We know well that the attention span of gadget users has been dwindling steadily. Well, some even claim that the human attention span has probably dropped below that of a goldfish. Technically that's not true. But let's not get into that now.
We do know one thing for sure, short-form videos are popular among content consumers and that's why almost every social media platform has its own version of it. And YouTube has Shorts.
It's been less than 2 years since YouTube announced Shorts but many brands have already started using it to their advantage. Have you? If not, now is a good time. We'll tell you all about creating Shorts for your brand's marketing.
Why Shorts matters
Content ideas for Shorts
And some video design tips too
Getting to the "What" and "Why" of Shorts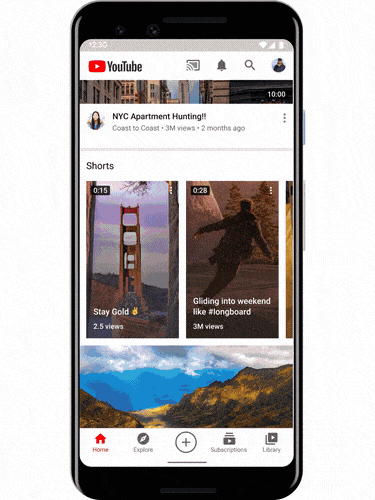 Shorts is YouTube's short-form vertical video that lets you upload or directly create videos. Directly recording from your phone lets you create 15-second videos and when you upload content, it can go up to 60-seconds.
This is a vertical video format that works well mainly on mobile devices. So, if you want to target your customers while they are on the go, Shorts is the way forward.
But why exactly should you consider investing time curating content for Shorts?
Globally, the daily views for Shorts reached 15 billion in 2021. With so many people showing interest in this short-form content, it is only natural that brands want to make the most of them.
With Shorts, it is all about brand visibility. While you can use your regular videos to keep your subscribers engaged, Shorts helps you reach new users. And even people who do not know your brand yet or have not subscribed to your YouTube channel.
YouTube Shorts are displayed based on the browsing and viewing history of users. People who have saved, shared, and liked videos similar to yours are more likely to see yours. So, when you have the right hashtags and the relevant content for your niche, your videos will reach a relevant audience.
Shorts, provided you create catchy content, helps your brand gain more followers on YouTube. Popular content creator Brandon Baum went from 2,300 to 148,000 subscribers by regularly posting Shorts.
Nearly 70% of the watch time on YouTube is from mobile devices. And this means that creating vertical videos makes it easier to keep your subscribers engaged.
All leads to the conclusion that Shorts are great for marketing. But how can you use it? We'll give you a few ideas:
Content Ideas for Making the Most of Shorts for Your Brand
1. An unboxing video
Unboxing videos are everywhere. Nearly 90,000 people search for unboxing videos on YouTube on a monthly basis. And this trend works so well for brands big and small because of the following reasons:
They give a sneak peek into what your product looks like.
You get to show off your intuitive packaging design.
And finally, you also give customers who are hesitant to place an order an opportunity a taste of the experience. And this can be the push that gets them to place the order.
We recommend using Shorts for unboxing videos because a sped-up version of the process will be just enough to make an impact. No matter how fancy your packaging looks unboxing videos that are too long might not be that exciting to most people.
For unboxing videos, you can either create one in-house or even share content that your customers share with you. And when you share user-generated content, you can tag the user in the description and give them a shoutout. That would be a good way to reward them for the content they share.
Kimp Tip: Raw video footages look genuine for unboxing videos. But simple edits like adding text overlays to convey the information even when the video is muted will make a lot of difference.
When you have a video to share as Shorts but do not know how to make it look trendy and engaging, get in touch with the Kimp team. A Kimp Video subscription brings you video editing services too.
2. Testimonial videos
Shorts and several other short-form video content were inspired by TikTok. And on TikTok, most videos featured people which made them more enjoyable, relatable, and easy to trust. So, featuring real people will be a great way to draw people's attention through Shorts.
Testimonial videos can be another form of user-generated content. And because user-generated content has a formidable place in the world of marketing, this can add so much value to your brand. Without a doubt, people who have actually used your products will be the best advocates for your brand.
For testimonial videos in Shorts, you have two options:
Get customers to record and share their experiences through short videos and then share them on your channel. But before sharing, you can always edit the videos and add your brand's visual flavors.
Create a short and visually engaging video featuring popular reviews. You can also add trending audio tracks to this to get more people to notice your video.
3. Comparison videos
Comparison videos help people understand why they should choose your brand over others. For example, better features, better value, or better usability are a few aspects to highlight.
To a new customer who encounters your brand for the first time through Shorts, this comparison video will show why your brand deserves their attention. And to existing subscribers, your comparison video in Shorts will remind them to place that order they have been postponing.
The comparison in your videos can be between two products from your brand, or with a product from a competitor.
With all these benefits in mind, service providers, for example, can use Shorts to provide a quick overview of the plans along with a link to the pricing page for further information.
4. Information that is hard to ignore
Among all the short videos that your relevant audience watches, the ones that bring them value are perhaps the ones that stay on their minds for a long time. You should know that informative videos that give them a fresh perspective will get them interested in your brand.
You can choose videos that talk about tools of the trade. For this, based on the industry that your business belongs to, you can pick a common problem and provide suggestions on ways to solve the problem or the right kind of tools or apps to help solve it. And this list can also include your product or service as one of the options. This is very much like the listicle blogs you create to draw traffic to your website.
Other than suggestions on the best picks in your segment, you can also answer common questions in your niche. Strong social listening will help you get there. Or you can also use Instagram Stories to gather customer questions and then answer them through Shorts. This idea helps bridge the gap between different social media platforms. You can thus use one platform to grow your reach in the other.
5. Process videos
Process videos allow customers to see the effort and talent that goes into creating the products or services you offer.
For example, for food businesses, this can be a quick peek into the food preparation process. Or, it can also be a video that shows customers what happens in the packing process.
In short, anything that gets them to feel closer to your brand and get a flavor of what happens before the product is delivered to them will make them appreciate your brand a little more.
6. Start a conversation
To keep up with the competition and strengthen your stance in the industry, you should be up-to-date with the market trends. And when you do this, you will know the trending topics that brands in your industry are discussing. Topics that your potential leads are showing interest in.
Once you know this, you can create simple point-of-view videos. It can be a short video that shows your take on something that everyone is talking about. You do not have to have a sensational opinion to get people talking about your views. When you express your views, you are automatically initiating a conversation.
And when you do this, users might interact in the comments and express their own views. Or if they find your views relatable, they will share your video on their social media pages. Also, remember to add a touch of humor and keep the tone friendly.
7. Behind-the-scenes
This is one of the most popular options for short-form content like Shorts. And the best part is, when you get this one right, you can use it not just in your Shorts but also in Stories on Facebook and Instagram where vertical videos work well too.
Behind-the-scenes video can either feature the people or the teams working on delivering the products or services or even a peek into the warehouse or the packing area. All this will evoke curiosity in new customers. Besides, they will be more than happy to check out a brand that is transparent.
8. Keep it real
Showcasing your knowledge, answering questions, providing solutions, and letting people know what other customers think about your brand – all of these are great content ideas. But once in a while, you have to get real.
It is alright to show people the fun side of your team or yourself if you are a solopreneur. While the rest of your content on social media including the long-form videos showcases your finesse in whatever you do, you can use your Shorts section to showcase the mistakes you make. Like the bloopers in the world of films. Marvel Entertainment shares them on its YouTube page quite often.
Marvel regularly uses this space to display gag reels, teasers, artist updates, and so on. Marvel's marketing prowess needs no introduction. So, it does help to learn a thing or two from what the brand does.
9. Use Shorts as an anchor to your long-form content
One of the best ways to create Shorts without actually creating a new video will be to edit existing long-form videos. This is also one of the best ways to tap into the better reach that Shorts offer. And that too without spending additional time.
You can use excerpts from the main video or play a sped-up version of the video. In this case, your closing frame and description can direct people to your channel to watch the whole video. This gets views on both your video streams and also increases the engagement rate on the whole.
With a Kimp video subscription, both video editing and video design will be taken care of by your dedicated team of video designers. So, you can have all your videos in one place. And also be sure that they look consistent and connected.
Video Design Tips to Get More Engagement on YouTube Shorts
You now have some great content ideas to create Shorts for your brand. But, the execution part is even more important. Everything from the colors you choose to the soundtrack and the nuances of editing your video can make or break the effect.
Below are a few design tips for your Shorts to go viral.
Make the first few moments count
For a strong first impression, you need a strong visual hook and copy that sells! Your first few seconds should tell who the video is intended for and what kind of questions it answers. Details like these ensure that relevant people will not miss the video and that they will also interact with it in some way. Furthermore, engaging animations in the video supplement the great copy.
Remember that within a few milliseconds, your users judge the video and decide whether or not to scroll past it. So, make sure that you include a visual hook like a lively color palette or animated text, or eye-grabbing animations. All these will assure users that there is something exciting in store for them.
Create an endless loop
Like most short-form content on social media, YouTube Shorts videos play in loops. But to increase the chances of the video being played in a loop you should keep it engaging throughout. If users abandon your video at the first glance, there is no use spending time creating concepts that look good when looped.
Getting people to watch your Shorts more than once is good for your user engagement. It also helps in leaving a stronger impression on your audience. That's because the second or third time they might notice some additional details that they probably missed the first time.
Kimp Tip: The key to getting more views and making your video viral is smart editing. Keep your opening and closing frames appear connected and the transition seamless. This way, users will watch the video more than once.
Looking for professional video editing services? Try Kimp Video subscription.
Define color schemes
Currently, there is no dedicated menu option or tab to separate Shorts from the rest of the videos, for the viewers. The tiny Shorts icon at the bottom right corner is the only indication. To be able to post Shorts regularly without interrupting the viewing experience that the rest of your content offers, you can set color schemes for each type of video.
Having a defined color palette for your Shorts will make it easier for your subscribers to easily differentiate them from the rest of the videos you post. Using your brand's primary color will also leave an impact on the new viewers who come across these Shorts.
Be mindful of the audio and video synchronization
Using trending audio for your Shorts is a great idea. But, for the audio to actually work in favor of your video, the chosen track should feel relevant to the copy and the core content of the video.
A few relevant images or video clips combined with catchy copy and a tune that supports the content are all that you need to make great YouTube Shorts videos.
Start Strong on Your YouTube Shorts Strategy With Kimp Video
While you can take your time to create and post long-form content, posting Shorts and Stories regularly will give your brand an edge in the competitive YouTube space. Having a consistent inflow of video content does not have to be difficult anymore. A single Kimp video subscription is all it takes to bring all your video design requirements to one place.
Explore the features of the subscription by signing up for a free trial today.