Use Animated GIFs In Emails To Get More Engagement
Want to amp up the fun and get more engagement through email marketing? Then it's time to use animated GIFs in your emails! Email marketers are constantly trying to improve their campaigns. This includes optimizing elements like well conceived copy, images and designs. And it also means looking for ways to stand out in customers' inboxes by using animated GIFs. 
Adding some animation to your emails can be a great tool for increasing subscriber engagement. This is where animated GIFs come into the play. In Litmus' 2020 State of Email 51.28% of email marketers confirmed that they're using animated GIFs at least occasionally in the marketing emails.
"Animated GIFs can breathe some much-needed life into the imagery on your website. They grab the users attention and act as design delighters, making your site stand out from that of the competition."

– Paul Boag, Co-Founder, Headscape (Digital Agency)  
While Digital Agency Co-Founder, Paul Boag speaks to the effectiveness of animated GIFs on websites above, the same can be said for email designs too!
How effective are animated GIFs in your emails?  
David Sierk, Dell's email strategist took a risk in 2012 and sent out a not so "Dell looking email". This was an experiment that included personalized GIFs which showed the latest Dell XPS 12 Convertible Ultrabook.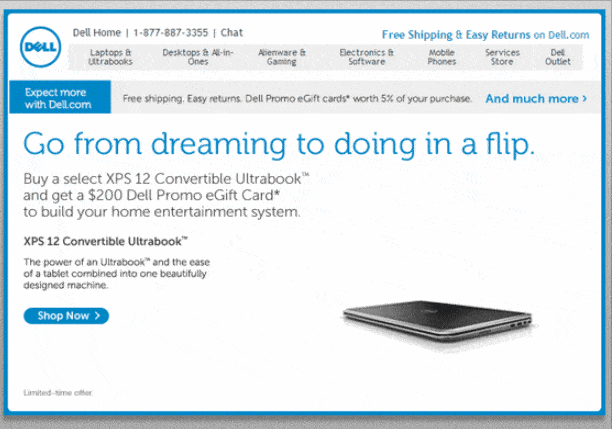 How good were his results? Well, there was a 103% increase in conversion and almost 109% boost in their revenue. Even in the early days of experimenting with animated GIFs in emails, they were a hit!
What to consider before using animated GIFs in your emails
Just like with any other new element you consider adding to your email designs you need to weigh the pros and cons each time. Consider the following when you're thinking about the format that will work best:
– Will the GIF reinforce the overall message/theme?
– How will it add value to the email?
– Are there any restrictions that you need to work with (if any at all)?
Do GIFs play in all emails?
Yes, they do. The support for animated GIFs is universal across all the main email clients, save for Outlook 2007, 2010, and 2013. If you are using Outlook, only the first frame will display. So if you happen to know that your audience is using older versions of Outlook, your GIF's first frame should contain the most important information you're trying to share. 
Best practices for using animated GIFs in your emails 
Yes, animated GIFs can be a great addition to your email marketing. But only if they are used well. Knowing how and when to use your GIFs can be that defining factor between a successful email campaign, and a total flop. Here are some tips and best practices that will help you get started:
Always know the purpose of your GIFs
Don't look at adding animated GIFs to your emails like topping your food with a garnish. It's not just about grabbing attention or looking aesthetically pleasing. Function comes into play as well. A well thought out GIF could take on any one of a wide range of roles. And when you're clear on its purpose, you can get a more impactful GIF design done. Here are a few different ways to use Animated GIF in your emails:
Announcing a sale
Introducing a new product
Enhancing the mood of the audience
Setting the scene for the rest of the email
Helping to draw more attention to your email content
Serving as a preview for new video content
Telling a story
In the example above, Converse used an animated GIF to announce its Blank Canvas Monochromatic Collection. It is quick to grab attention and compels the customer to click on it.
Use an animated GIF as a teaser
An animated GIF can also be used as a method of hyping up your audience and upping their level of curiosity. Let's say that you are launching a teaser for a new product. GIFs can be a fun way to keep your customers guessing as to what's coming. And it can give them just enough info to build up their anticipation and make them more likely to engage. Just like in the example below, GIFs can be used to tell your customers something, without actually giving them all the details.
Align your GIF with your CTA
Every email that you send out needs to have a call to action that is powerful. The best kind of email campaigns are the ones that drive action. And this requires all the elements in  your email to work together cohesively. So when you use animated GIFs in your emails, do some planning to ensure that your GIF and CTA go hand in hand. They should both contribute towards getting the subscribers to actually carry out the action you want. In the example above from Harry's, the GIF creates a sense of urgency and encourages the customer to click by creating some FOMO (Fear Of Missing Out). Nothing like creating the feeling that time's flying to spur customers into action.
Animate it just right
GIFs can become a bit slow to load when they are over-animated. There is also no point in over animating just for the sake of it because that will only distract your recipients. And this in turn will make your engagement rates take a hit. So, try to choose the best angle to show your product off from and stick with it. You'll have plenty of other ads and creatives you can use to highlight other aspects of your products. In the GIF below you can see how clever animation can be done without too much distraction.
Try a customized GIF that reinforces your brand
With so many GIFs available, inserting a free option that you find online can be rather tempting. You might even prefer this, because you do not have to pay anything for it at all. But just like with other types of creatives, the more you can add your branding to the GIF, the better effect it will have.

For instance, if you have a hot new feature in your app, product or website. An animated GIF can be the best way to announce it. In this case, rather than using a static image, you can use an animated GIF to let customers know how the feature works. A good example of this comes from Lyft, who sent out a very engaging email about an update that they did to their app. The GIF demonstrates this feature perfectly. It tells the customer how the new update works, rather than a normal static image would. And it does so in a completely branded way.
To create a custom GIF, you can go about this in a few different ways:
You can put your own twist on a trending meme and just update the text
Incorporate your logo or watermark into the GIF
Create a new custom animation
Shake up one of your email design templates by introducing an animated GIF
For any of these options, Kimp can help you get started with using animated GIFs in your emails to get more engagement.
Loop at the right speed
Determine whether you want your customer to see an infinitely animated GIF, or one that has motion for a set number of cycles. Then consider the speed of the GIF. Is it too fast? Is it easy to read? Or too slow? If it is too slow, you will lose your audience's attention before you deliver key messages. If it is too fast, your subscriber will likely delete the email or simply mark it as spam. Content that's confusing tends to trigger this reaction.
An animated GIF is basically a collection of pictures that are brought together to create a story that is dynamic. If you choose to have a definitive number of movement cycles, make sure that the animation ends on an image that has your brand's logo.
Keep things 'on-brand'
GIFs can be funny, and the funny ones definitely are memorable. But if a bit of humour isn't consistent with your brand voice, steer clear. On the other hand, if your brand does use humour in your marketing, try to incorporate this into your GIFS while being mindful of the following:
Avoid any memes that are controversial or reference to something that is controversial. Do your research and make sure that you are on safe ground. Remember, you're trying to engage customers not offend them.
Memes typically have several levels – the joke, the image and the reference to culture or society. Your GIF needs to reflect your brand identity on all these levels.

For example, Moo is a promotional and business stationery designing company. They love to get conversations flowing. In that spirit, they attempted to interact with their subscribers in a unique way using GIFs while also giving them 15% off on their next buy. The approach is fun, quirky, and completely on-brand.
Always do a test run
Got your design ready? Awesome. Time for a test run to make sure it will work across devices and operating systems. Try sending out test emails to friends, family, and staff members to check how they work. Get your staff to check their emails on their phones, laptops and desktops. Check how they work on tablets to ensure that the animated GIF has been embedded successfully. You should also check the functionality of the GIF across operating systems. Check these on Android, iOS, Microsoft and Mac OS. If you'll be sending out emails often you may want to invest in software like Litmus or sendinblue.
Use animated GIFs in your emails
GIFs have evolved into an important method of communication. They have a lot of appeal, especially to younger audiences. But don't rule them out for older audiences as well! Figure out what appeals most to your audience and you'll be able to use GIFs to their fullest potential. If you can pull this off, you'll be reinforcing your brand's credibility. How? By showing your subscribers that you are confident enough to communicate with them in your own authentic style. And that in turn will help you get more open rates, click-through-rates and subscribers. 🙂