January Marketing Ideas To Kick Off Your 2021 Campaigns
With the start of the new year, it's time to refresh and think of how we can put our best foot forward. On the marketing front, this means looking at January marketing ideas and how you can tap into them more effectively than ever before.
It can feel a bit overwhelming to think about how to tackle your marketing following a roller coaster of a year. Especially since we're still dealing with the pandemic. But it's also important to take inspiration from all the ways in which businesses and entrepreneurs, around the world, have continued to adapt. In the spirit of this resilience and innovation, we want to give you a bit of help to get your January marketing campaigns going.
Here are a few ideas to help kickstart your 2021 campaigns, so you can work towards achieving your 2021 marketing goals.
Send a New Year email
One of the easiest January marketing ideas to pull off, is sending a new year email to touch base with your subscribers. It lets people know that you care about them and wishing them happiness is something that is heartfelt and will be received as such.
As a business, it's important to show people that you care about them and that it is not just about getting them to buy what you have to offer. But here's the catch. Most businesses will be sending out new year emails. So how can you stand apart from the crowd? There's a couple of ways.
One, you can send the email before the new year hits. The tricky thing with this is that you'll still be competing with quite a few other messages, and many of your subscribers will be offline and enjoying the holidays. So another option to consider is to send an email within the first couple weeks of the new year. This gives your audience a chance to clear their inboxes of all other the messages that would have flooded in. And it allows you to craft a unique message that stands apart from others. Check out the ideas below for some inspiration:
Send tips to help subscribers achieve their 2021 goals
Offer discounts on products or services that can help with new year's resolutions
Provide a how-to to help your subscribers pick up a new skill relate to your product or industry or promote an event that will do the same
Thank subscribers for their continued support and introduce a loyalty program or benefits to help them have a happy/healthy/successful 2021
Whichever approach you take, be sure to personalize your emails by referring to the recipient with their name and use a catchy subject line that stands out.

Dress up that social media
It's the beginning of a new year. And the more your brand reflects positivity and hopefulness, the better your customers will feel about you as a brand. The best way to project a sense of happiness and warmth in your marketing would be to refresh your social media creatives. Use them to inspire the emotions you want your audience to feel.  
Get some new cover and profile images done and maybe even introduce a new color scheme for a few weeks. When you play with color schemes make sure that they still complement your brand colors and palette. Try not to veer off so much that you no longer represent your brand. 
You can also use this refresh to your advantage and market some of your bestsellers this time of year. Or products or services that you offer that can really help your audience make positive changes for themselves. You can also consider adding some how-to content and other types of informative and instructional content. Just be sure to choose topics based on what's relevant to your industry. Think infographics, blog posts, and product highlight or demo videos. These can help people build momentum with the new habits they are trying to form. 
And this is a tactic you can use throughout the year, whenever you want to make a noticeable transition to a new season or month.
Refresh your marketing creatives
The start of a new year is a great time to do a refresh of your marketing creatives. And it's one of the January marketing ideas that you can be repurposed throughout the year.
To get started, try doing an audit of all of your various ads, graphics, and videos to see if it's all reinforcing your brand effectively. And look for subtle changes you can make to highlight your products or services better. 
Maybe it's adding a color or colors to your brand's palette. Playing with your typography a bit. Editing some of your product or brand photos to reflect a different mood or look. Or adding in some custom illustration to your creatives to give it a unique twist.
Whichever approaches you choose to take, it doesn't have to be a massive project. You can start with simply A/B testing some new ads alongside your existing ones to see if there's a difference in engagement levels. Try working with a dedicated design team at Kimp to help make the process easier.

Try some top 10 lists
People love reading lists that brands curate for them. It helps them figure out things that they would like to buy and add to their lifestyle. And let's face it. After months spent indoors, we're all eager to find ways to enhance our day-to-day experiences.
You could go through products that you currently have, and look for your bestsellers to feature. You may also want to consider adding new items that you are introducing to create a Top 10 Must Have list. And then combine these with other items you know are popular with your audience. The benefit of featuring other popular products is that your list may land on the radar of those who don't already know your brand.  
Here are a few different angles you can take with a top 10 list:
The top 10 expert tips for ____________
10 things you need to travel in 2021
The top 10 things for working from home in 2021
10 ways to get fit in 2021
The top 10 self-care ideas for 2021
The topics can vary widely, but you can start with the simple template. "The top 10 [solutions/products] for [problem/pain point/opportunity].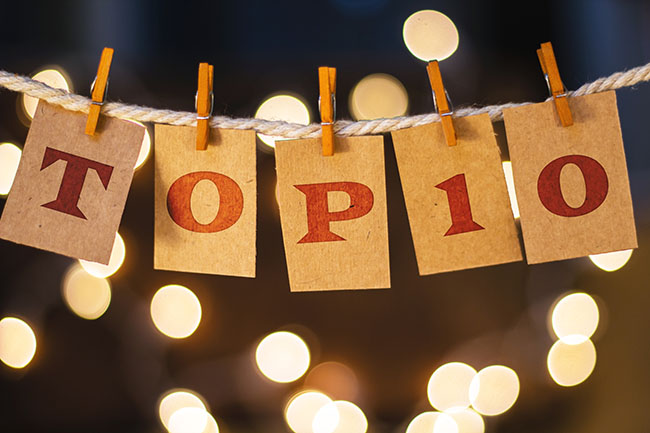 Be proactive about returns
Generally, there is a high tendency for people to return items they bought over the holidays this time of year. This could be buyer's remorse. Simply returning gifts that didn't pan out. Or just realizing that something didn't work as intended. Whatever the reasons your customers may be making returns, be prepared to make the process as easy as possible. 
And consider a strategy to recommend products that might be a better fit. Assess your data in terms of the most common reasons people return your products. And be prepared to suggest products that you believe they will like. Or to offer a discount on their next purchase of an item that will be a better fit for them. When people are prompted in a way that is personalized to their needs, the chances of them making a purchase are higher.
Remind people of the value you offer
It might be the case that your customers typically purchase your products or services a little later in the year. But that doesn't mean that you have to sit idle during a slow season. Take advantage of this time to keep yourself top of mind for your audience. And be sure to remind them of the different ways that your brand can add value to their lives. 
Focus on creating content that's informative and helpful. And look for ways to subtly remind customers about the different brands, products or services that you sell. This could take the form of sharing testimonials or user generated content. Or event contests or campaigns that focus on rewarding customers with prizes or discounts.
You can also start or ramp up an e-newsletter. Use it to regularly share updates from your brand, alongside helpful tips and interesting content. And you can complement these efforts by regularly updating your website sliders and social media posts.

Try a body positive promotion
Many people make resolutions when they step into a new year. And most of these people choose the new year to start working towards weight loss goals. This can unfortunately come with a lot of unrealistic expectations and negative pressure. 
Try countering this with a body positive promotion that's more holistic. You don't have to be a health or fitness brand to create content around this. It could be as simple as putting up some social media posts. Or a blog about how your team is trying to strike a healthier balance in the new year, and encouraging your audience to do the same.  
If it makes sense for your brand you can consider doing some giveaways or promos. Or quite simply making this a series of posts. They can be centered around a challenge to be more mindful and healthy. And they'll help you create a sense of community for your followers.
Make this year what you want it to be
Following a year like 2020, it's easy to feel weary. But don't let that hold you back. Keep looking for ways to connect with your customers with encouraging and positive messages. Especially as you're pushing your business to grow and adapt. Try out some of these January marketing ideas, and repurpose them throughout the year as well. It may be the start of the new year now, but there's no stopping you from making this a year full of fresh starts!