Last Minute Marketing Campaigns For Father's Day
Father's Day! The day we celebrate the heroes who raised us with love and care. They could be our dads, or grandfathers, uncles, or stepfathers, or fathers-in-law. On June 21st, we celebrate those who play that role of protector, guide, mentor and much more. To make use of this wonderful day as a brand, there are many things you can do.
Let's check out some easy, last-minute campaigns for Father's Day that will inspire you, even in the midst of Covid-19's limitations. First off, we take a look at some Father's Day tributes by popular brands to get your creative juices flowing.
It's easy to see why this Tesco ad is a hit. They've done a great job of tugging at our heartstrings. With each customer appreciating their father in their own unique way, there's also a reminder that the relationship between a father and child can take many different forms.
The Dollar Shave Club took a completely different approach to Father's Day in 2019. Their message connects directly with dads and celebrates the concept of "Dad Bods", with a touch of humour.
Producing a Father's Day campaign video might not be an option without much time, and with physical distancing restrictions in place. But there are still quick and simple campaign ideas you can try out to celebrate your customers' dads and the dads among your customers too.
Social Media & Email Campaigns
While some businesses are gradually opening up, the best ways to reach your customers remains social media and emails, rather than physical signage.
On social media, rather than simply adding a tribute post on Father's Day, you can create a campaign that lasts any number of days. Not sure how many days you should have posts for? Consider the different products, services, and/or offers you'd like to promote. Once you have an idea of what you can tie-in to your campaigns for Father's Day, it'll be easier to establish a plan. And to come up with a headline and caption for each post.
Avoid cramming all your promotions into one post, so you don't overwhelm your audience. And give them enough time to consider and evaluate the options you provide. This way, even if they're not ready to make a purchase by Father's Day, you may have planted the seed for a future purchase.
As you're planning and uploading newsfeed posts, don't forget to use Instagram stories for your campaigns for Father's Day. Advertising your offers through Instagram Stories will allow you to tap into FOMO, as your offer won't be around for long, just like an IG Story.  
Need some ideas for your social media and email campaigns for Father's Day? Consider interactive ideas like games, contests or quizzes that both fathers and children alike, can participate in to increase the engagement. We've shared a few ideas below:
A Photo Recreation Contest
Photo recreation contests are one of the most popular trends on social media for special occasions. You can jump on this bandwagon by asking your social media followers to recreate a photograph from their childhoods with their fathers.
And let them know to share it with the particular hashtag you've decided on for your contest. Be sure to check if the hashtag you have in mind has already been used. And try to make it unique or specific to your brand in some way, otherwise you run the risk of wading through a lot of unrelated content.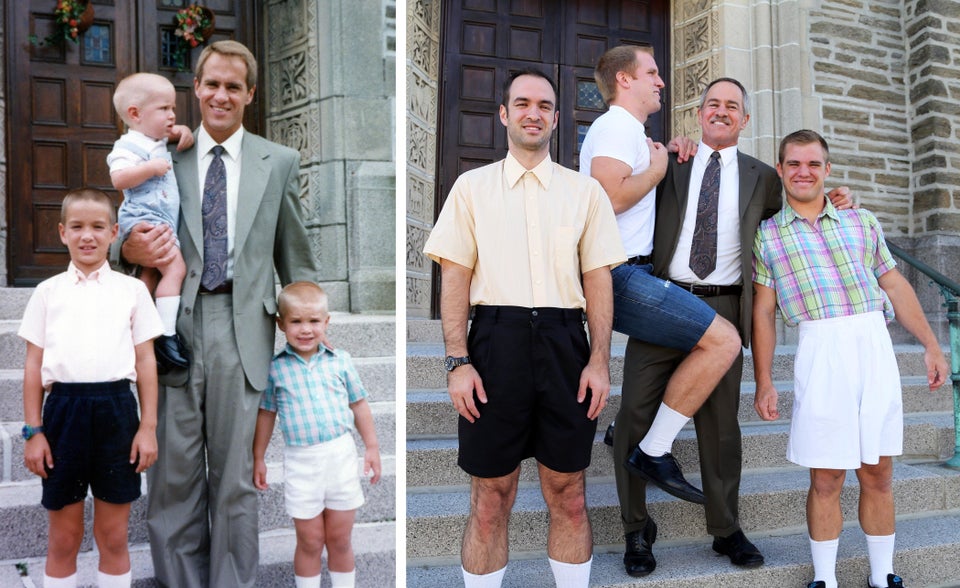 This is a simple enough contest, as you can just upload a post with the criteria, and then just randomly select the winner through a tool like Woobox.
Use powerful visuals to advertise the contest. If you want people to participate, then yes a great prize is important. But so is getting your audience's attention. Consider the copy you'll use, but remember that strong visuals will get your message delivered faster.
When you design the ad for your Father's Day contests, be sure to incorporate a colour scheme, elements and/or images that get the tie-in to Father's Day across. And throughout the whole campaign, make sure to stick to one colour theme and use the same style imagery for each and every post.
A Father's Day Video Challenge
Like them or love them, dads are good at tackling challenges. It comes with the territory. So, consider tapping into their spirit of competition with a video challenge. Being at home so much these days, everyone has been taking on DIY projects.
Consider launching a "DIY With Dad" contest. To keep it branded you might have it be related to building something or cooking a meal. Whatever the case, be sure that the contest details are clearly communicated to your participants. And try to keep it simple so that you can get more entries, and leave it up to your audience to jazz things up with a creative touch.
You can have your audience submit their entries and randomly select one to win a prize. In this scenario, you can also create a compilation of the entries for some great content for your feed. Or similar to the photo recreation contest you can simply ask entrants to post their video with a hashtag.
"Win It For Your Dad" Contest
This type of contest can be simple and can pull focus towards the prize you're offering. It can also tap into the sentimental side of things on Father's Day.
Just have participants like your contest related post, and then comment with a fond memory about their father, or the reason they think their dad deserves a treat. Or on the lighter side of things, they can comment with the best "dad joke" their dad has made.
Once your contest period ends you can use an online tool like Winner Picker to help you randomly select a winner based on the likes and comments.
Since your contest post will be drawing a lot of attention, make sure you don't skimp on the design. Try using illustrations or eye-catching photographs to bring your design to life. And be sure to include great shots of the product or service you're giving away. No need to cram everything into one design. 
Remember, you can always upload multiple designs for a single post. But bear in mind, each platform does have its limits (e.g. Twitter allows you to upload 4 images at a time).
If you're considering stock images, try using these sites. Just avoid the overused images of a dad lifting up or playing with their child. Try to find more creative and fun options so that your posts stand out. 
 Father's Day Trivia Contests
A fun way to engage your followers this Father's Day is through some trivia.
Come up with questions related to famous fathers and challenge your audience's knowledge of pop culture or famous historical figures. From Mufasa in Lion King to Barack Obama, a trivia contest gives you the chance to celebrate dads in every form.
The format doesn't have to be anything too fancy. Come up with a few post designs that feature the fathers you'll be asking questions about. And include a post or image of your prize. You can include the questions on the posts themselves or if they're a bit wordy, you can use them as your post captions. This is a contest that you can run over a series of a few days or simply upload one post with all the questions and let your audience have at it.
Whatever approach works best for you, when your contest period is up you can use a random comment selector tool to determine your winner.
Father's Day Email Campaigns
Now that we've got social media covered, let's look at some email campaigns for Father's Day. When launching an email campaign targeted for Father's Day, there are several guidelines to consider:
Use an engaging subject line and copy that will persuade the customer. The subject line is what your audience sees at first glance. And you can be sure they're receiving quite a few emails related to campaigns for Father's Day.
So it has to be just interesting enough to compel them to read further. In your email subject, include a reminder that Father's Day is coming up and entice your audience with a discount or an offer that your brand is promoting. 
In the copy, you can describe more about the offer or discount. Also, you'll want to use the body copy to urge the customer to take advantage of the limited time offer before they miss out. If you are planning on a drip mail campaign instead of a one-off message, you can add a countdown to Father's Day, giving a sense of urgency to the customer.
Include an eye catching design. We all know that visuals speak louder than words. So, don't hesitate to use imagery and design elements in your email to represent Father's Day.
Make sure your offer is unique. If your promotion is on par with your usual offers there isn't much to encourage your audience to take advantage of. Add something extra. Think of something unique and original that will be appreciated by your customers and will make you memorable.
For example, if you have a cosmetics or skincare brand, you can offer an exclusive limited-edition product for sale or as part of a Father's Day bundle. And the perk or wow factor item doesn't even have to be part of your own offering. You can offer a subscription to a service that pairs well with your products. For example, if you sell activewear, you can include a subscription to Spotify. Just be mindful of how you use another brand's logo and/or assets, and be sure they are permitted according to their guidelines.
Father's Day In The Times Of Covid-19 
Physical distancing. Gradual reopening. Curbside pickups. And wearing masks everywhere we go. These are definitely strange times we're living through. And that's why it's all that more important to celebrate occasions like Father's Day.
Help your customers do this, while keeping your employees safe, by offering delivery or curbside pickup. If your business hasn't been able to reopen but is planning to, promote your e-gift cards. And incentivize the purchases by adding a bonus amount for minimum purchases. Or you can offer a bonus amount to the purchaser. In these hard times, an opportunity to treat yo self is always appreciated. 😉
So what will your 2020 campaigns for Father's Day be? Whatever you decide on, tapping into the holiday to connect with customers and boost brand awareness (and maybe even sales) is a definite win.